A new generation of SUV.
The self-confident linear design of the new Touareg exhibits its own unique presence. With innovative new driving technology such as the LED Matrix headlights and the Innovision Cockpit, driving is about to go to a whole new level. The new Touareg is here now - are you ready?
Design.
The Touareg is setting new benchmarks with its expressive and forward-thinking design. The wealth of individual design options in the interior simply cannot fail to impress.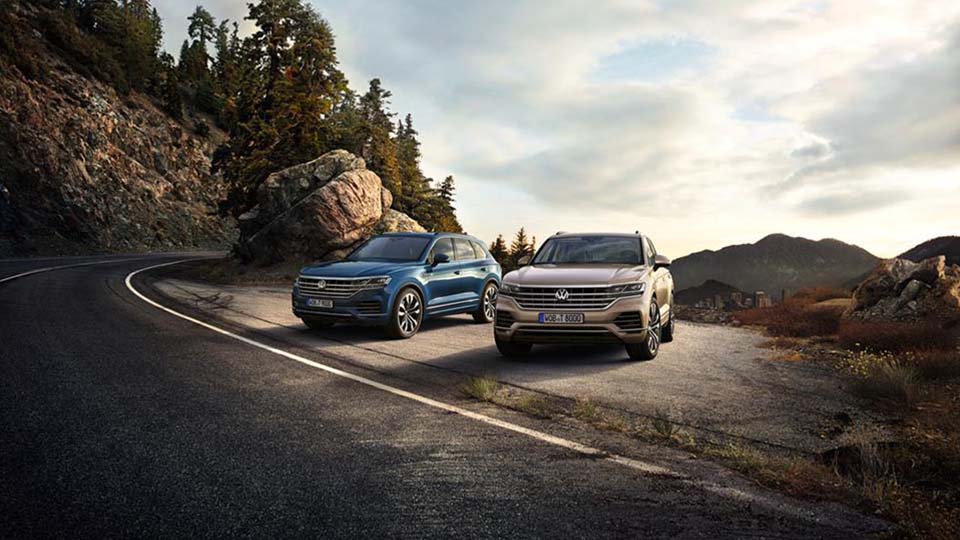 Exterior
Discover new tracks.
Style redesigned: powerful front with elongated bonnet, sharply contoured side lines, striking LED tail light clusters – the new Touareg fuses SUV with elegance and dynamism.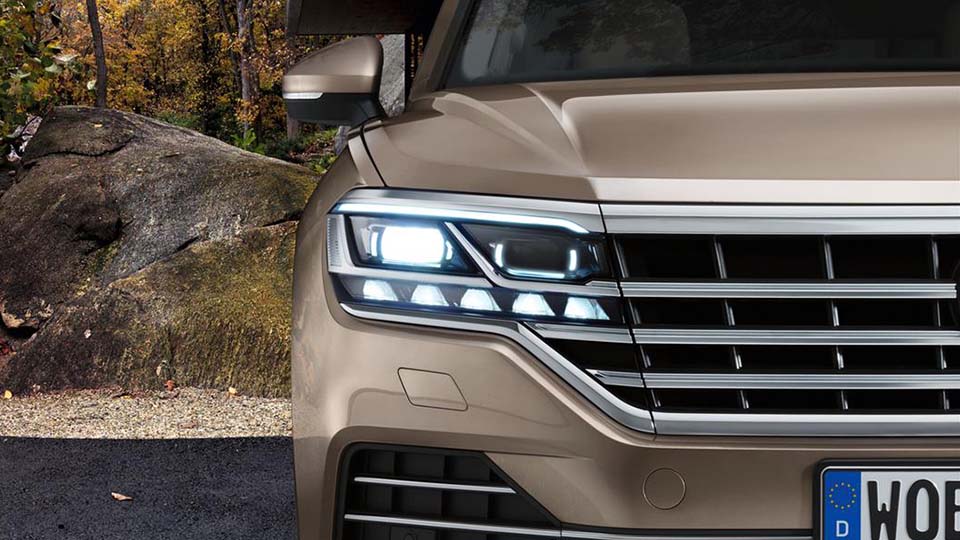 IQ. LIGHT – LED-Matrix headlights.
After all, no one likes a 'dazzler'.
Glare-free illumination in almost all situations: the IQ. LIGHT – LED Matrix headlights* with "Dynamic Light Assist" advanced main-beam control light up the road further ahead more brightly, without distracting other road users in your vicinity.
*Optional on V6, standard on V6s.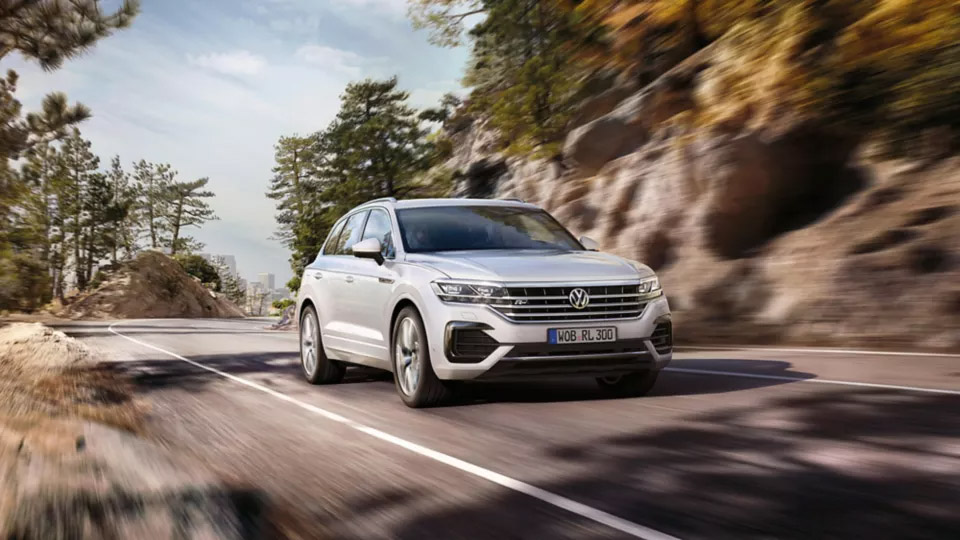 Coming Soon.
The Touareg V8.
Luxury and power go hand in hand. The most powerful Volkswagen is coming soon to New Zealand: the Touareg V8 TDI R-Line. At 310 kW, it's one of the most powerful SUVs with a diesel engine. This 4.0-litre eight-cylinder vehicle has a maximum torque of 900 Newton metres – putting it at the same level as sports super cars. Whether cruising at low speeds, moving fast or going off-road, this power provides superior drive characteristics and makes the Touareg V8 TDI R-Line a reliable partner in everyday use. Register your interest to stay up to date with the Touareg V8 TDI R-Line.
Register your interest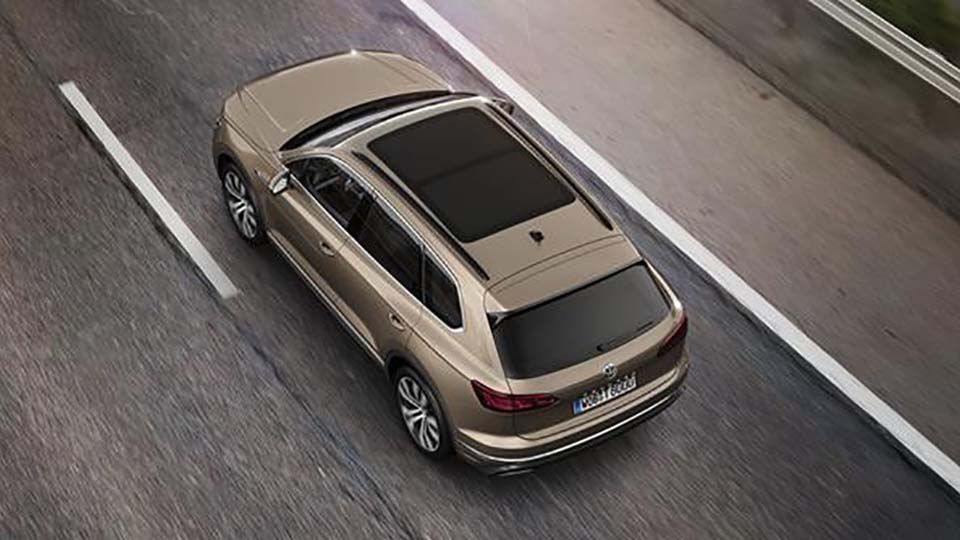 Panoramic Sunroof
A clear view of your next adventure.
The optional tilting and sliding panoramic sunroof at the rear creates an impressive feeling of space and a pleasant lighting ambiance in the interior of your Touareg. Fresh air, a clear view of the sky and a feeling of boundless freedom conveniently at the touch of a button.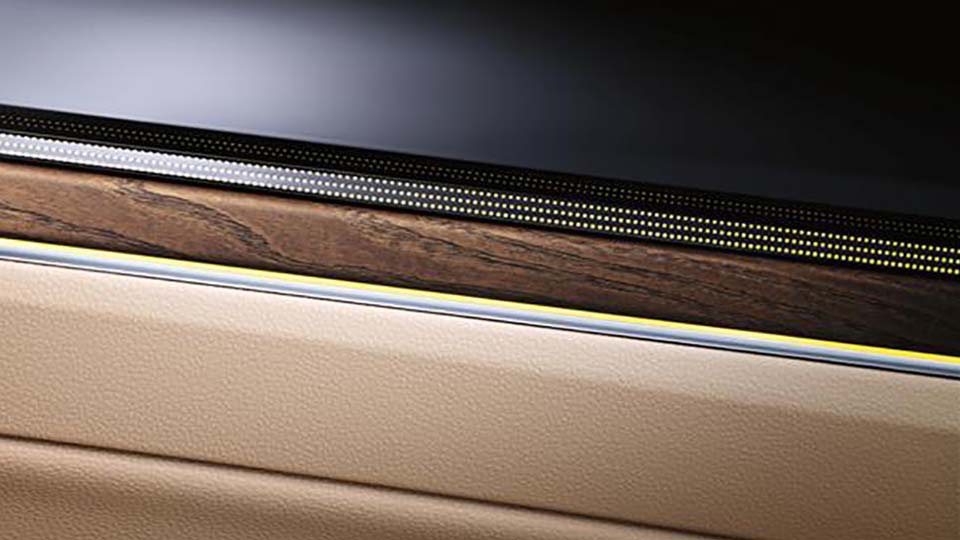 Decorative Trims
What kind of trim type are you?
The atmosphere in the interior of your Touareg is strongly influenced by its interior trim. Choose from different design packages, which lend the interior of your vehicle even more individuality and personality.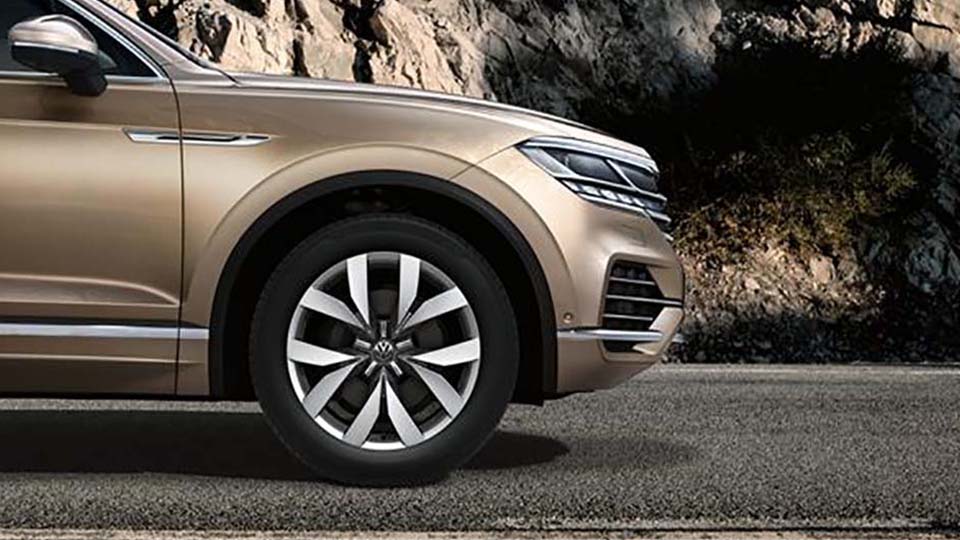 Wheels
Wheels to love. Design to motivate.
With a wide range of wheel options, the Touareg will suit every taste: from the stylishly elegant "Esperence" to the dynamically sporty "Montero". All wheels blend perfectly with its exterior appearance and contribute to the unmistakable presence of your Touareg.
Comfort.
The highest level of comfort awaits you. Cruise over the road in your Touareg and enjoy the pleasantly spacious interior, practical equipment and innovative technology for exceptional everyday driving.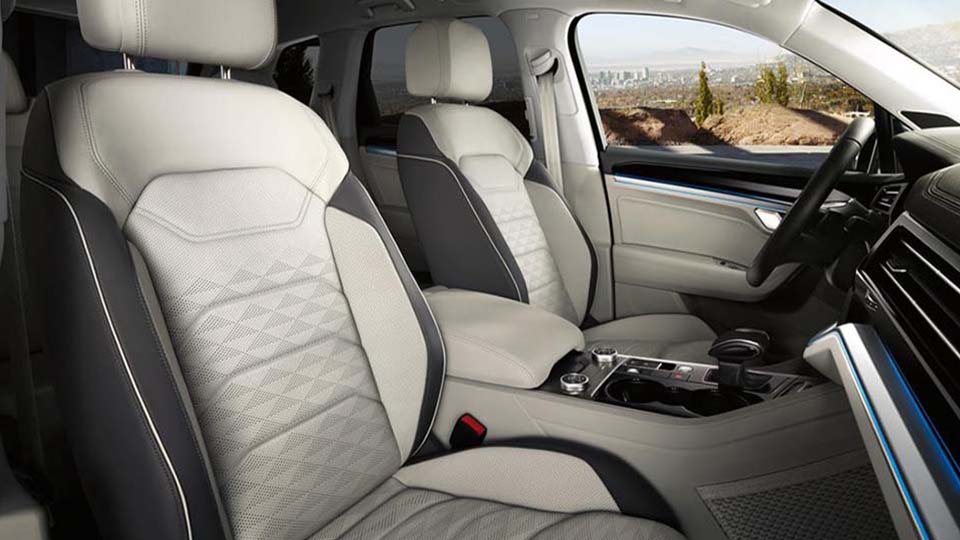 Space.
Experience a new sense of space.
You and your passengers are sure to feel comfortable, as luxurious design meets exceptional functionality in the Touareg. The spacious luggage compartment and electrically operated rear lid ensure maximum flexibility and outstanding comfort for whatever you have planned.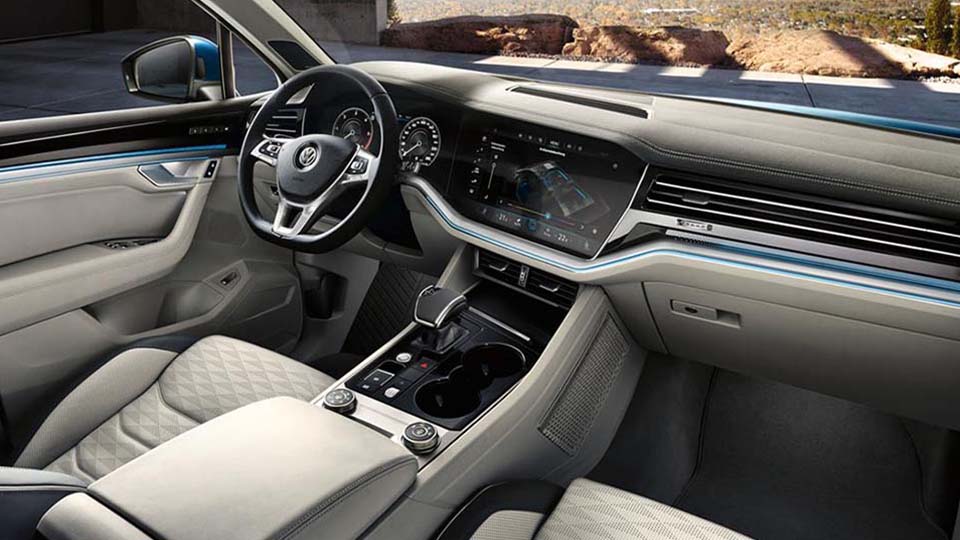 Ambient lighting.
Flood the interior in your favourite colour.
There's always a particularly comfortable ambiance in the Touareg when it gets dark, on account of its white, or on request multicoloured, ambient lighting. With multiple colours, you'll always drive with the light ambiance you want at that moment.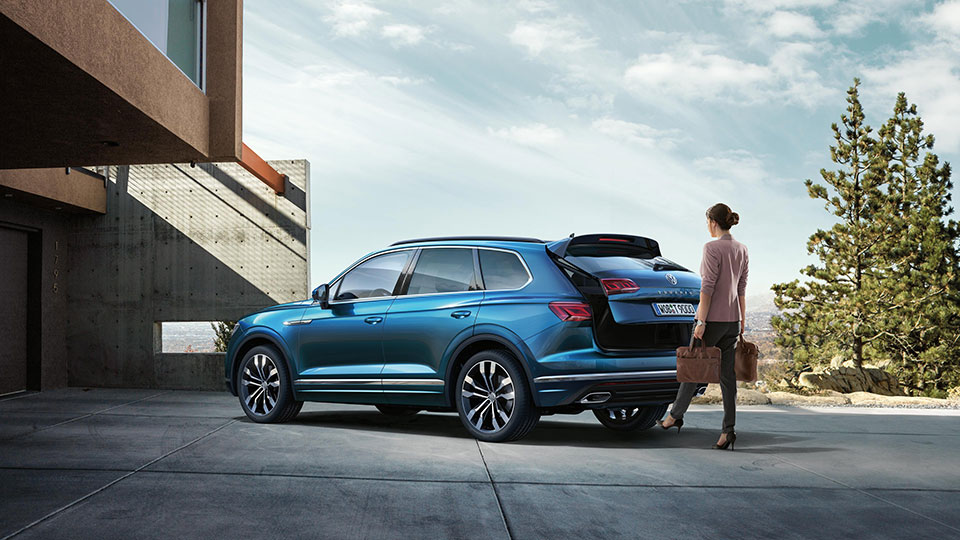 Easy Open/Easy Close.
Opens totally new possibilities.
No hands free? The "Easy Open" function lets you open the boot lid without having to put anything down. Simply press the "Easy Close" button and the boot lid will close itself.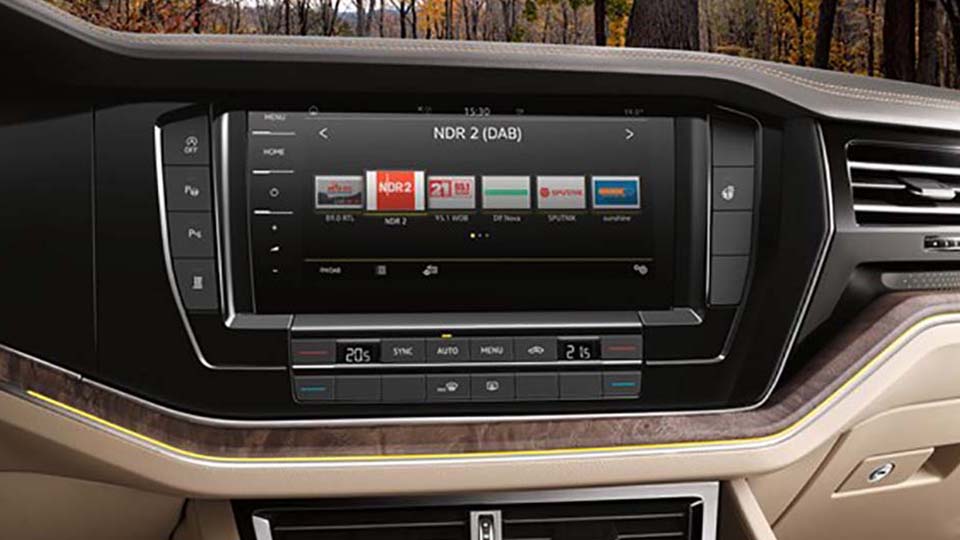 Air Care Climatronic
Because everyone perceives temperatures differently.
What's your feel-good temperature? The driver and front passenger can make their settings independently of each other with the standard "2-Zone Air Care Climatronic" air conditioning system with allergen filter.
Equipment lines.
Which style appeals most to you: a cool high-tech look, warm wood and leather tones or sporty detailing? You'll be demonstrating your style with luxurious "Elegance" or "Atmosphere" equipment lines, regardless of which one you choose.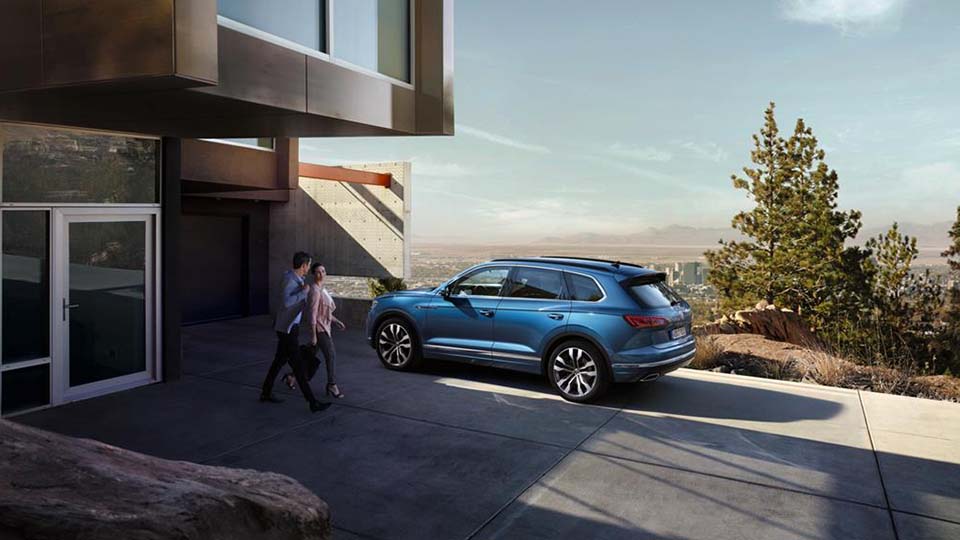 Luxurious aesthetics await you.
"Elegance" design package.
The Touareg with optional "Elegance" design package: stylish elegance meets superlative design.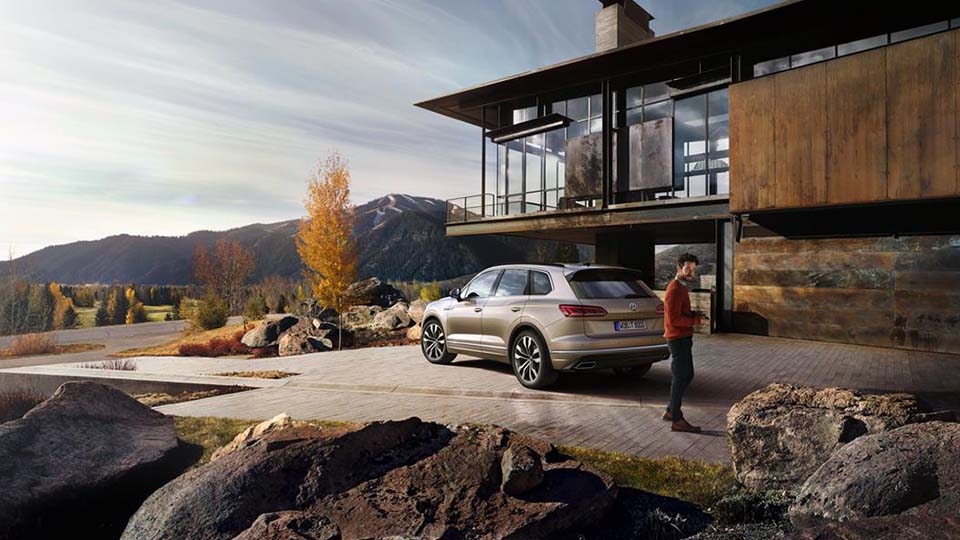 Caresses your senses.
"Atmosphere" design package.
The Touareg "Atmosphere" is uncompromising in terms of its exquisite materials and exceptional comfort.
Driver assistance systems.
The Touareg cannot fail to impress when it comes to technology as well, as it incorporates innovative driver assistance systems installed for the first time in a Volkswagen.*
*The new Touareg is equipped with the most innovative driver assistance systems. However, these systems are NOT designated for autonomous driving in anyway. The assisting functionalities are underlying certain limits that are outlined in the owner's manual. Therefore, the driver is strictly advised to drive the vehicle with full attention and has to keep his/her hands on the wheel at all times.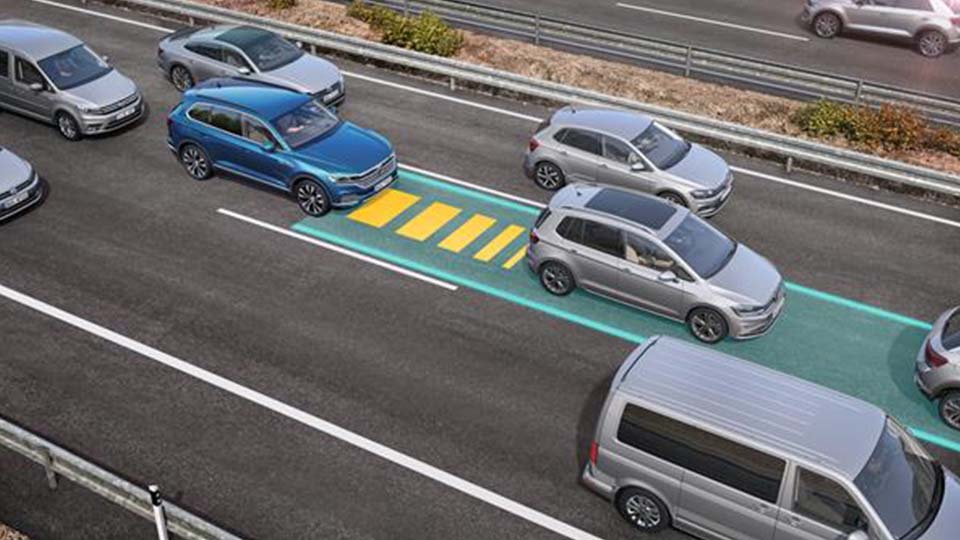 Traffic Jam Assist
Assistance in stop-and-go traffic.
The Traffic Jam Assist relieves pressure on the driver in stop-and-go traffic, helping to avoid accidents in slow-moving traffic.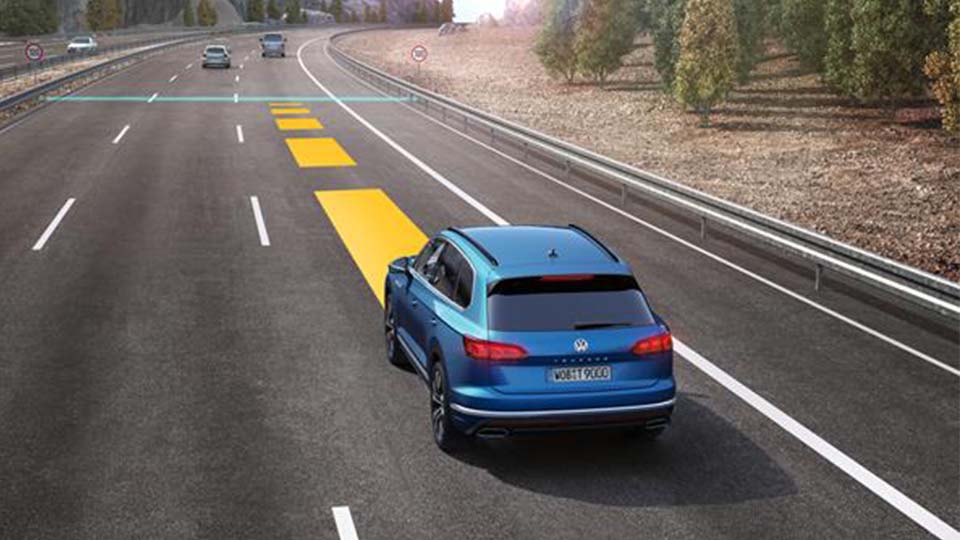 Adaptive Cruise Control ACC
You drive best...by a distance.
The Adaptive Cruise Control ACC with control is by far one of the most useful driver assistance systems. You simply specify your maximum speed and the system helps you to adhere to it and not exceed it, within the limits of the system. Also, a minimum distance is automatically maintained between you and the vehicle in front, within the limits of the system.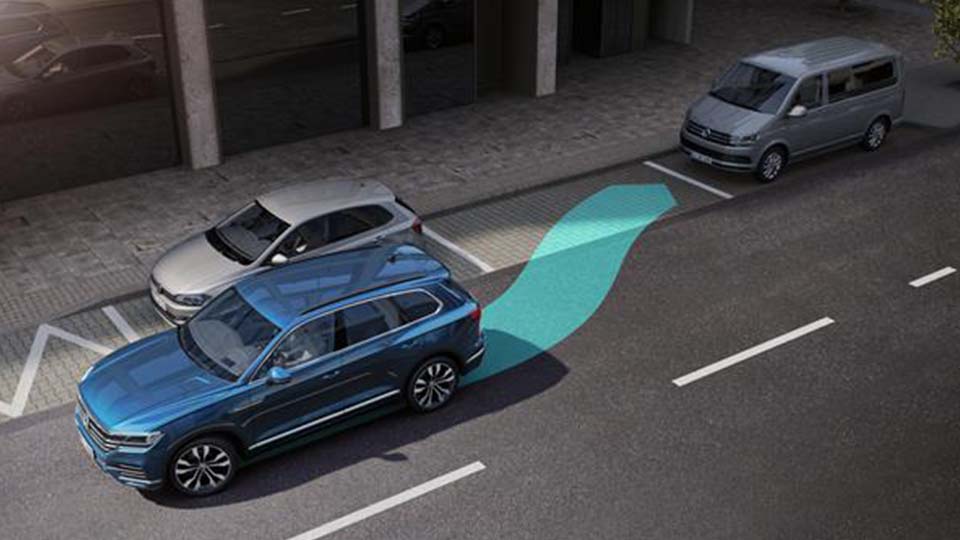 Park Assist
Parking with finesse.
Park Assist manoeuvres you elegantly into your parking space. All you have to do is operate the accelerator and brake, while the system takes care of the rest, within the limits of the system.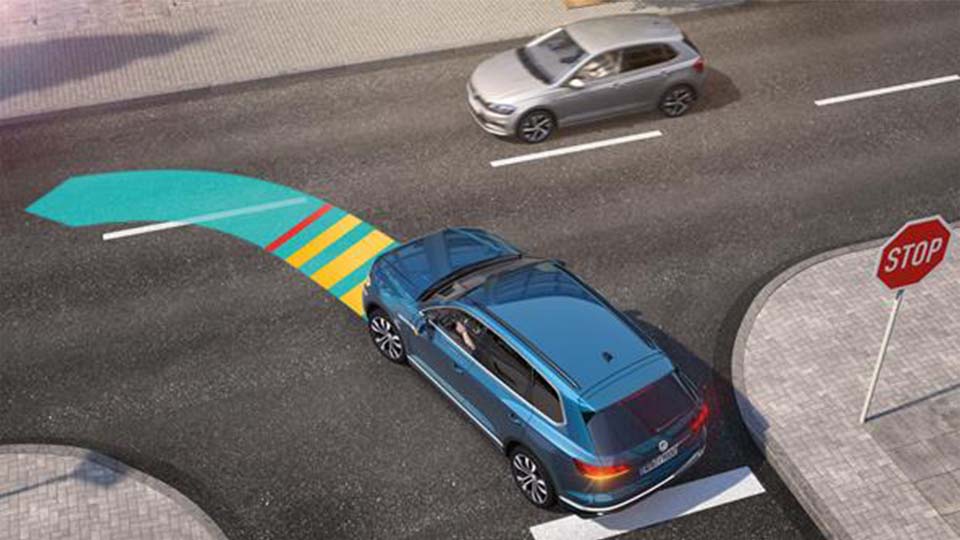 Front Cross Intersection Assist
Because you can't see around corners.
Blind exits and intersections with poor visibility force drivers to "nose out" slowly. The Front Cross Intersection Assist uses radar technology to help, as it were, to look around corners, within the limits of the system. The system therefore helps to detect crossing vehicles or pedestrians earlier.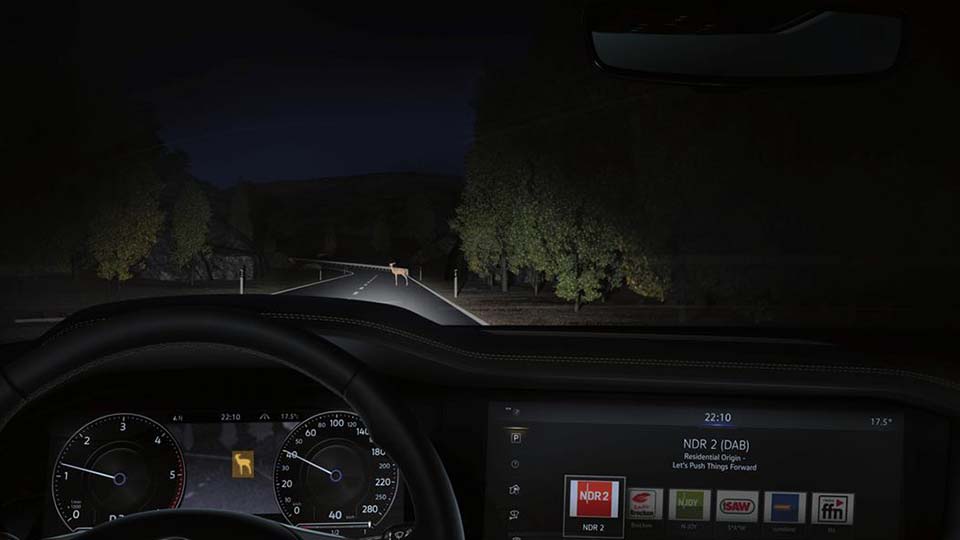 Night vision.
Letting you see what is hiding in the darkness.
You've probably seen night vision systems in spy films. Now you've got one in your car. The beams of the optional night vision system in the Touareg generate a thermal image of your surroundings, including people and animals, in your cockpit.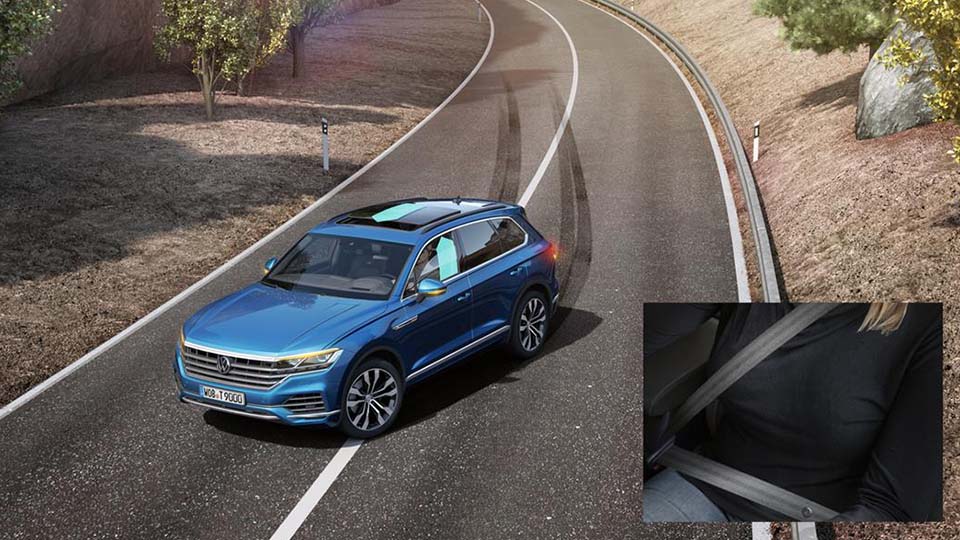 Proactive occupant
That way you are protected from all sides.
Proactive occupant protection system can secure you from all sides to protect you and your passengers. If the system identifies a risk of collision, it automatically triggers protection measures, including belt tightening, moving seats into an upright position and closing all windows and the tilting panoramic sunroof. All within the system limits.
Driving Experience.
New technologies give the Touareg exceptional driving characteristics, whether you enjoy driving more sportily or wish to head off-road.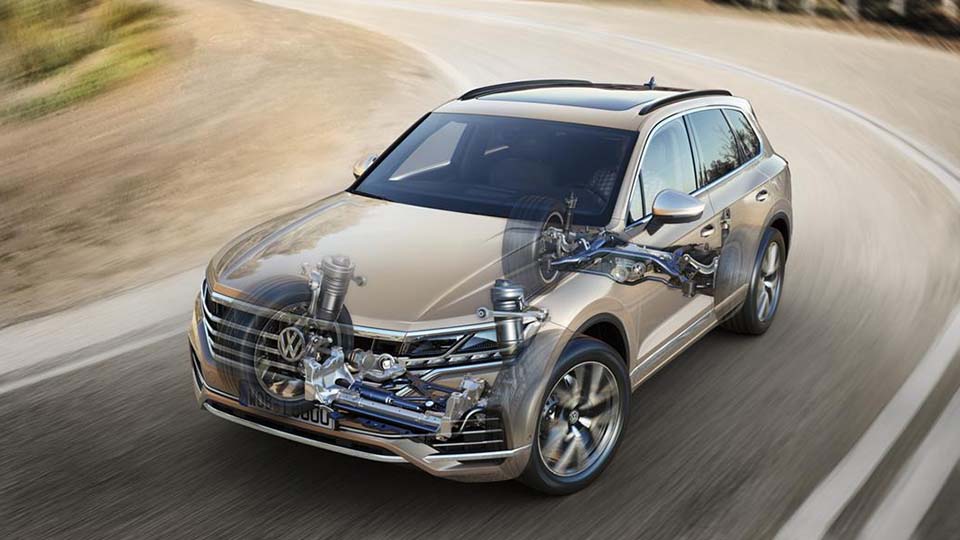 Electro-mechanical active roll stabilisation.
Your vehicle simply does not roll.
Do you enjoy tackling corners more sportily? The optional electro-mechanical active roll stabilisation reduces lateral tilt and the tendency to understeer. The result? Amazingly dynamic driving characteristics.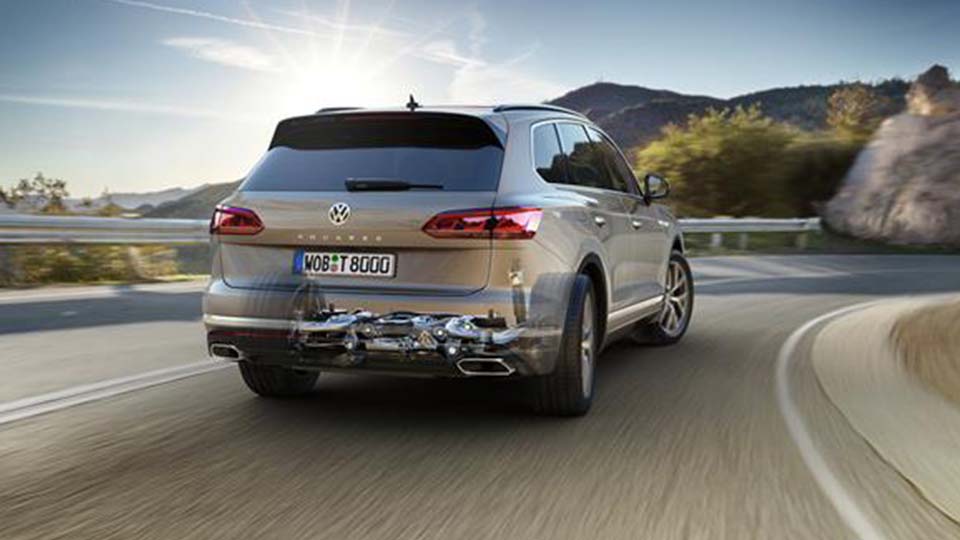 Greater stability and manoeuvrability in one, thanks to all-wheel steering.
Air Suspension
A smaller turning circle is possible when the rear wheels steer as well as the front wheels. On request, you can now also use this technique with the Touareg, which makes the vehicle hugely manoeuvrable and improves its steering stability. Furthermore when travelling faster than 50kmh the rear wheels also steer to help with cornering.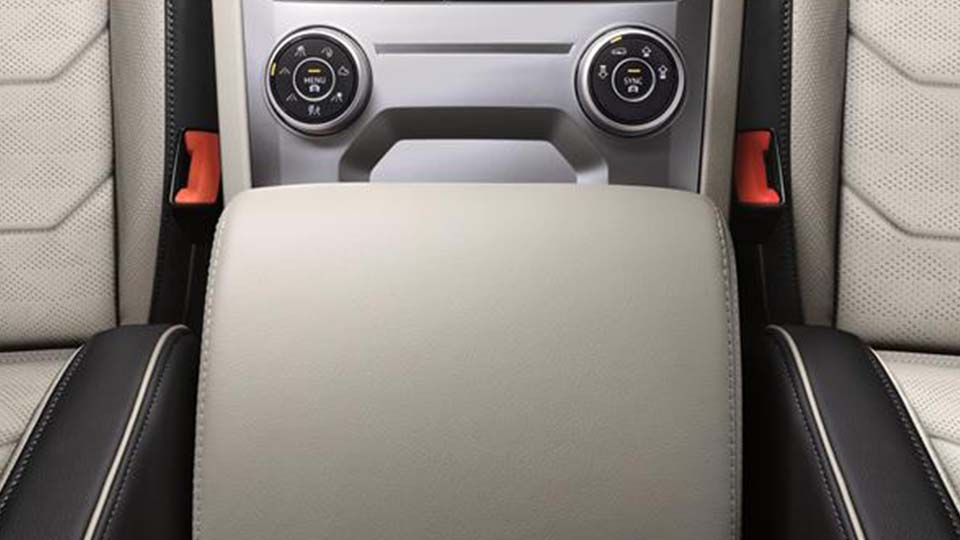 Air Suspension
Always on a high.
And to ensure that there's no damper on your driving enjoyment, you can also equip the Touareg with comfortable air suspension if required. It adapts the height of the body to all terrains.
Infotainment.
You're perfectly connected in the new Touareg. Enjoy entertainment just as you like it – with outstanding surround sound, on request. Simply operate some radio, navigation and vehicle functions with a gesture.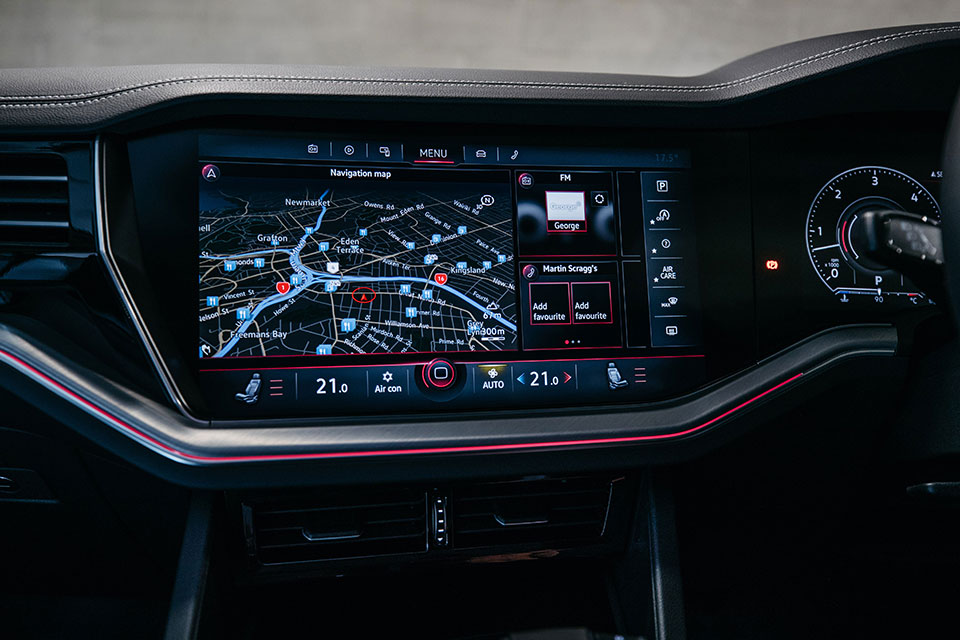 Navigation can be this easy.
Navigation
The standard "Discover Pro" navigation system with its 9.2 inch glazed touchscreen leaves little to be desired. The Touareg also optionally offers the "Discover Premium" 15 inch screen, which together with the Active Info Display, offers a curved display angled towards the driver and a new intuitive operating concept, totally digitalising the cockpit.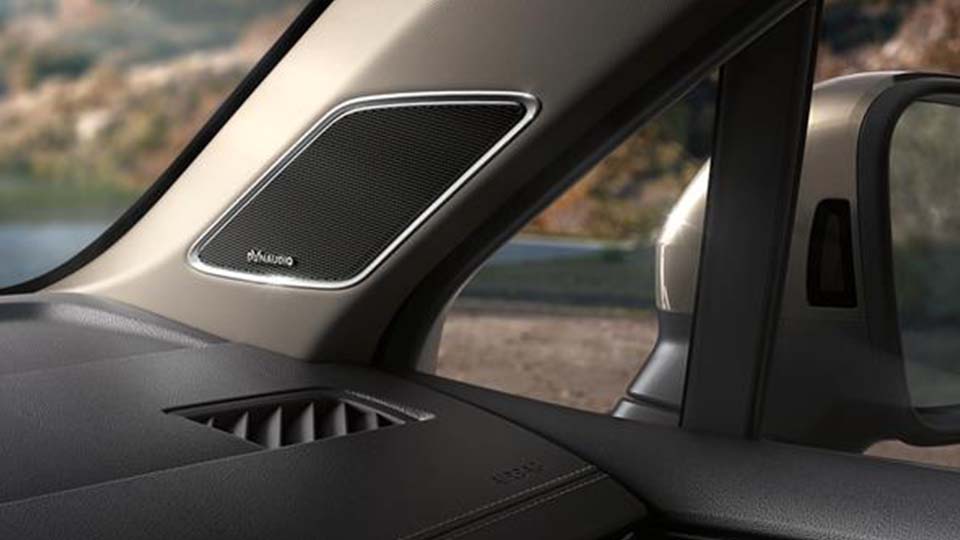 Discover the world of sound when out and about.
Dynaudio
Highest sound in the Touareg. But also deep bass notes. If required, you can enjoy fantastic 7.1 Dolby-Surround surround from DYNAUDIO, with 13 loudspeakers plus sub-woofer precisely matched to the acoustics of the vehicle.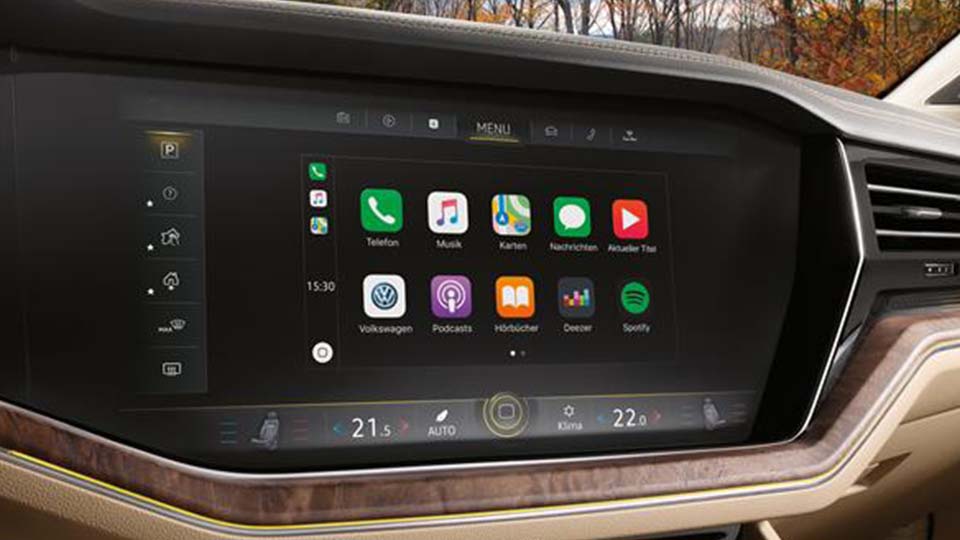 There are also apps for your Touareg.
App Connect
You can now connect your smartphone to the Infotainment system in the Touareg thanks to App-Connect and thus use a range of apps while driving. Volkswagen Media Control lets your passengers select the channel using their mobile devices.
It's all in the details.
Take a closer look at the information for the Volkswagen Touareg.
Meet the family.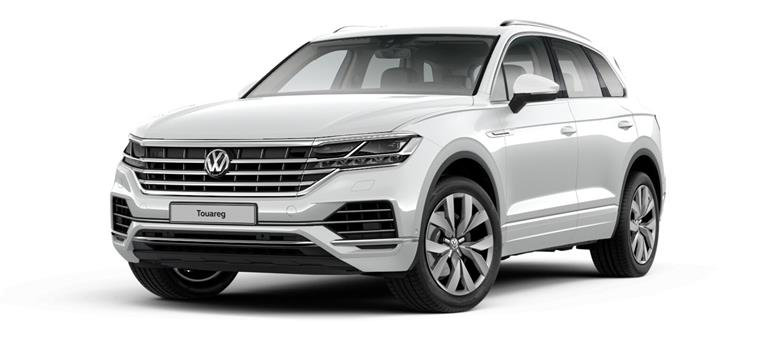 V6
Power - 170 kW
Max Torque - 500 Nm
Towing Capacity - 3,500kg (Braked)
9.2inch "Discover Pro" with navigation & gesture control.
LED headlights with light assist.
Adaptive Cruise Control (ACC) with Traffic Jam Assist, Emergency Assist and Front Cross Traffic Assist.
ergoComfort front seats with Vienna leather and memory function on driver's seat.
19inch Esperance alloy wheel.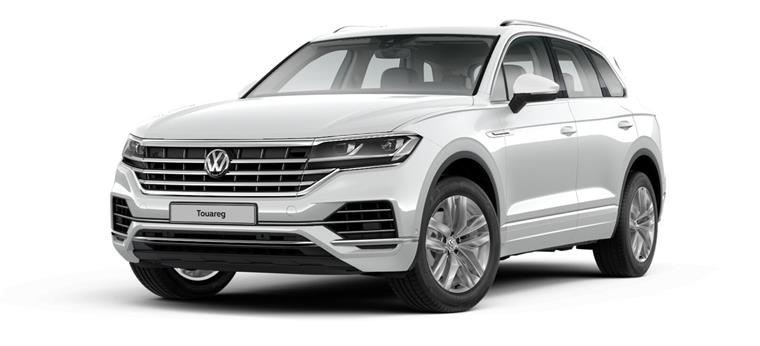 V6S R-Line
Power - 210kW
Max Torque - 600Nm
Towing Capacity - 3,500kg (Braked)
Innovision cockpit with "Discover Premium" 15inch glass covered touch screen with navigation, gesture control, wireless charging(Qi) and 12.3inch TFT Active Info Display.
I.Q LED matrix headlights with dynamic light assist and dynamic turn signal.
Windshield Head-Up Display.
20inch Montero alloy wheel.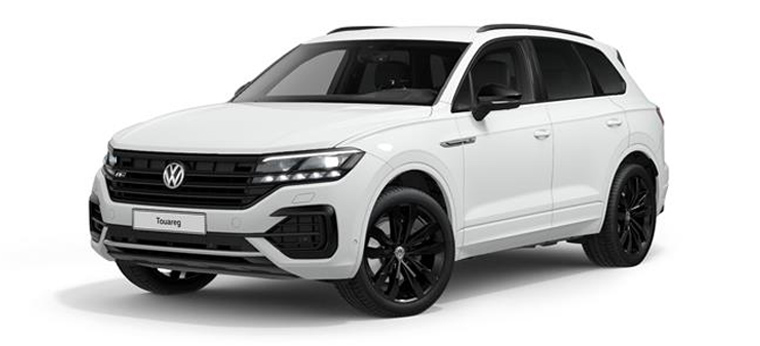 V6S R-Line Black Edition
Power - 210kW
Max Torque - 600Nm
Towing Capacity - 3,500kg (Braked)
Innovision cockpit with "Discover Premium" 15inch glass covered touch screen with navigation, gesture control, wireless charging(Qi) and 12.3inch TFT Active Info Display.
I.Q LED matrix headlights with dynamic light assist and dynamic turn signal.
Windshield Head-Up Display.
20inch Montero alloy wheel.
Register your interest for the new Touareg V8.