Explore
freedom on a grand scale
Some call it the 'travel bug'. Others a 'yearning for adventure'. Whatever you call it: You can quench your desire for unknown destinations and independence on a grand scale with the Grand California. After all, the California has embodied this vision for the past few decades. Kitted out as a fully equipped holiday home, its big brother now offers even more. More space. More comfort. More freedom.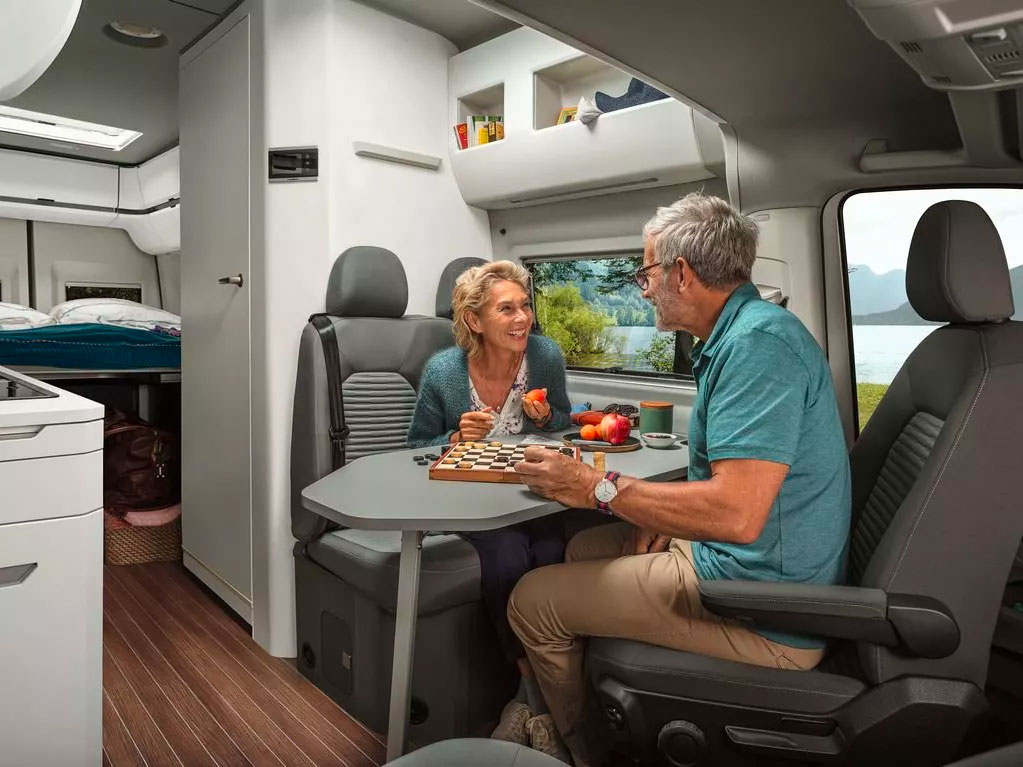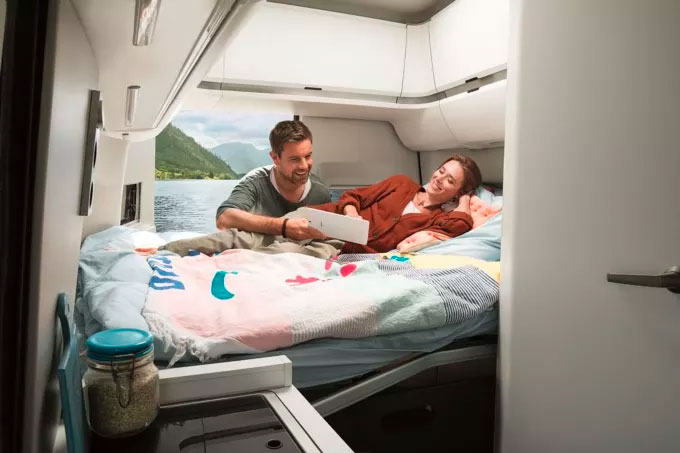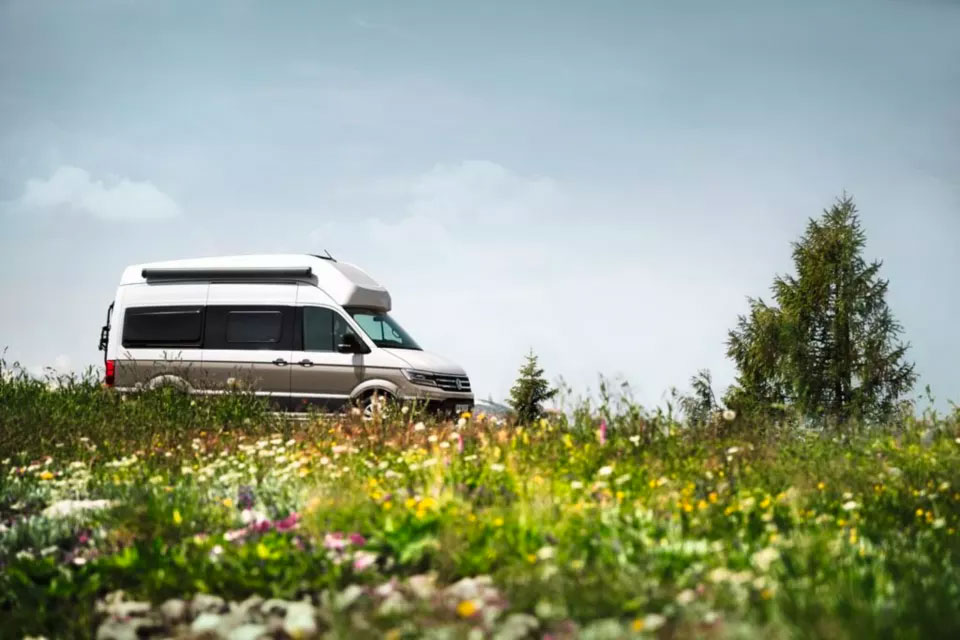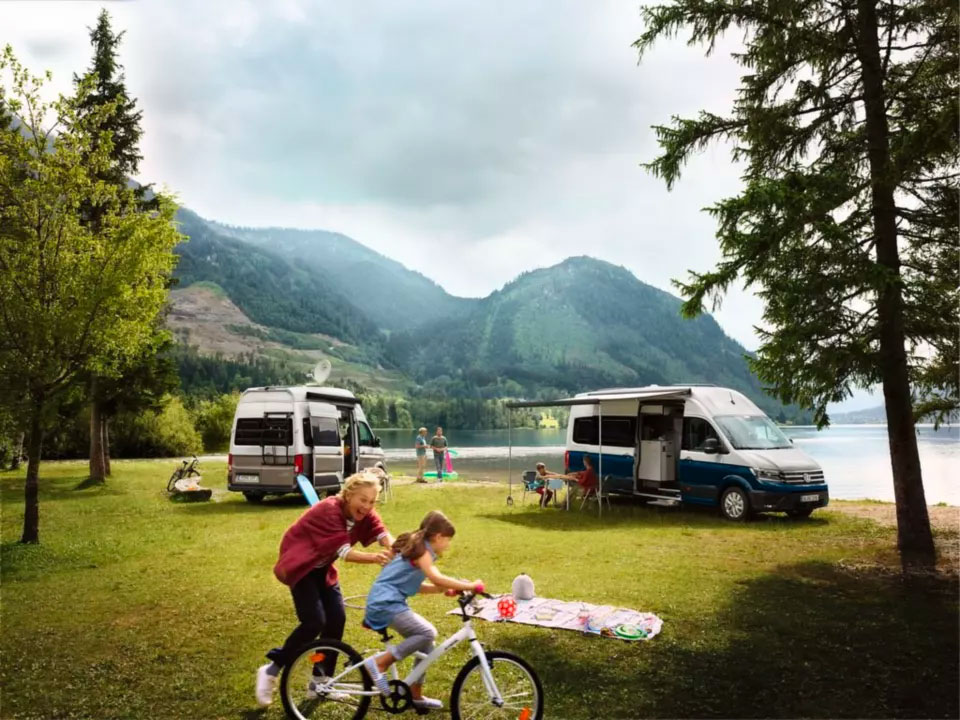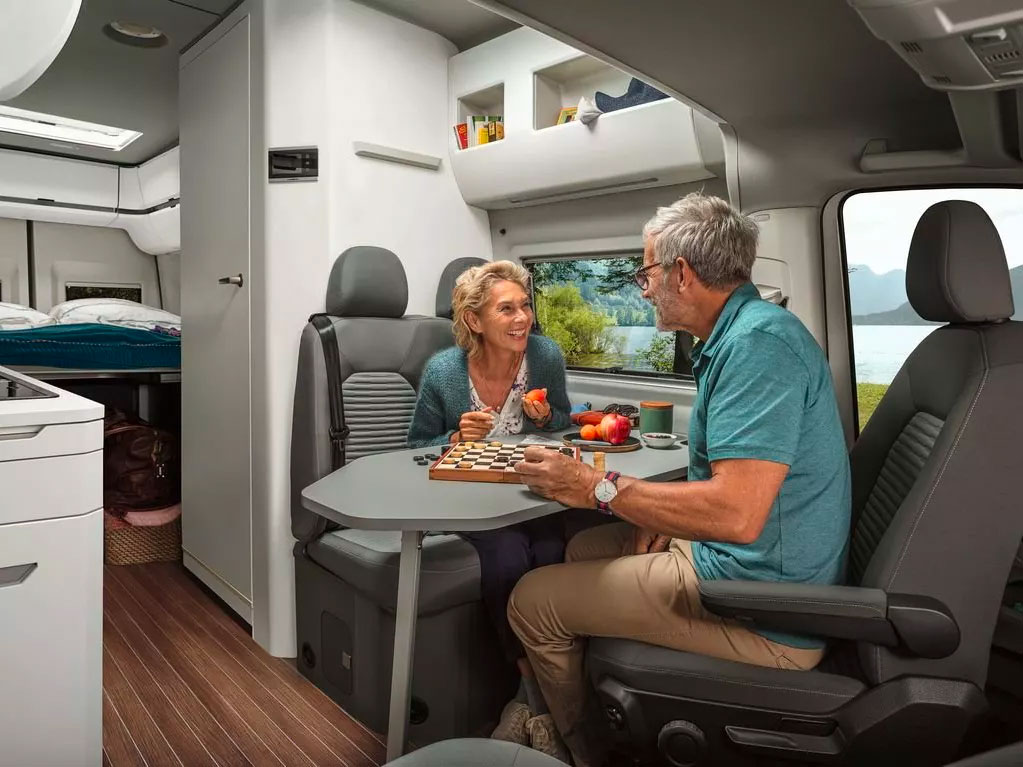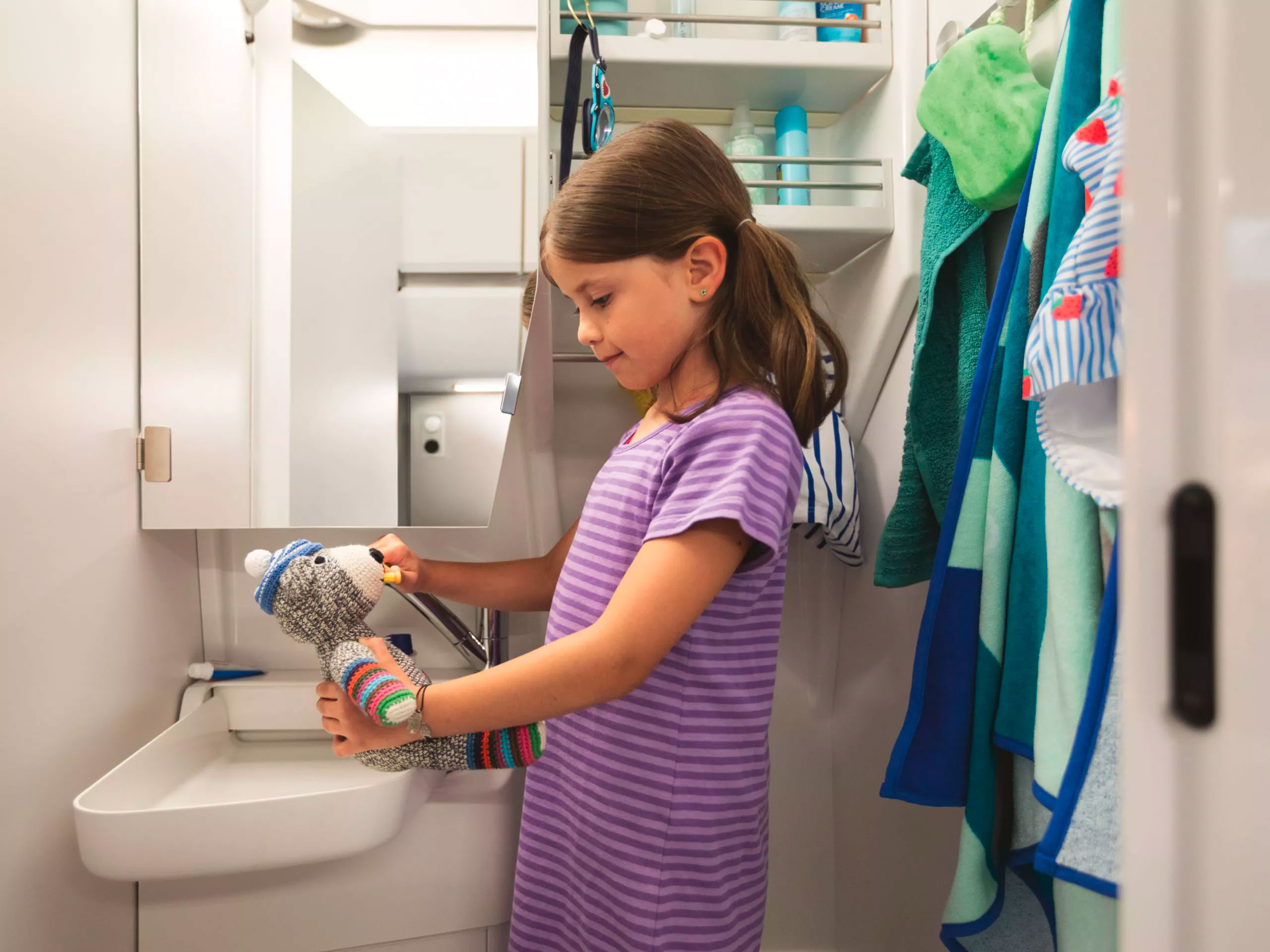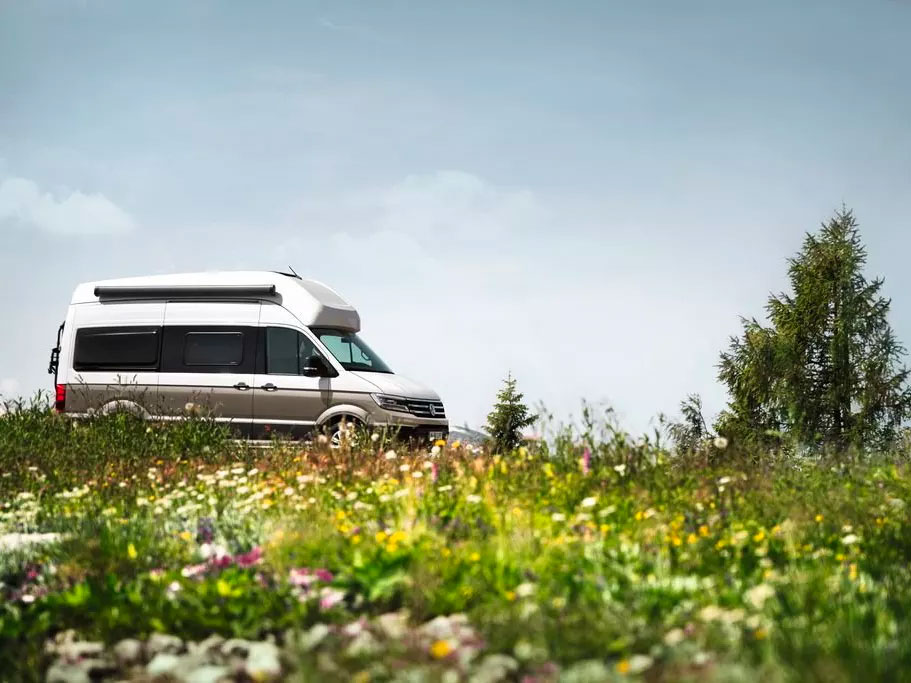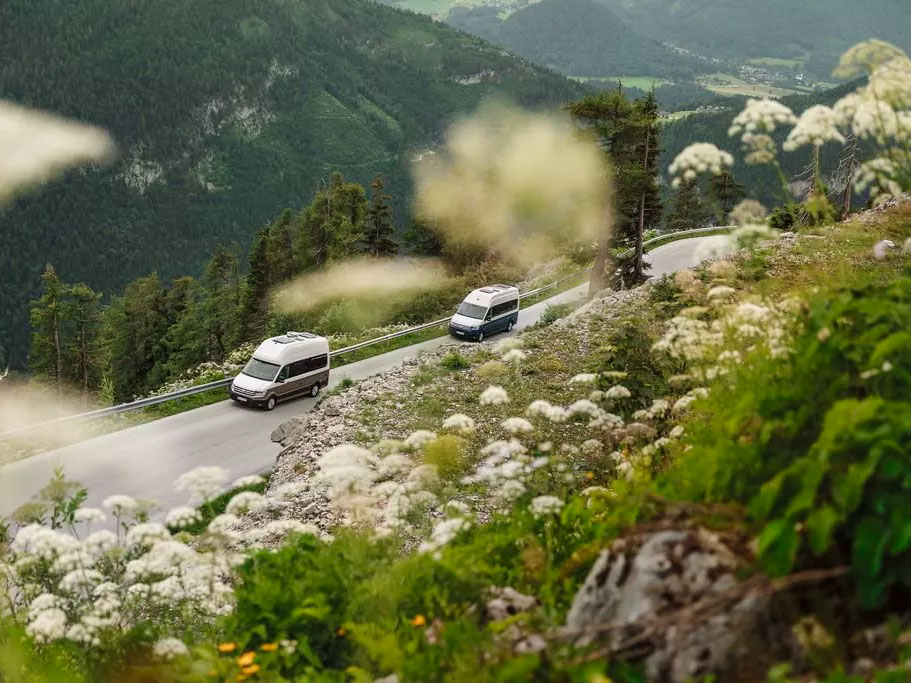 Even more space
Stretch out

and relax

Featuring plenty of space to take home comforts on the road, the Grand California fits beds for two adults and two children, a separate wet room and comfy living space into a safe, efficient package. The white surfaces create an airy atmosphere, helped by the optional panoramic skylights. Enjoy open plan van life wherever you go.
Separate wet room
Fresh
for adventure
A defining feature of the all-new Grand California is the separate wet room. The 840x800mm compartment includes a toilet, shower and space-saving sink. There's also integrated shelving and storage for toiletries and towels. The ventilating skylight clears steam quickly and motion-sensing lights as standard add a touch of style.
Clever details
Little things,
big results
You don't build the world's best-selling camper van without having good ideas along the way. Ideas like an external temperature-controlled shower - perfect for hosing sand or mud off after a long day - or built in storage for the camping chairs and table.
A simple touchpad controls lighting, water and battery levels. The dual fuel heating operates on gas or mains electricity to keep you comfortable all year round, as does the optional roof-mounted air conditioning. Optional solar panels and TV satellite dish bring home comforts to the road.
Advanced Technology
Making the drive
a holiday
The Grand California carries over the advanced safety and assistance features of the award-winning Crafter, with the following as standard:
Front Assist to monitor your surroundings with City Emergency Braking
Front and rear parking sensors to help you into tight spots
Crosswind Assist to keep you stable in high winds
Driver Alert to encourage breaks on long trips
Features & Models
Features of Grand California 600
Fully factory built European campervan
Full time 4MOTION 4-wheel drive system
Self-contained bathroom with a separate wet room
Adaptive Cruise Control and 360° Parking Aids
4 berth for 2 adults and 2 children
Panoramic skylights
Outdoor temperature controlled shower
Simple touchpad controls for lighting, heating, and entertainment
Built in outdoor tables and chairs
Integrated blac-out blinds and insect screens
The next level

Features of Grand California 680
Fully factory built European campervan
Full time 4MOTION 4-wheel drive system
Self-contained bathroom with a separate wet room
Adaptive Cruise Control and 360° Parking Aids
4 berth for 2 adults and 2 children
Panoramic skylights
Outdoor temperature controlled shower
Simple touchpad controls for lighting, heating, and entertainment
Built in outdoor tables and chairs
Integrated blac-out blinds and insect screens

Next

Steps
---
Disclaimer by Volkswagen
1. The information provided on the Volkswagen New Zealand website is for information purposes only
2. A Volkswagen New Zealand reserves the right to extend, withdraw or change all offers *Prices are shown in New Zealand dollars, include GST and exclude on road costs
3. Weekly finance price is subject to change due to interest rates*. Please see the full terms and conditions for Volkswagen Finance for more information. www.volkswagen.co.nz/finance
4. Fuel consumption is based on the combined fuel consumption figure
5. International models might be shown for illustrative purposes only, and New Zealand specifications may vary
6. Some colours in these images are not available in New Zealand, the product guide contains the correct colours available to the New Zealand market
7. Additional and optional accessories may have an effect on fuel efficiency. Optional accessories and add-on packages are available at an additional cost
8. App-Connect is compatible for selected apps with the latest smartphone versions of iOS and Android, active data service, and connection cable (sold separately)
9. Safety technologies are designed to assist the driver, but should not be used as a substitute for safe driving practices
10. Leather appointed seats have a combination of genuine and artificial leather, but are not wholly leather