A force to be reckoned with
Introducing the Amarok V6
Turn heads on the street or turn it loose in the bush with the best ute around. The powerful V6 engine and the legendary stability of the ladder frame chassis make for a ute that's more than capable of tackling even the toughest terrain. Add to that 4MOTION 4X4 with optional rear differential lock, and it's no wonder the Amarok is one of the best in the business.
Book a Test Drive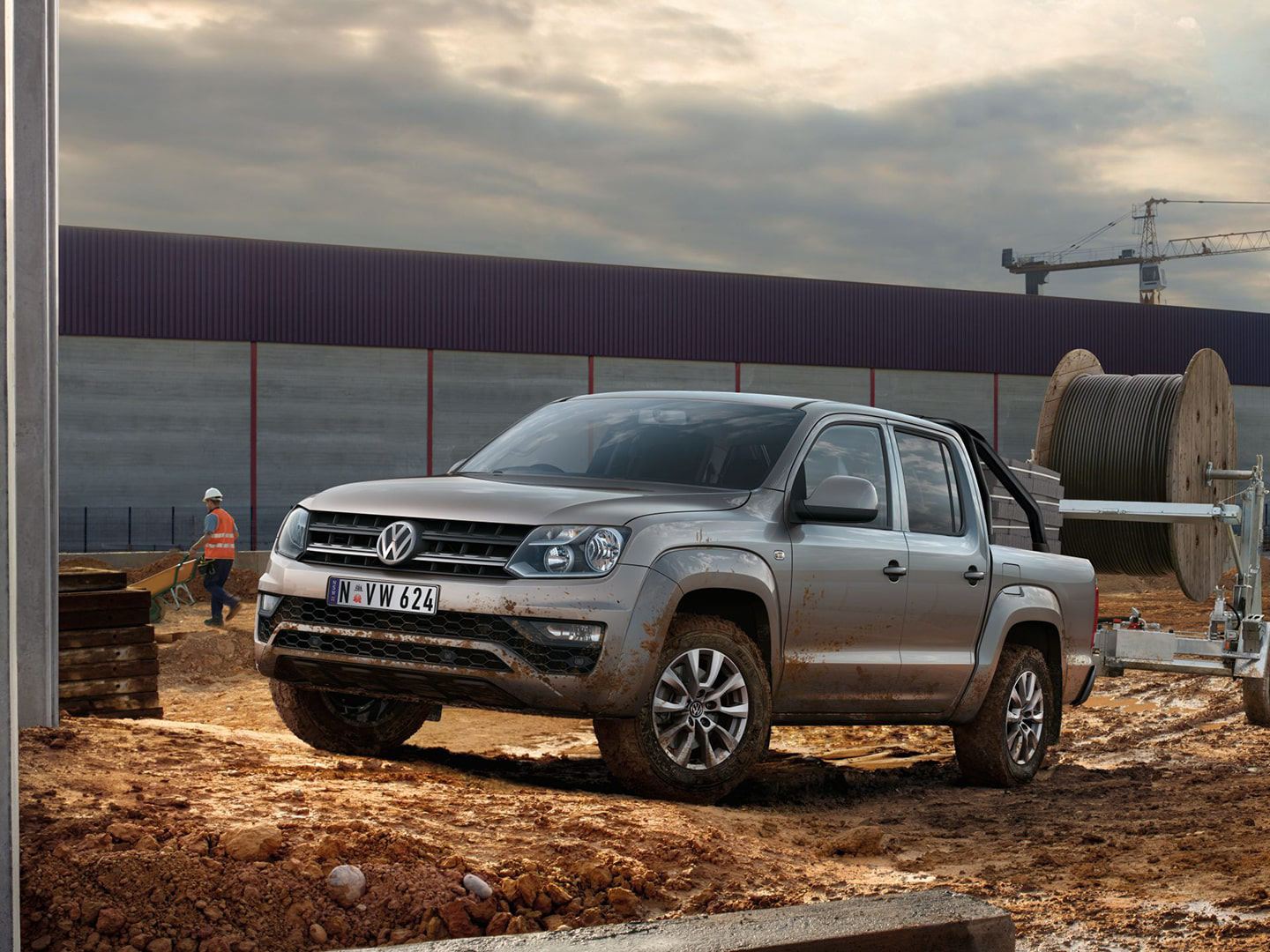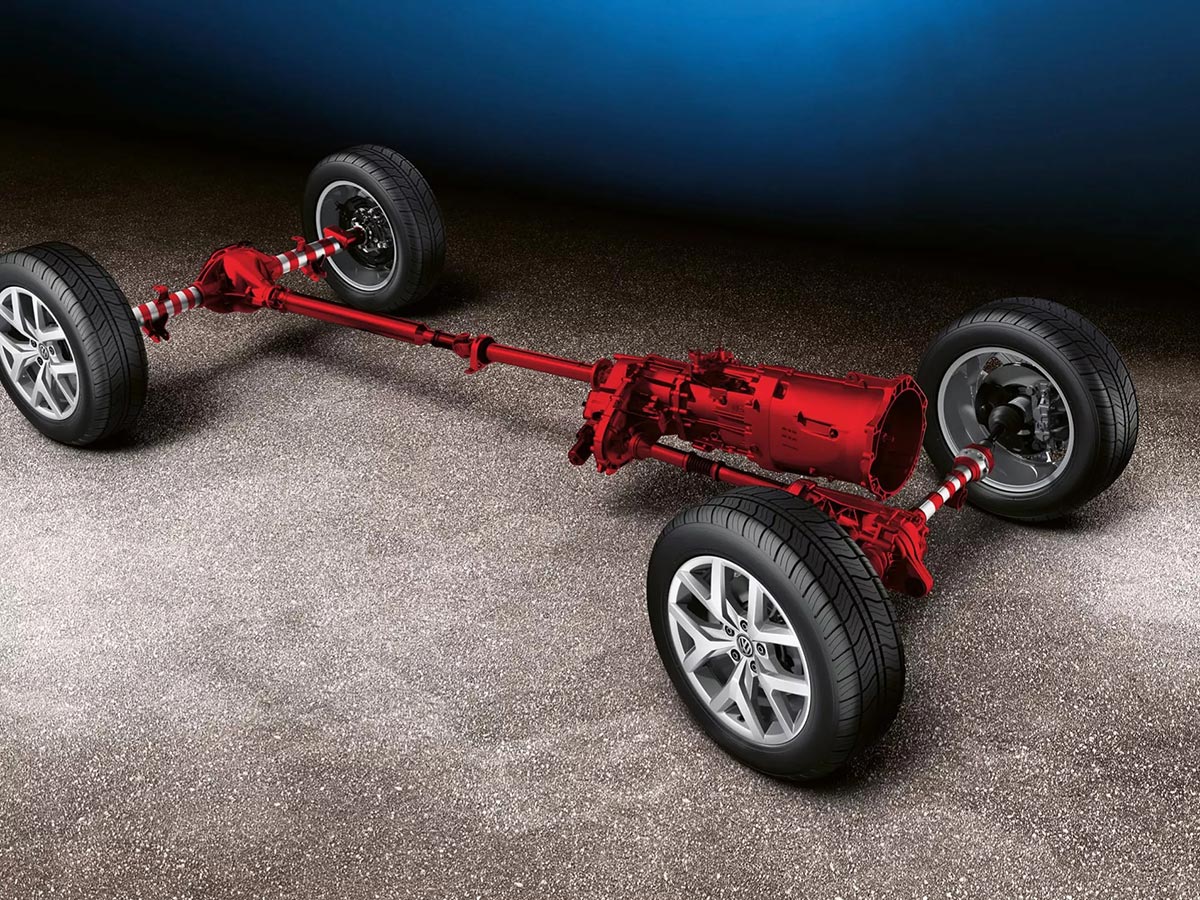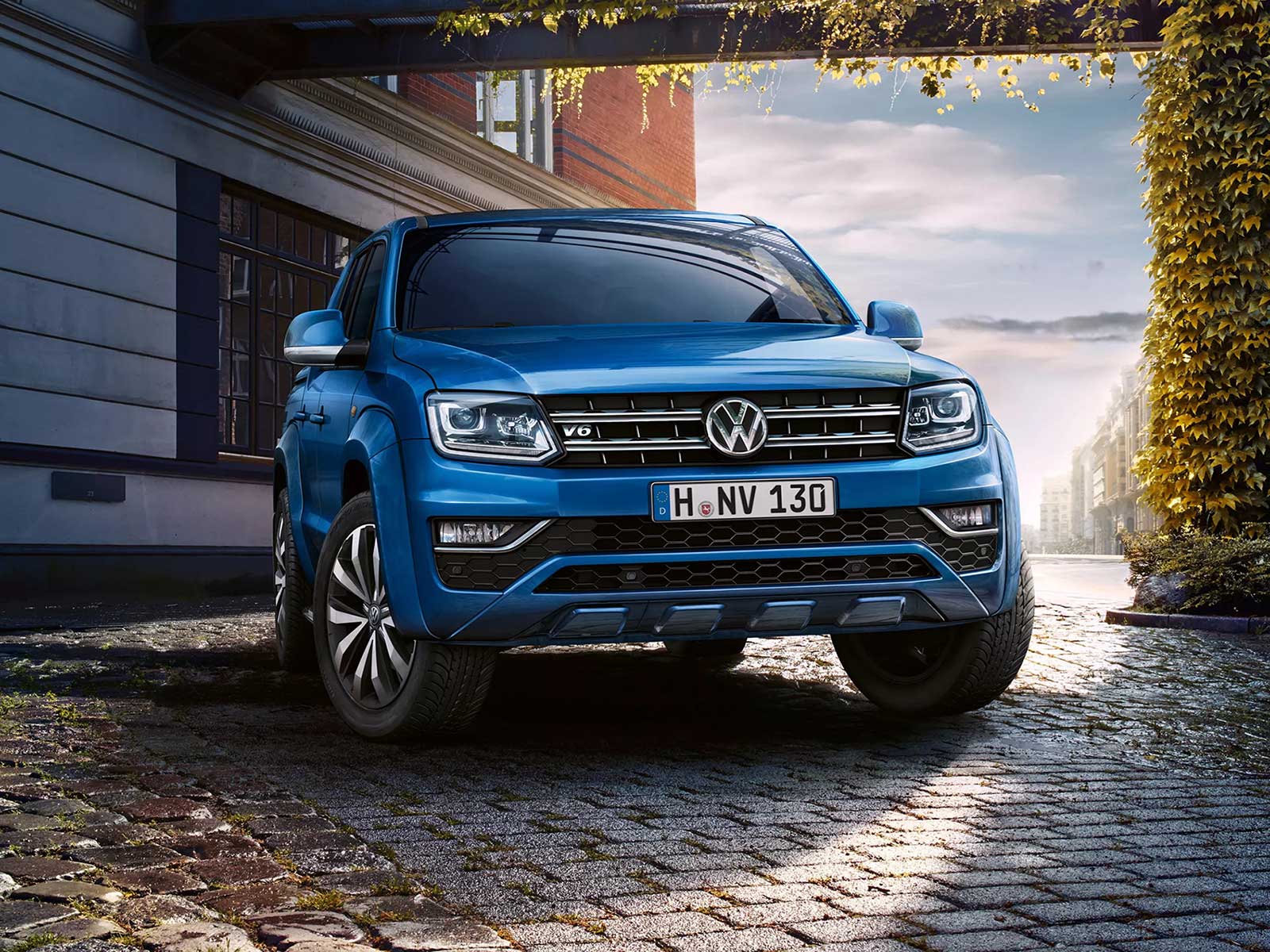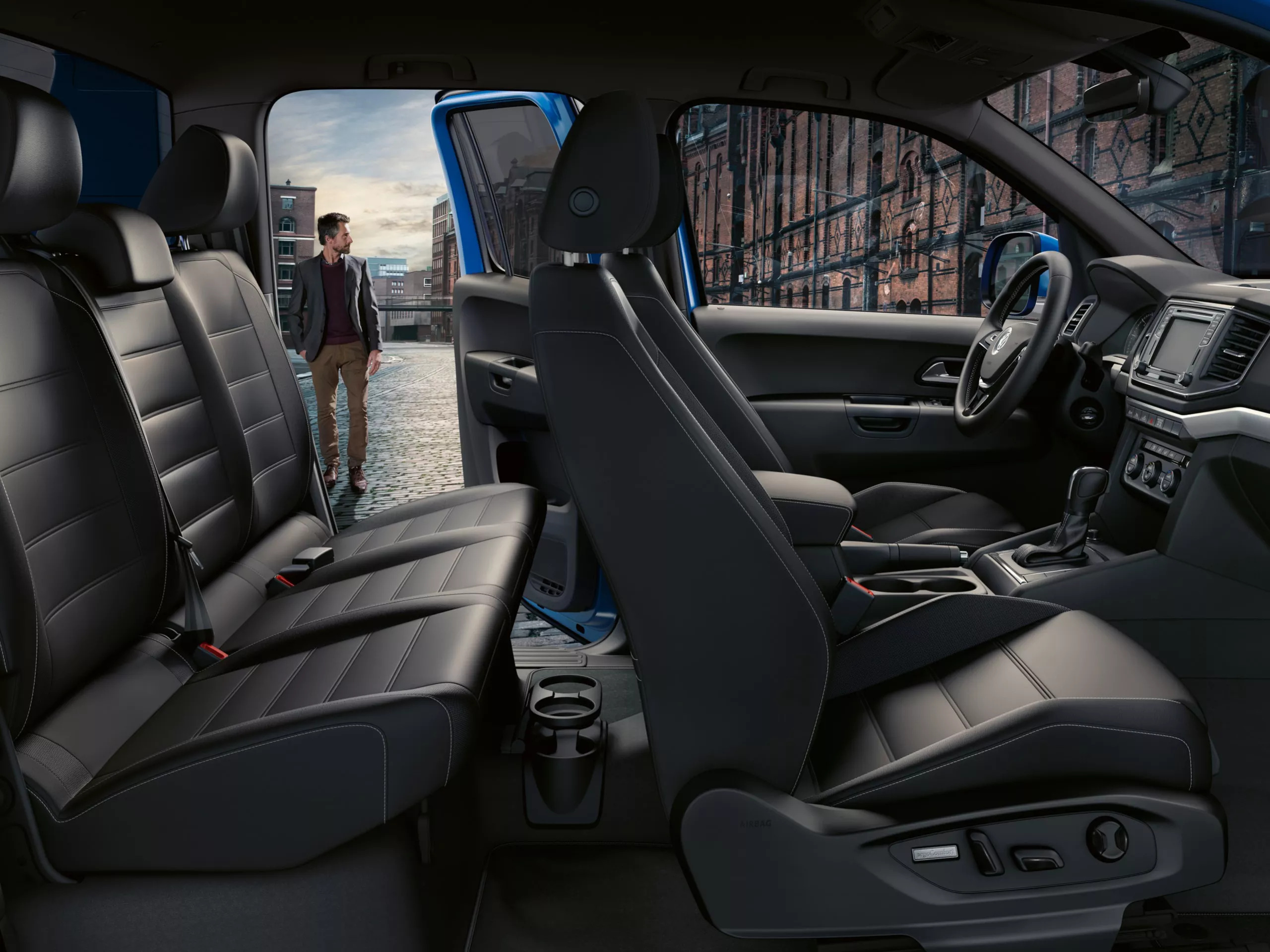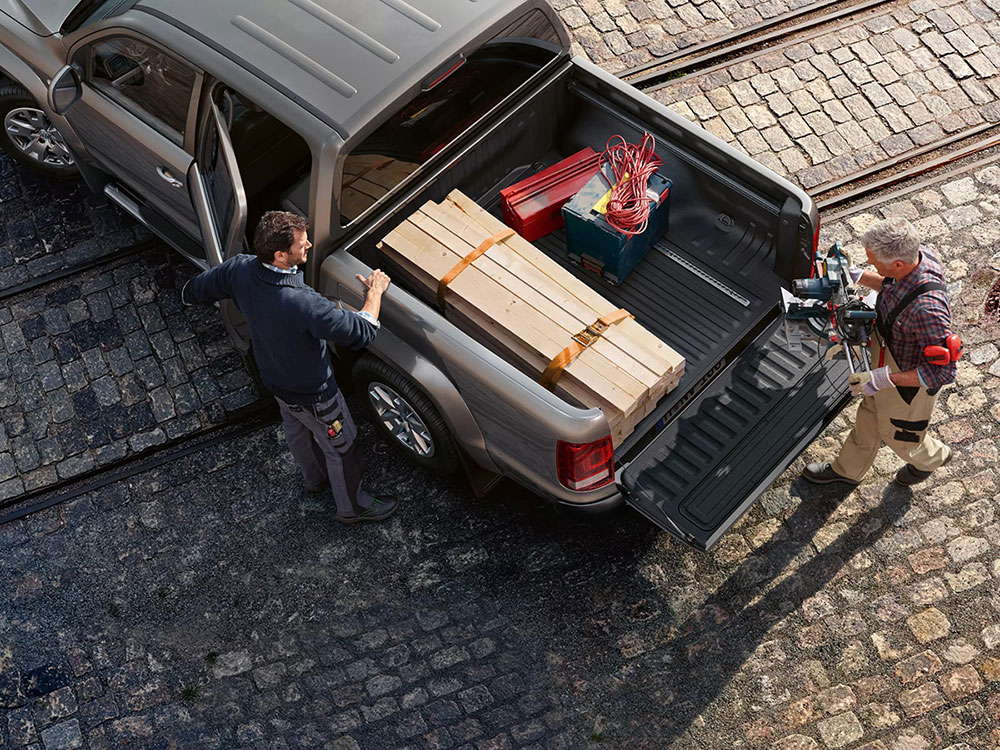 Performance
Powerful

performance, with the highest torque in its class

No matter where your work might be or how you like to spend your spare time - the engine in your Amarok V6 always makes sure every adventure on any terrain is no challenge.
190 kW 6-cylinder turbo diesel engine
3.0L capacity
Torque up to 580 Nm
Temporary boost of up to 10 kW thanks to the overboost function
8-speed automatic gearbox
Cruise control system
4MOTION and off-road mode
Four

for the win

Permanent 4MOTION all-wheel drive

Even under extreme conditions, the Amarok turns every journey into an experience. That's because its chassis and drive system have been perfectly tuned – and combined with the tried-and-tested 4MOTION all-wheel drive.

The intelligent 'off-road' button sets up the vehicle for off-road driving with functions including Hill Descent Control, and recalibrated ABS settings that improve performance on dirt, and reduce the stopping distance on loose surfaces.
Bold Exterior Design
A pure
expression of power
The Amarok shares your mindset completely: It has a clear message – including its design statement. High strength steel throughout the chassis and body provides a robust platform, while hi-tech features such as bi-xenon headlights including LED daytime running lights and masculine, dynamic lines make it turn heads wherever you go.
Modern interior design
Tough on the outside.
Comfortable on the inside.
Even when the terrain gets tough, the Amarok can counteract each bump with an extra dose of comfort. Its clear dash panel, countless storage compartments, spacious legroom and adjustable seats in the front add a touch of comfort to your off-road adventure.
Wide load platform
Put a load on.

Take a load off.

The Amarok can handle bulky cargo with ease. That's because it has more space between its wheels. You can even load Euro pallets on crosswise thanks to its load-through width.
Load-through width of 1,222 mm
2.52 m² cargo box
508 mm tall dropside
Lower loading sill height of 780 mm
Carefully planned

right down to the smallest detail
Driving Experience
Book a Test Drive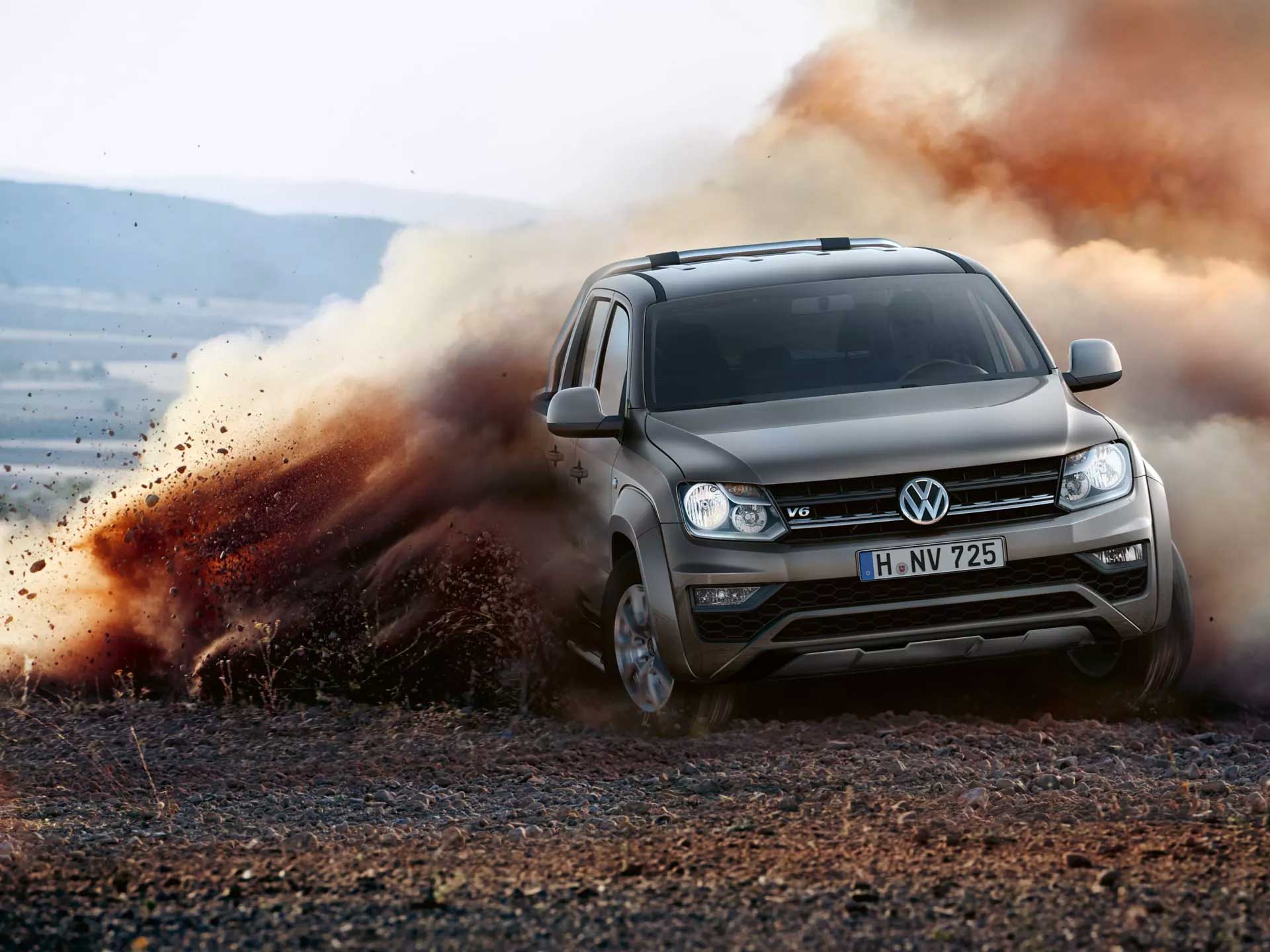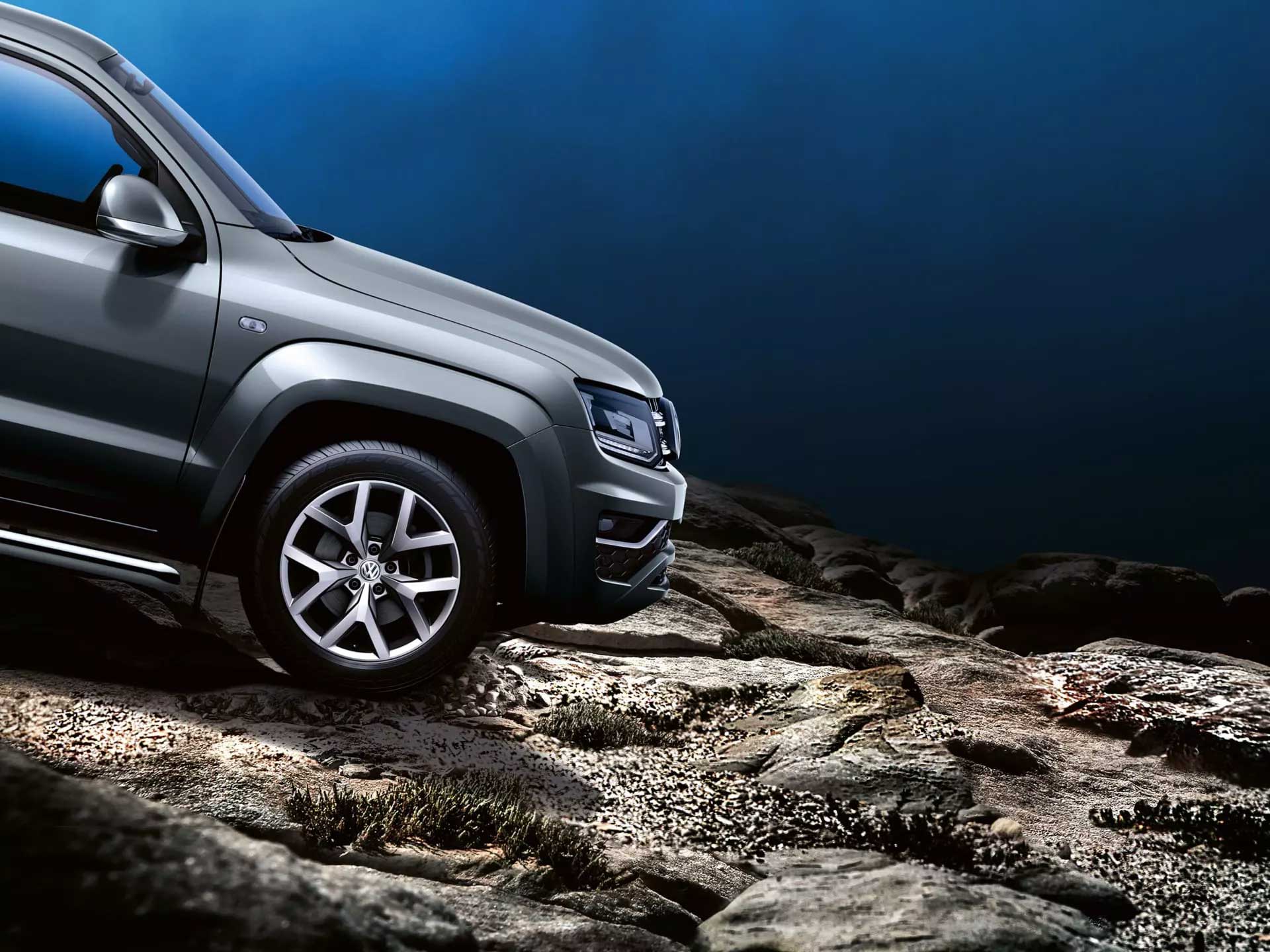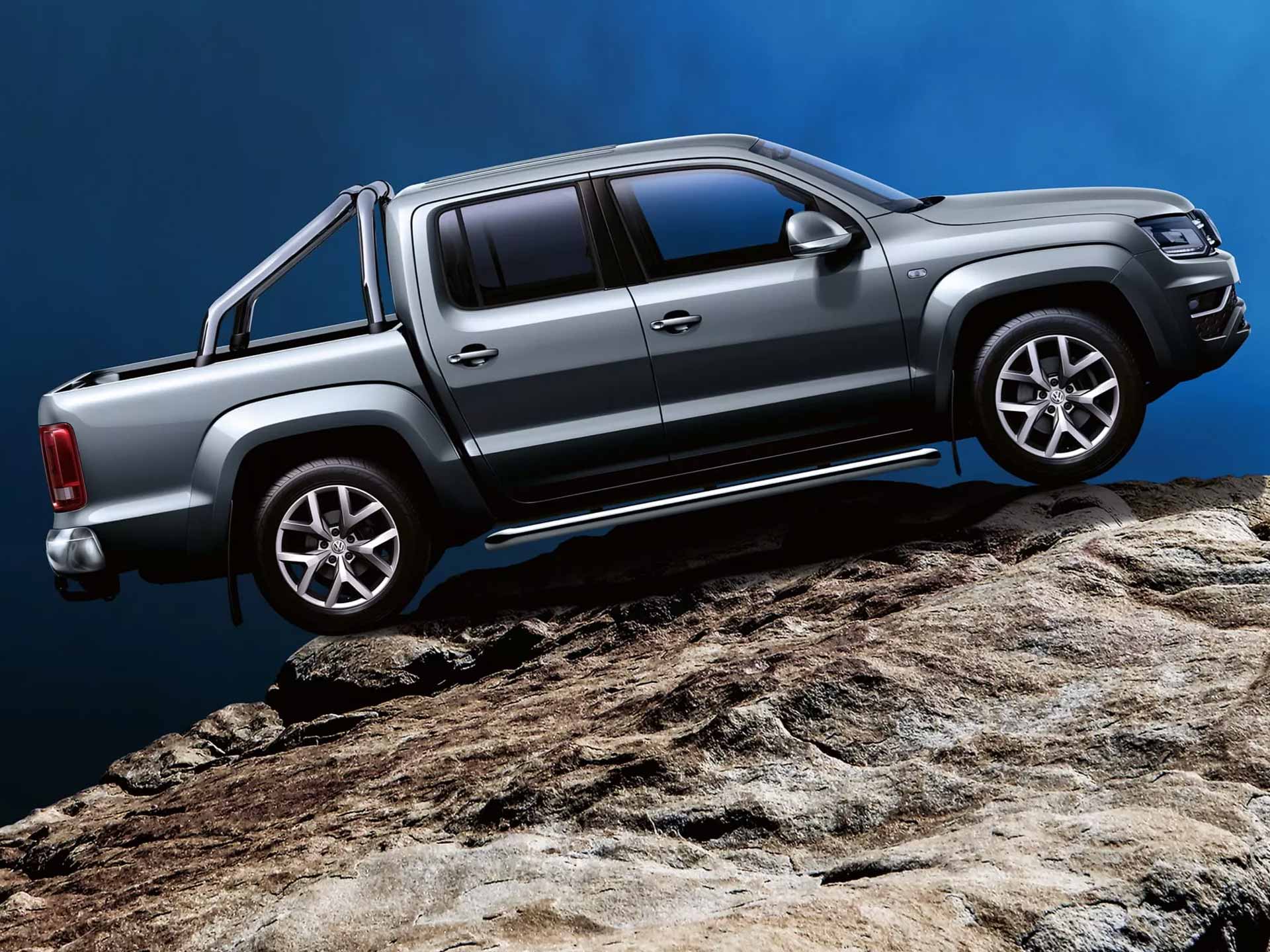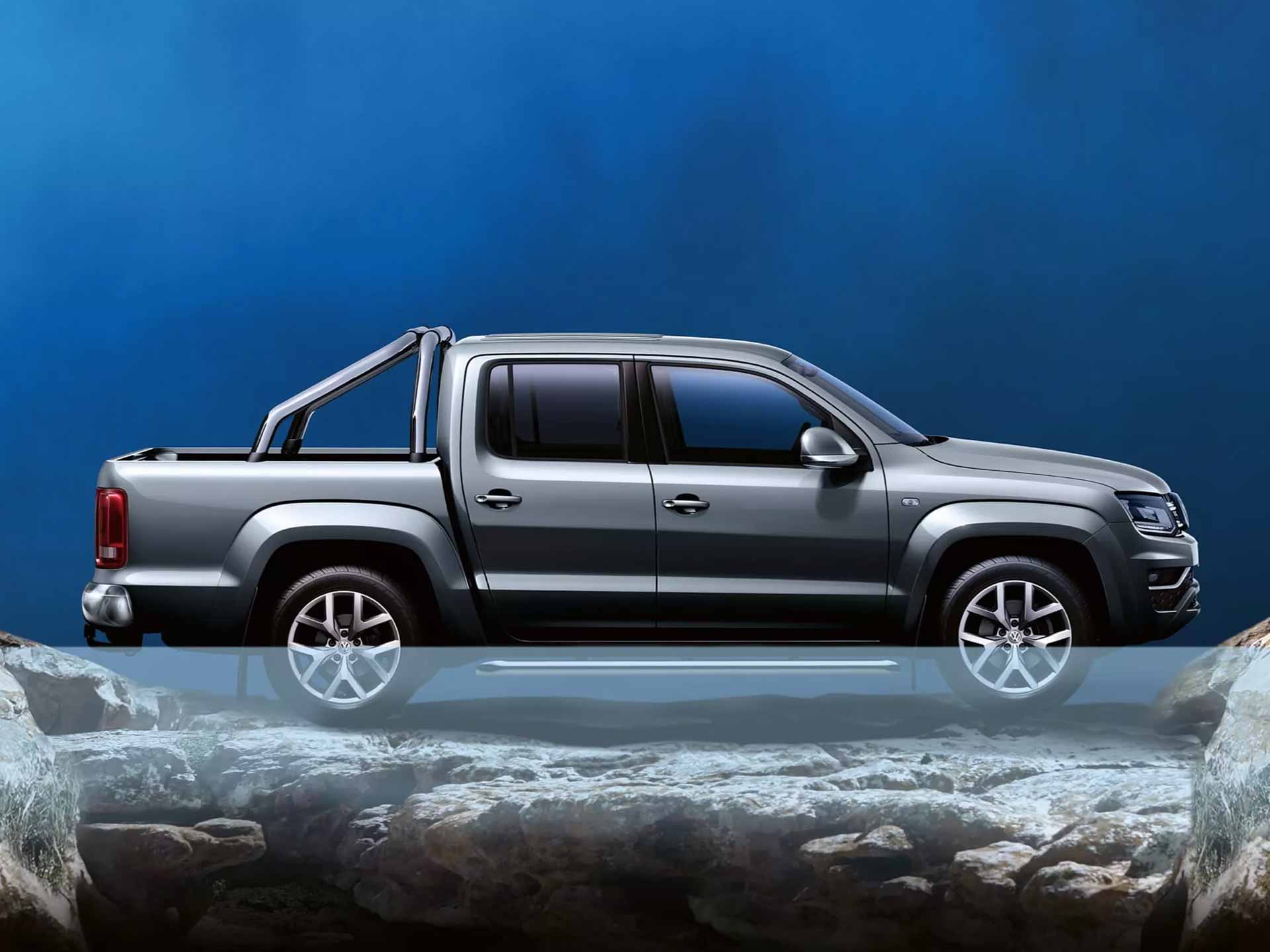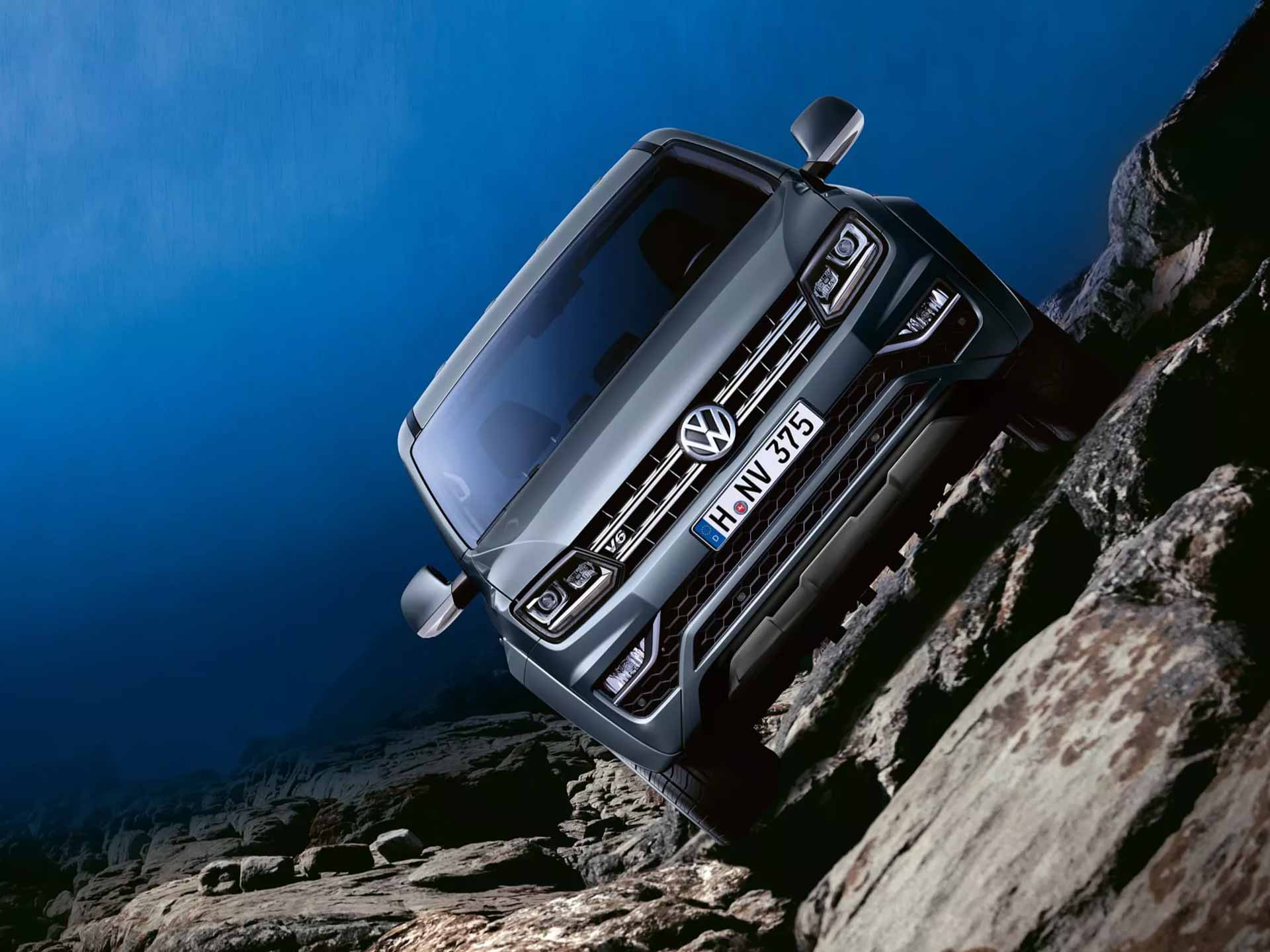 Offroad ABS
A short tap on the brakes.
A shorter braking distance.
Once activated, the wheels lock briefly when braking on loose surfaces, thereby essentially creating a wedge of material under the wheel and significantly reducing the braking distance. This noticeably increases the driving safety.
Hill Descent Assist
Walking speed

Activated automatically.

When off-roading, Hill Descent Assist lets you drive down slopes in a safe, controlled manner thanks to the engine management's ability to regulate the engine. The vehicle's speed is maintained at a constant pace.
Ramp angle
Inclined

towards a top performance

The Amarok's increased ground clearance means it can handle even extreme angles, gradients and slopes.

Thanks to its increased clearance and depending on the loading condition, the Amarok can climb ramps with an angle of 15.6° to 20.1°.
Slope angle and wading depth
Inclined

towards a top performance

The Amarok's increased ground clearance means it can handle even extreme angles, gradients and slopes.

The Amarok boasts a maximum slope angle of 29.5° at the front and 18.0° at the rear. It can handle pools with a wading depth of up to 500 mm.
Lateral slope angle
Masters

any situation

An off-road performance of the highest standard: The wide wheelbase ensures an incredible level of stability, even when driving on slopes with a 50° incline.
Carefully planned

right down to the smallest detail
Interior
The interior impresses thanks to plenty of space, even more comfort and a huge number of storage options.
Book a Test Drive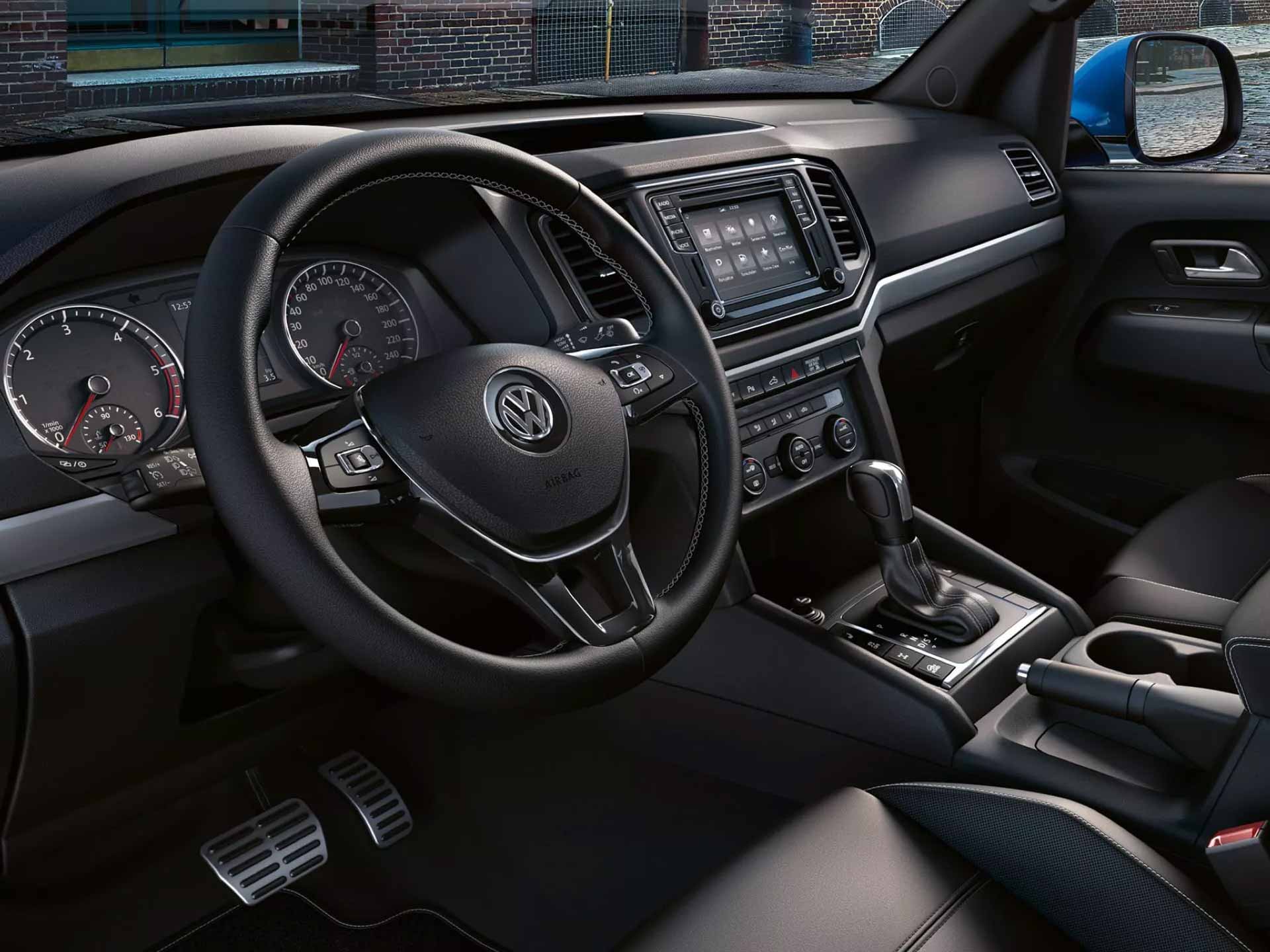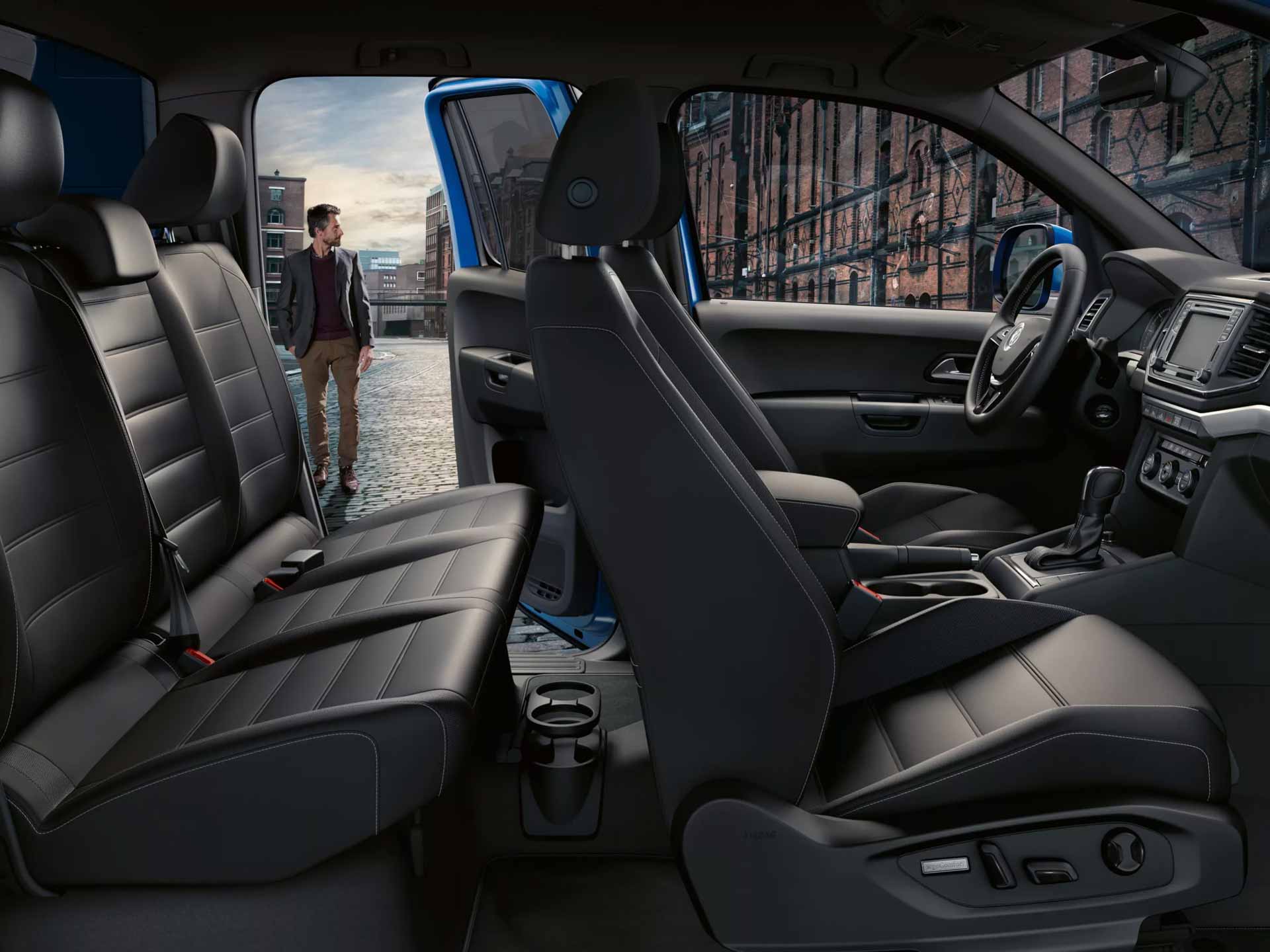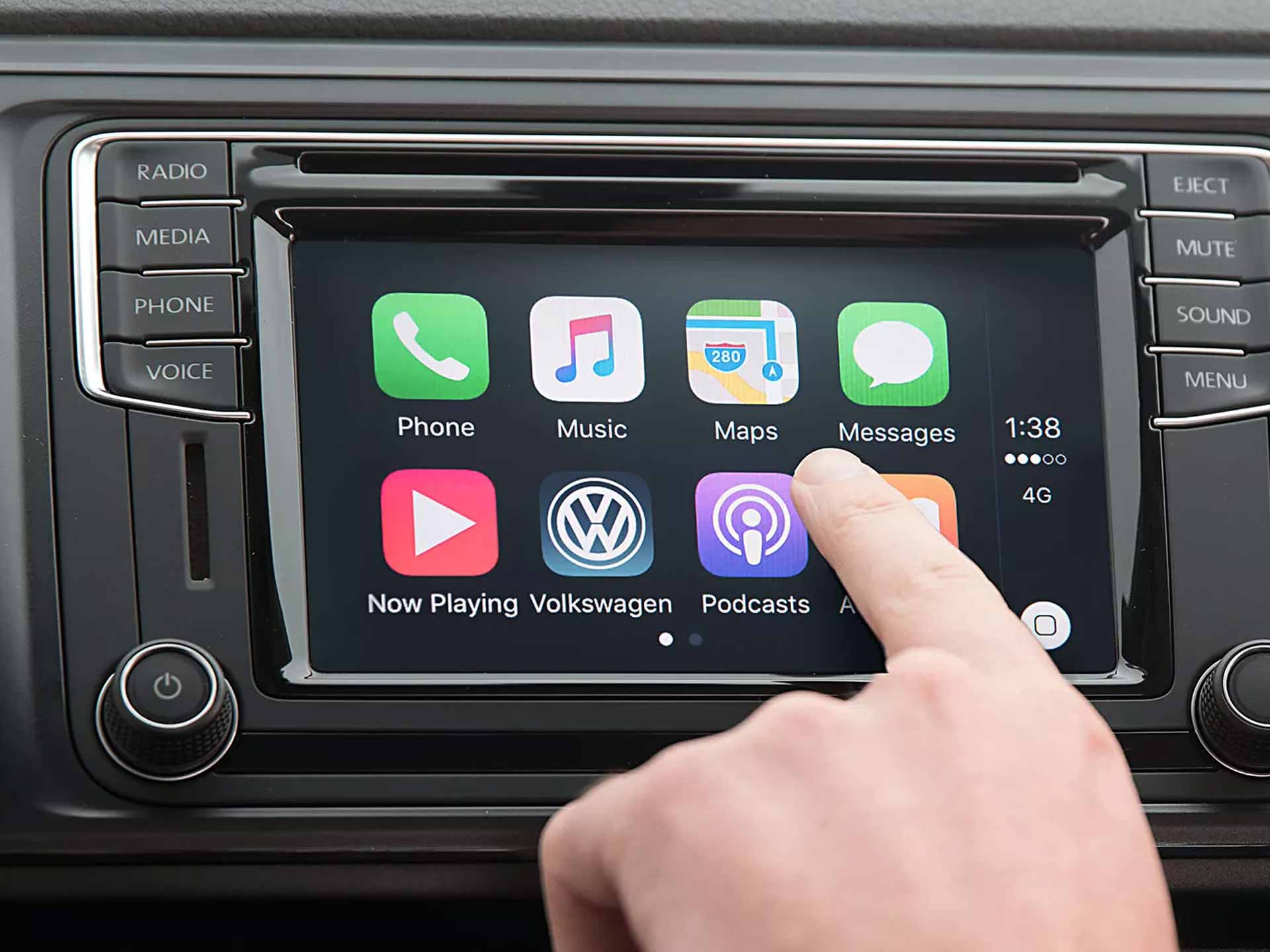 Storage areas
Plenty of
space
From coffee cups and work gloves through to a water bottle: the Amarok's interior has plenty of storage space for everything that you need for both work and play. This includes a storage compartment on the dash panel, spacious storage areas under the front seats and four cup holders.
Comfort
Almost too beautiful

to be there

You have reached your destination. However, you could simply stay seated in the Amarok's comfortable interior. After all, it offers the most spacious legroom in its class. And though the seats may be higher than in a sports utility vehicle – they are just as comfortable. What's more, the ergoComfort front seats can be carefully adjusted to your needs at the touch of a button. And you may not even want to get out at all.
ergoComfort seats
Multimedia infotainment
Off the beaten
soundtrack
A long day at work and an even longer day off-roading? In the Amarok, you won't miss anything that's going on at home or out in the wider world thanks to cutting-edge radio and navigation systems.
The crystal clear 6.33" colour touchscreen is packed with the latest multimedia functions.
Innovative

from the inside, out

The Amarok isn't just tough, it has all you would expect and more from a Volkswagen.

Book a Test Drive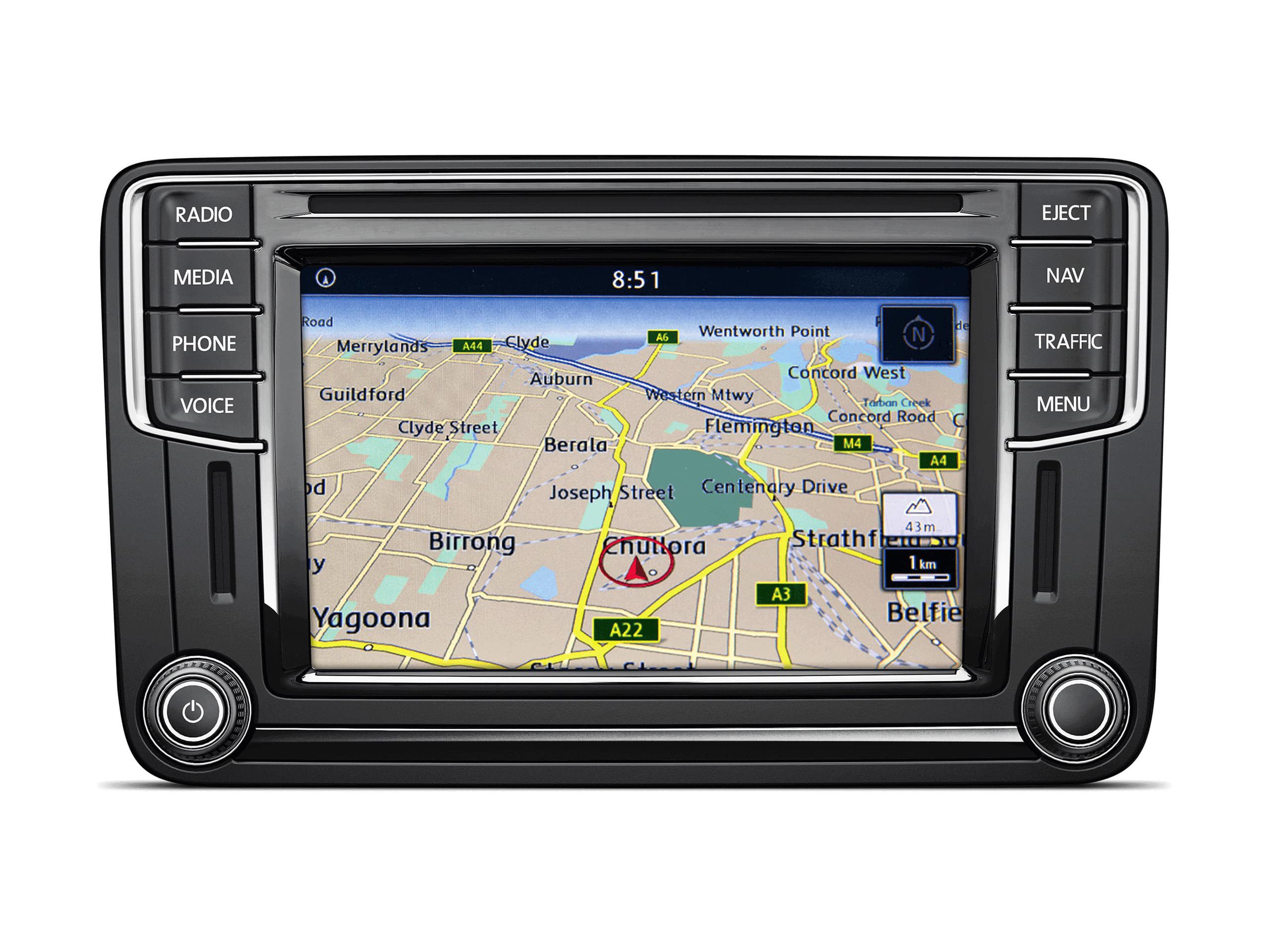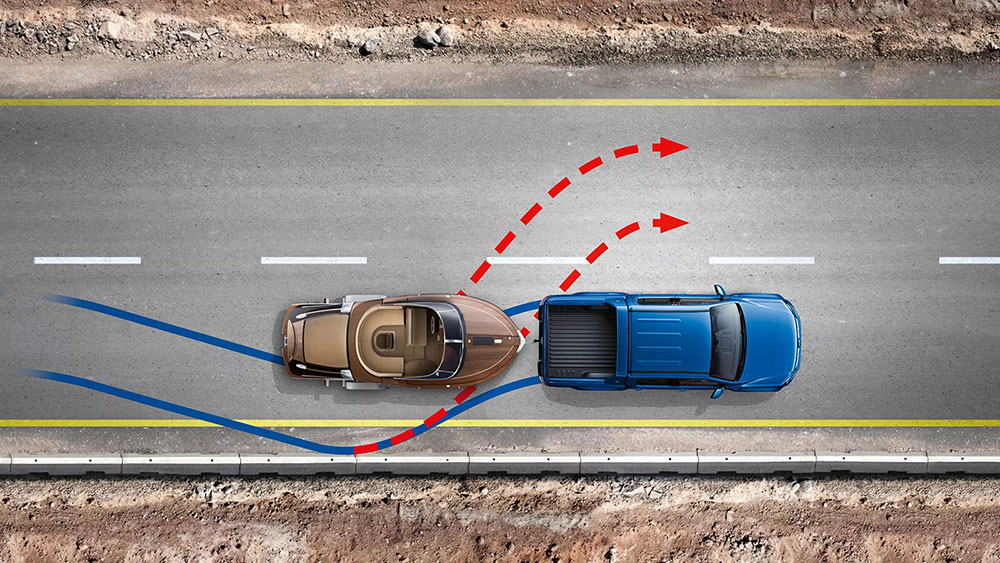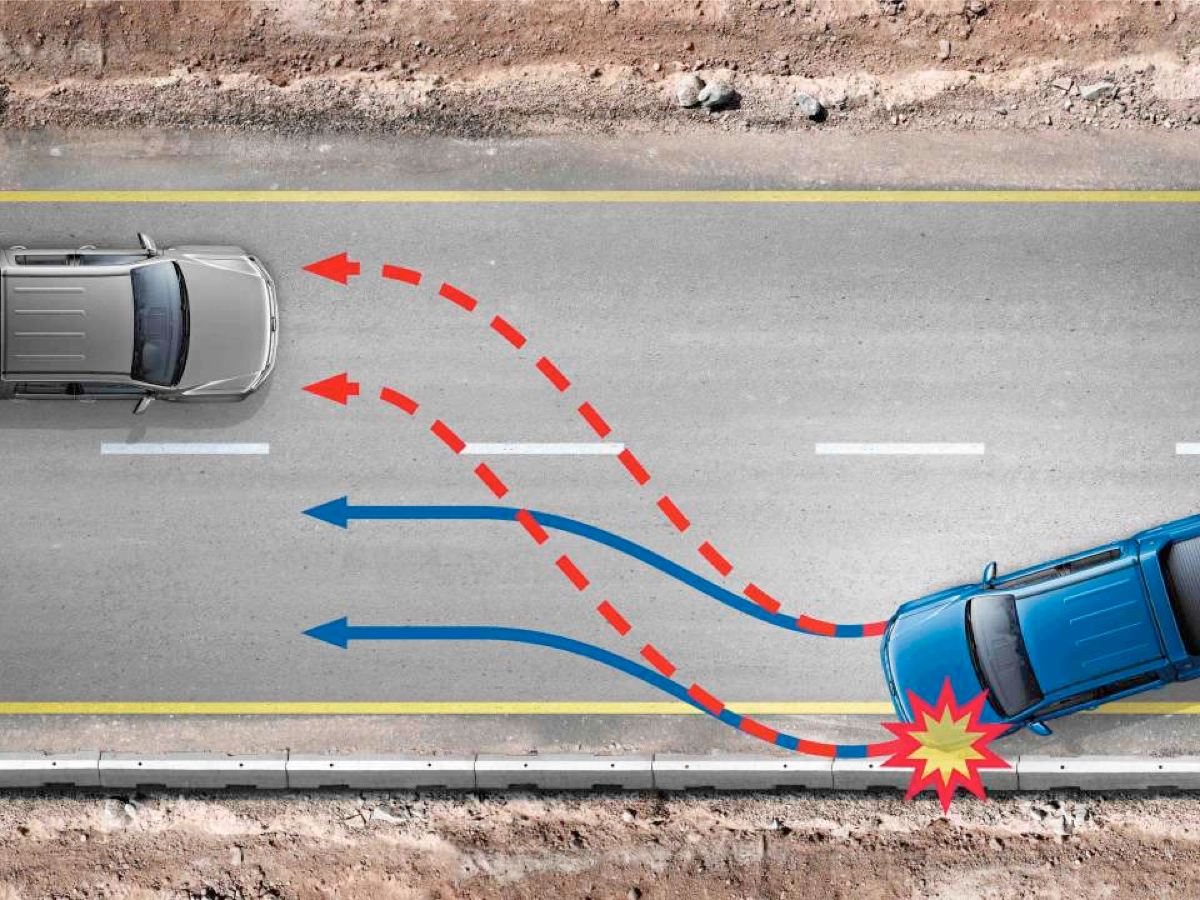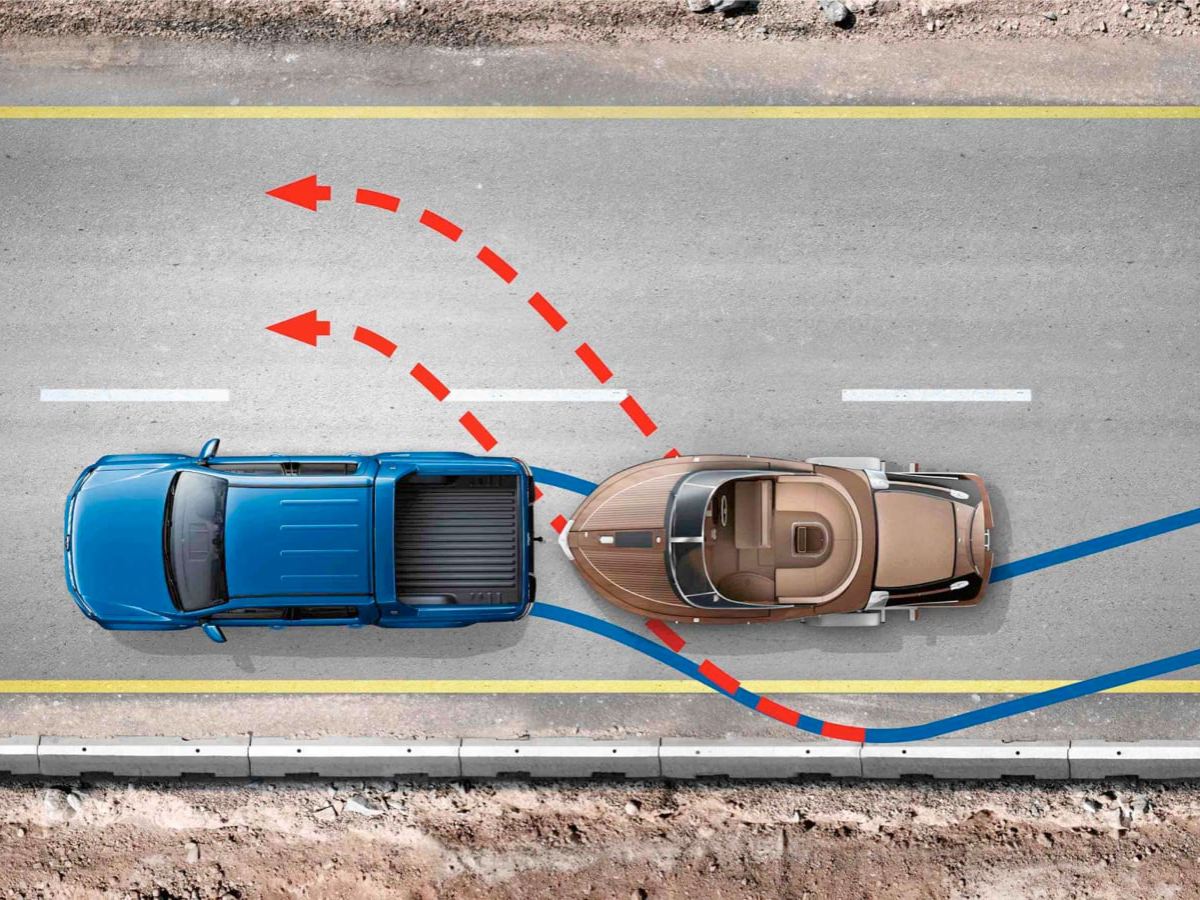 Media Systems
Hardwired for
connection
Navigation has never been easier thanks to the optional Discover Media package, with a 6.5" colour display with touchscreen, 2D and 3D (bird's eye) map views, CD player with auxillary input and two SD card slots for navigation and media. Only available on Highline and Ultimate models.
The Composition Media system boasts a crystal clear 6.33" colour touch screen, packed with the latest multimedia functions, including App-Connect2 and Bluetooth®. For added convenience the telephone functions can be voice activated. Available on all models.
Electronic Stability Program (ESP) and off-road ABS
In
safe hands
ESP helps you stay in control of your vehicle by preventing understeer or oversteer. If your vehicle starts to skid, the Electronic Stabilisation Programme will apply the brakes to individual wheels and adjust the engine's power output to correct the problem.
Off-road ABS reduces the stopping distance on loose surfaces at the press of a button. When this function is activated the braking interval is increased; the wheels lock up in a controlled manner so that material from the ground (such as gravel or sand) build up in front of each wheel, reducing the stopping distance.
Multi-Collision Brake
Safety

as standard

The Multi-Collision Brake system3 applies the brakes to slow the vehicle to 10km/h when airbag sensors detect a collision, so that a secondary impact will be lessened or avoided. During braking, the hazard and brake lights are illuminated and remain activated. The driver can take over at any time.
Trailer Stabilisation
Steady

the load

Trailer Stabilisation3 complements the electronic stabilisation program. If your trailer starts to fluctuate heavily, the system slows it down through controlled braking and reduced engine torque – steadying the trailer and increasing driving safety. Genuine Amarok wiring harness must be fitted.
Built for maximum
driving pleasure
The Amarok can handle extreme angles, gradients and slopes, providing a comfortable drive on any terrain.
Book a Test Drive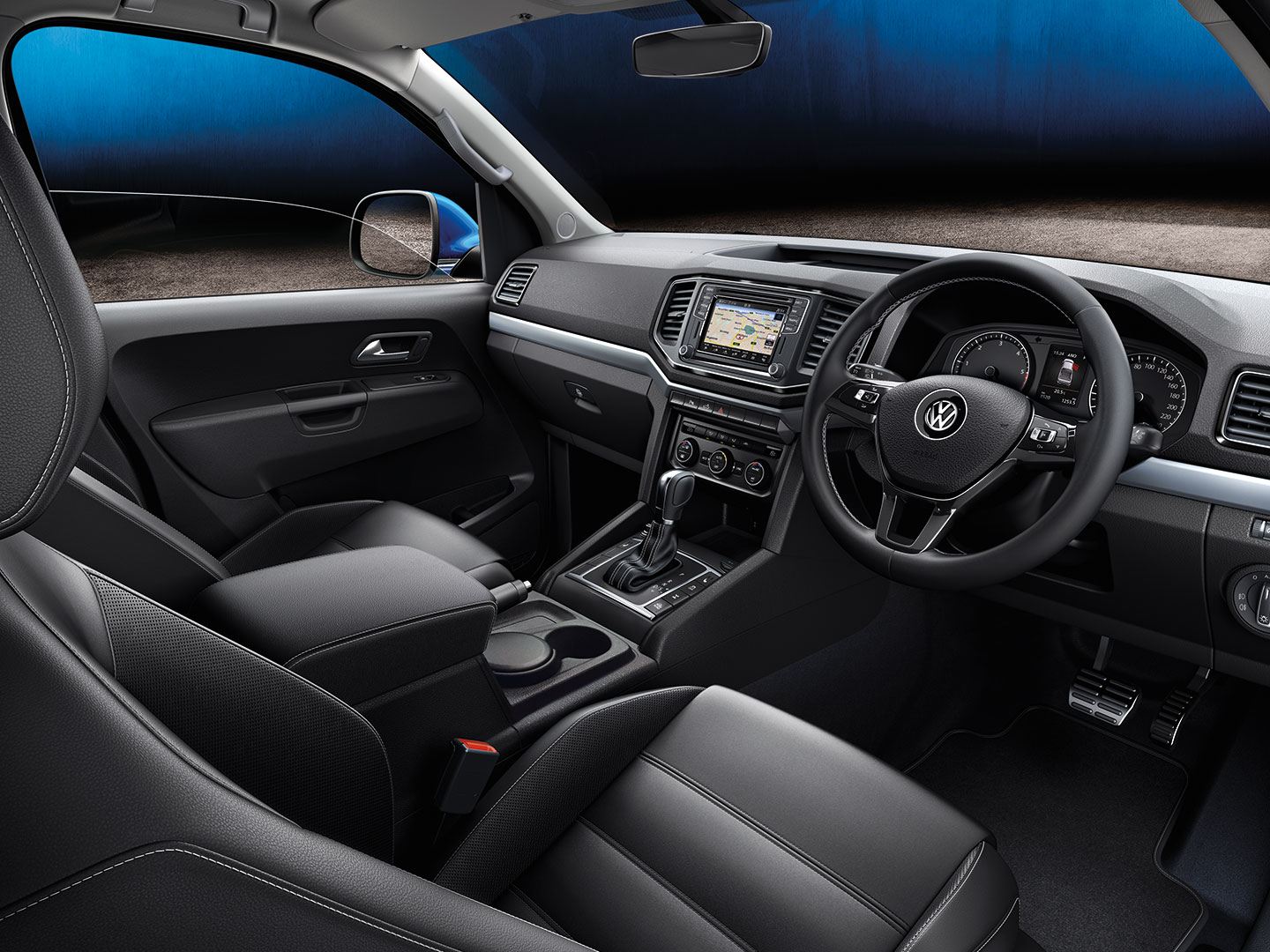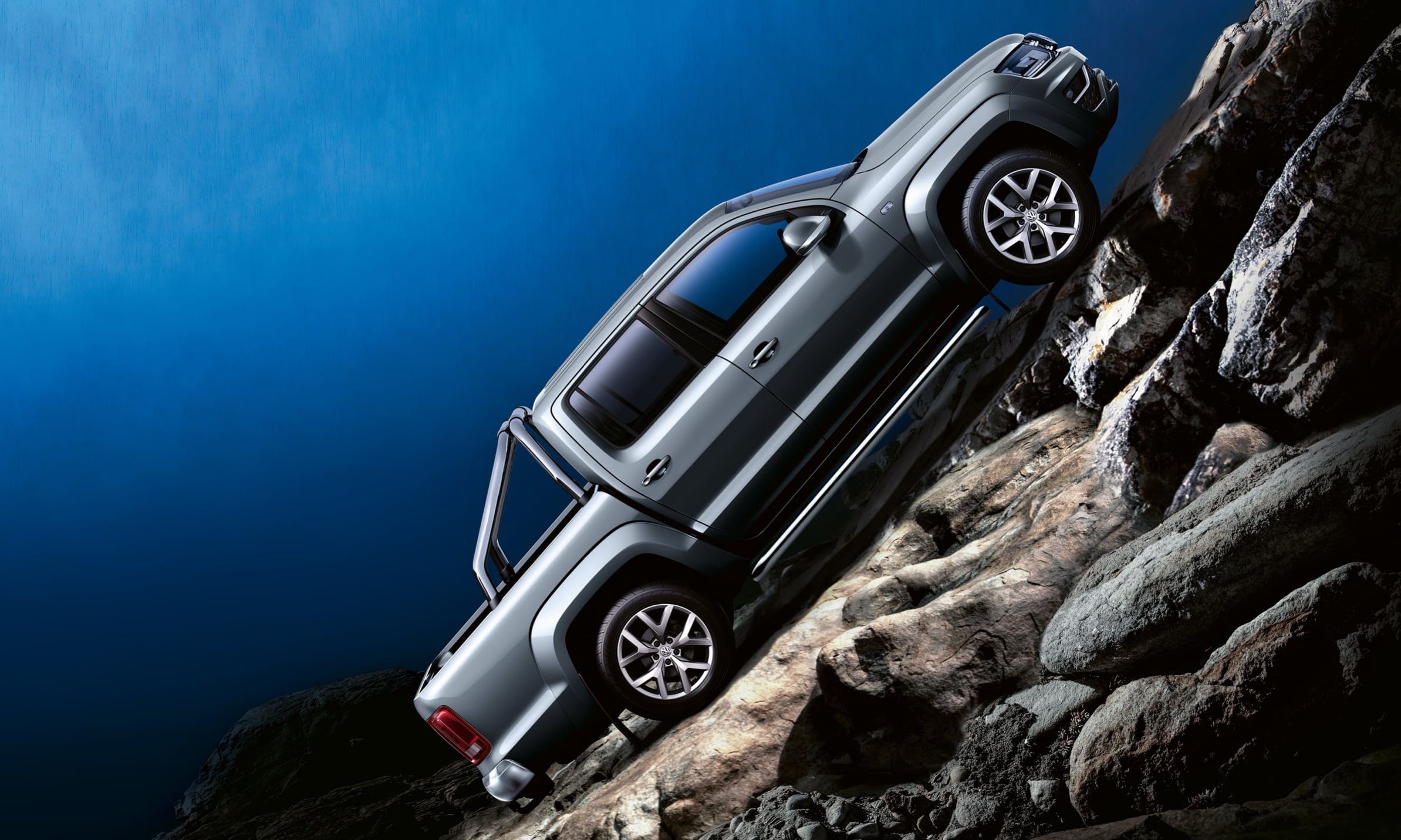 Interior
Get comfortable

being tough

The Amarok's interior boasts plenty of space to stow your belongings, including storage on the dashboard, large compartments under the front seats on the Sportline and Highline, and four cup holders. The ergoComfort 14-way electric seats, available in luxury Nappa leather appointed upholstery4, ensure a comfortable drive and safe journey.
Gradients
See the world

at different angles

From steep slopes to rushing streams, the Amarok's got it covered. It handles 45° inclines, has a maximum slope angle of 29.5° at the front and 18.0° at the rear, and can handle pools with a wading depth of 500mm. The Amarok's broad wheelbase provides enormous stability, even when driving along slopes with a 50° incline*.

*Actual is 49.7° on left 50.8° on right
The Amarok
Variants

Amarok V6 Sportline
From $75,000
Features of Amarok V6 Sportline
Up to 200 kW maximum power
8.9L/100km fuel consumption
6 cylinder turbo engine
8-speed automatic transmission
Up to 3500kg towing capacity
18" alloy wheels
Cruise control
Book a Test Drive

Amarok V6 Aventura
From $90,000
Features of Amarok V6 Aventura
Up to 200 kW maximum power
8.9L/100km fuel consumption
6 cylinder turbo engine
8-speed automatic transmission
Up to 3500kg towing capacity
20" Talca alloy with flared wheel arches
14-way power adjustable "ergoComfort" front seats with leather upholstery
Book a Test Drive
Next

Steps
---
Disclaimer by Volkswagen
1. The information provided on the Volkswagen New Zealand website is for information purposes only
2. A Volkswagen New Zealand reserves the right to extend, withdraw or change all offers *Prices are shown in New Zealand dollars, include GST and exclude on road costs
3. Weekly finance price is subject to change due to interest rates*. Please see the full terms and conditions for Volkswagen Finance for more information. www.volkswagen.co.nz/finance
4. Fuel consumption is based on the combined fuel consumption figure
5. International models might be shown for illustrative purposes only, and New Zealand specifications may vary
6. Some colours in these images are not available in New Zealand, the product guide contains the correct colours available to the New Zealand market
7. Additional and optional accessories may have an effect on fuel efficiency. Optional accessories and add-on packages are available at an additional cost
8. App-Connect is compatible for selected apps with the latest smartphone versions of iOS and Android, active data service, and connection cable (sold separately)
9. Safety technologies are designed to assist the driver, but should not be used as a substitute for safe driving practices
10. Leather appointed seats have a combination of genuine and artificial leather, but are not wholly leather