The driver's

companion

Weekend at the beach or a mountain getaway? A family outing or on the way to a meeting with colleagues? It seems that in life you always have to choose between one thing or another, but what if there was a way to have it all? With the Multivan you can. From little interior touches for extra comfort to the state-of-the-art infotainment systems, no matter what you have in mind, the Multivan has you covered.

Book a Test Drive
The driver's
companion
The Multivan has been the perfect travel companion for over 65 years, accompanying drivers through the endless demands of everyday life and leisure time. Versatility, quality and perfection right down to the smallest details - this is what makes the Multivan so enticing.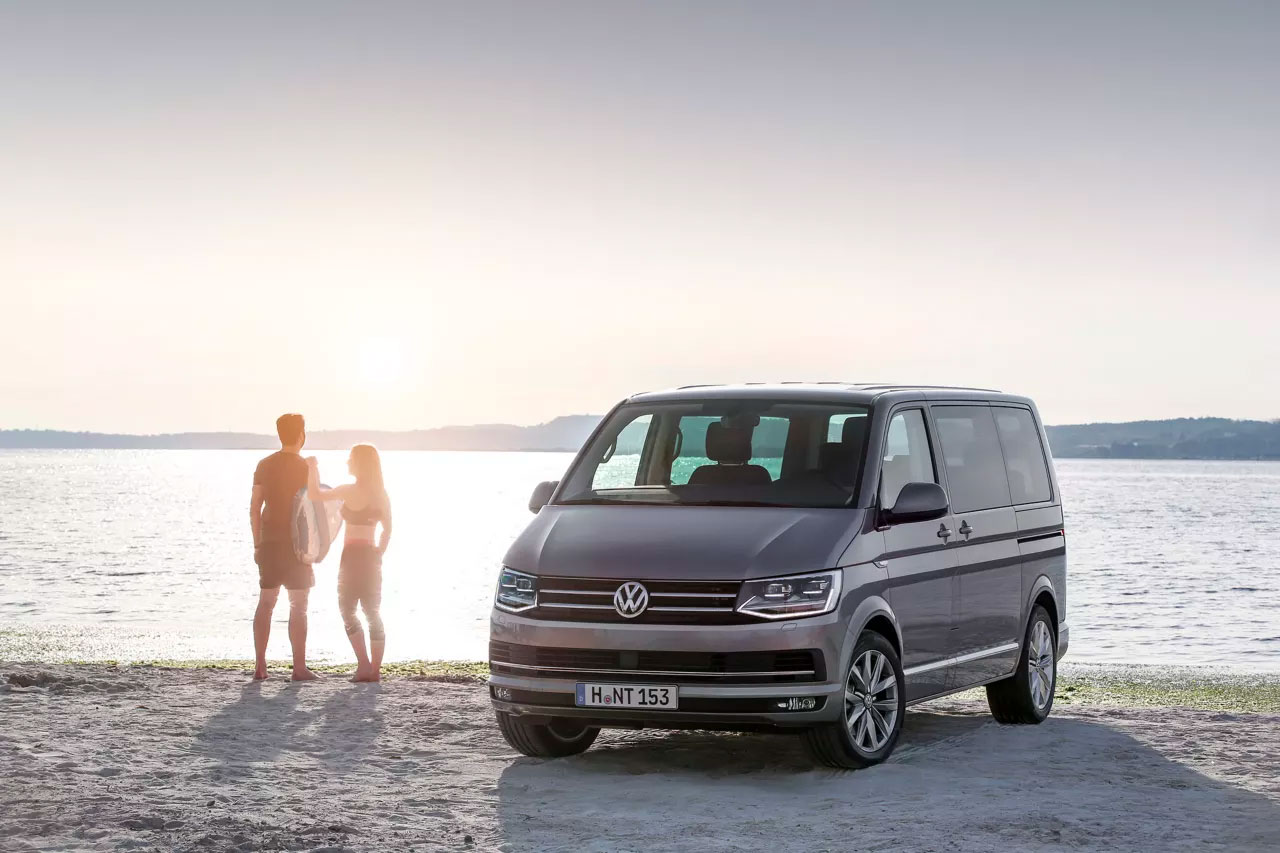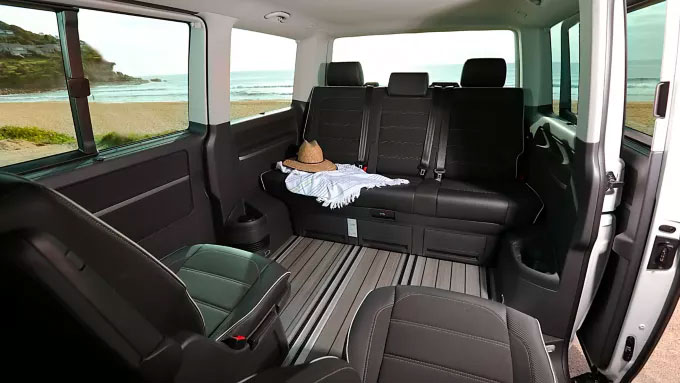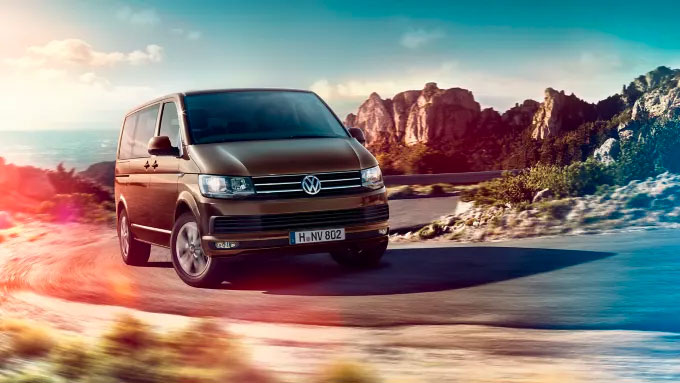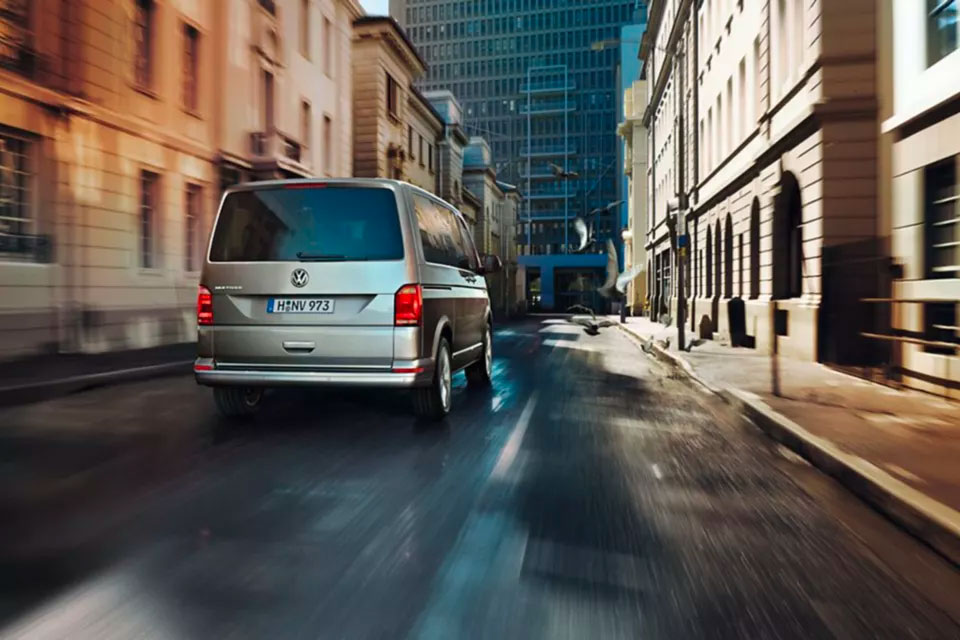 Whatever you
need it to be
Flexibility comes standard with the Multivan, offering a versatile cabin space for up to seven people, you can configure your Multivan to bend to your particular needs.
Room to be you
Stretch your legs. Thanks to the Multivan's innovative seat rail system, all seats in the passenger area can be repositioned. The captain's chairs can also easily swivel on their base to face either forwards or backwards.
Something for the little riders
All seats in the Multivan have ISOFIX and top tether mounting points for child seats. The 3rd row has an additional reclining function.
Let it slide
It's super-easy to get everyone in and out of the Multivan. Equipped with a number of electronic trapping protectors, the sliding doors are easy to operate using either the remote control or a button in driver's cab.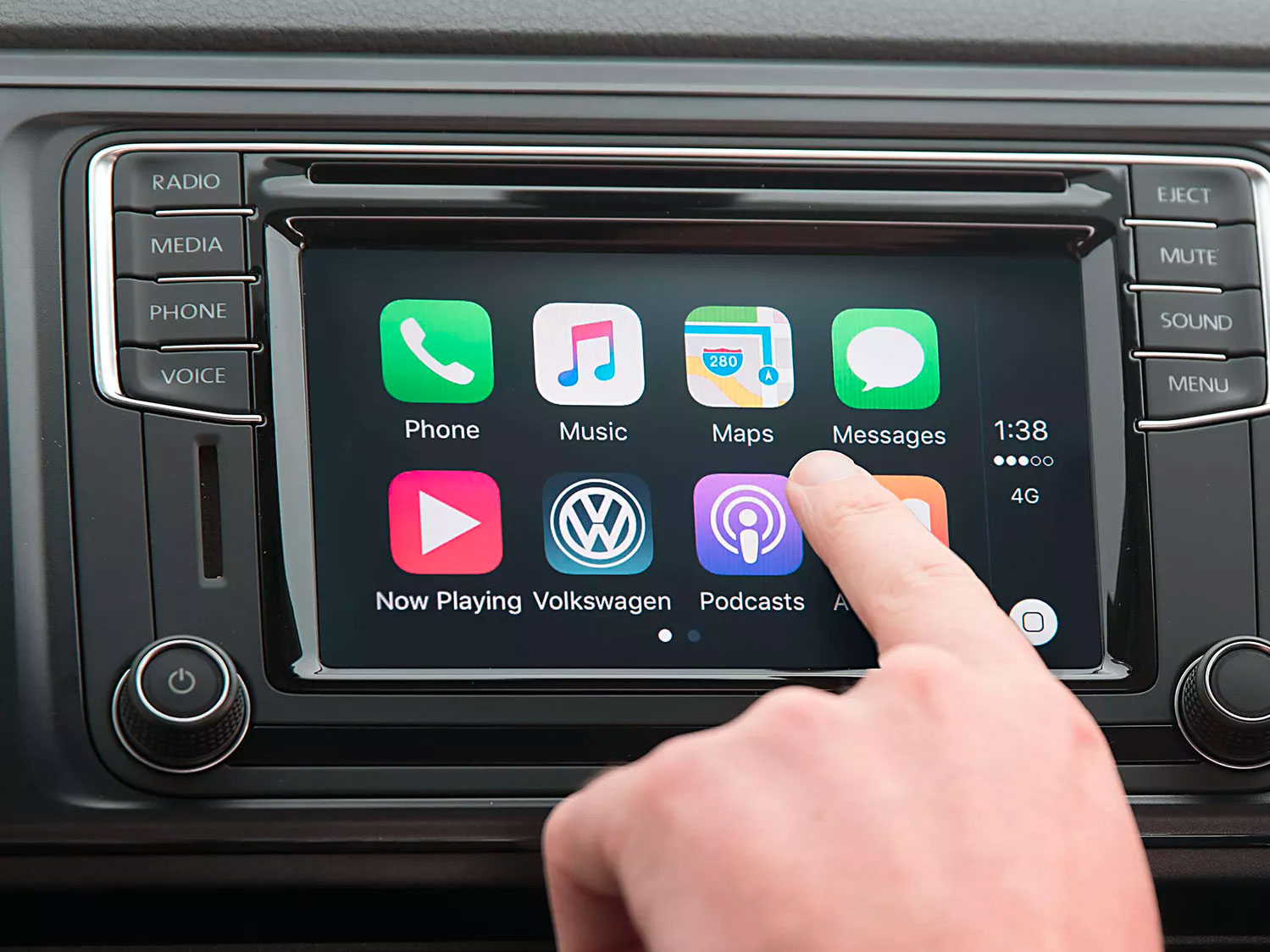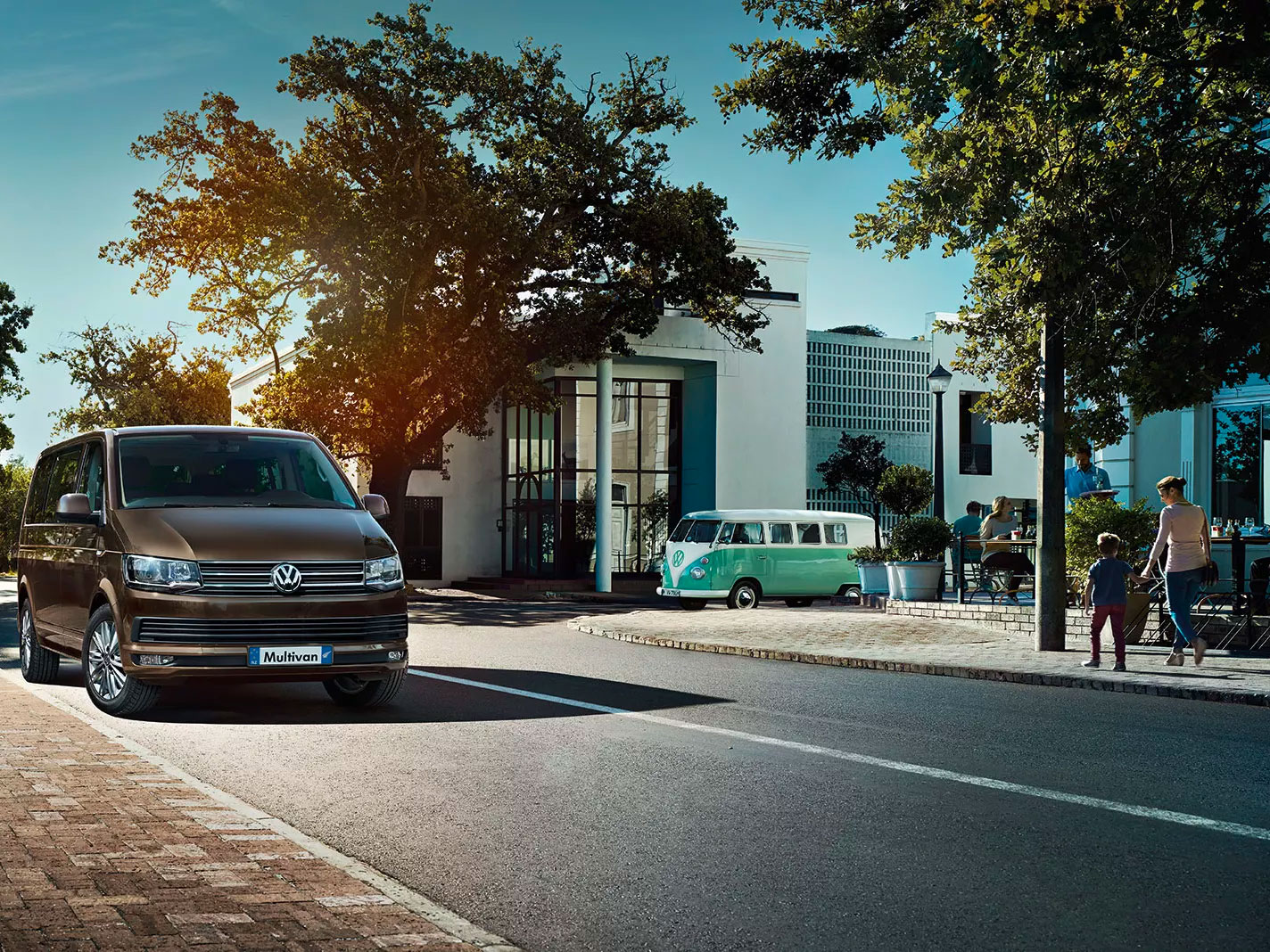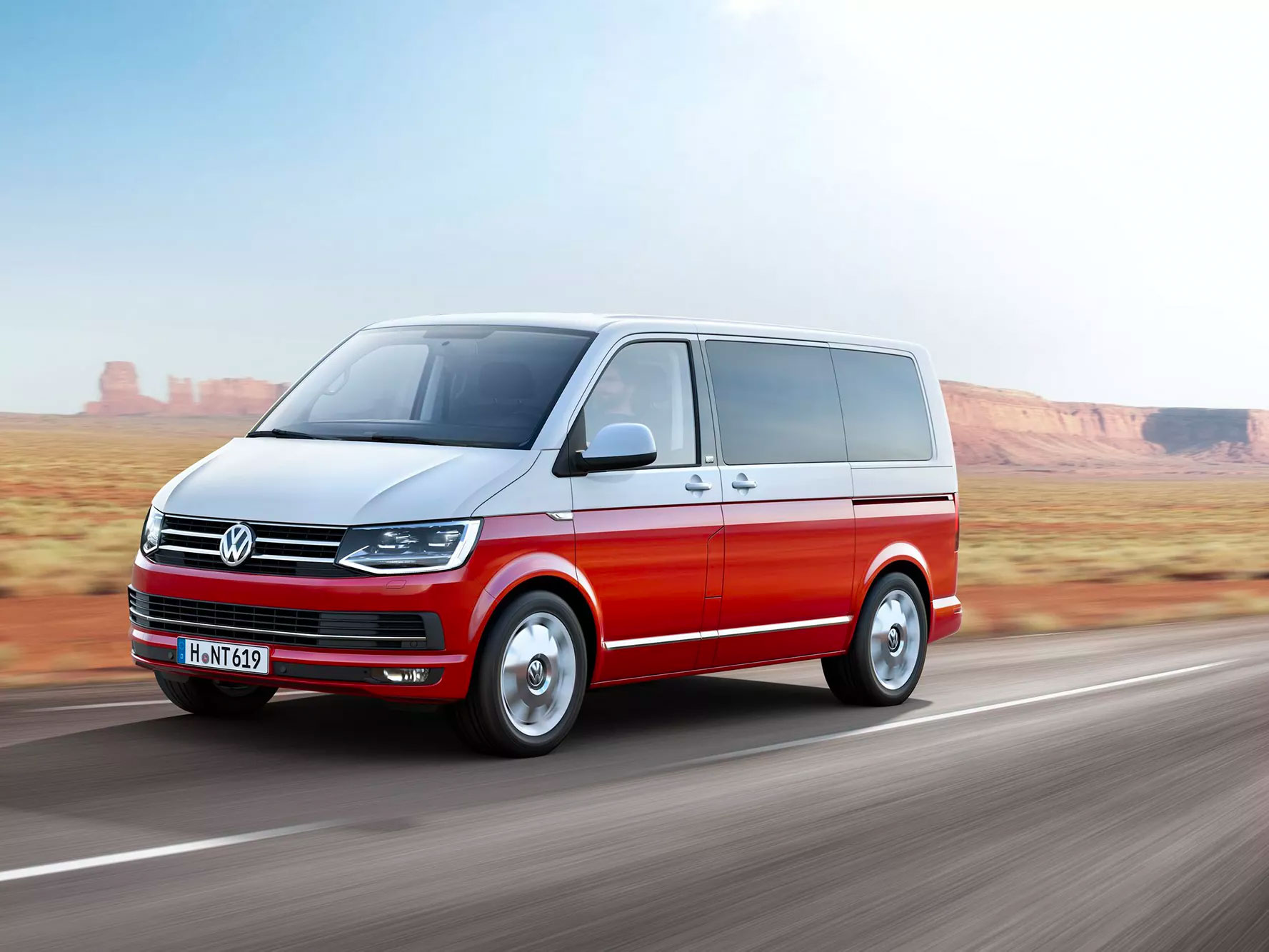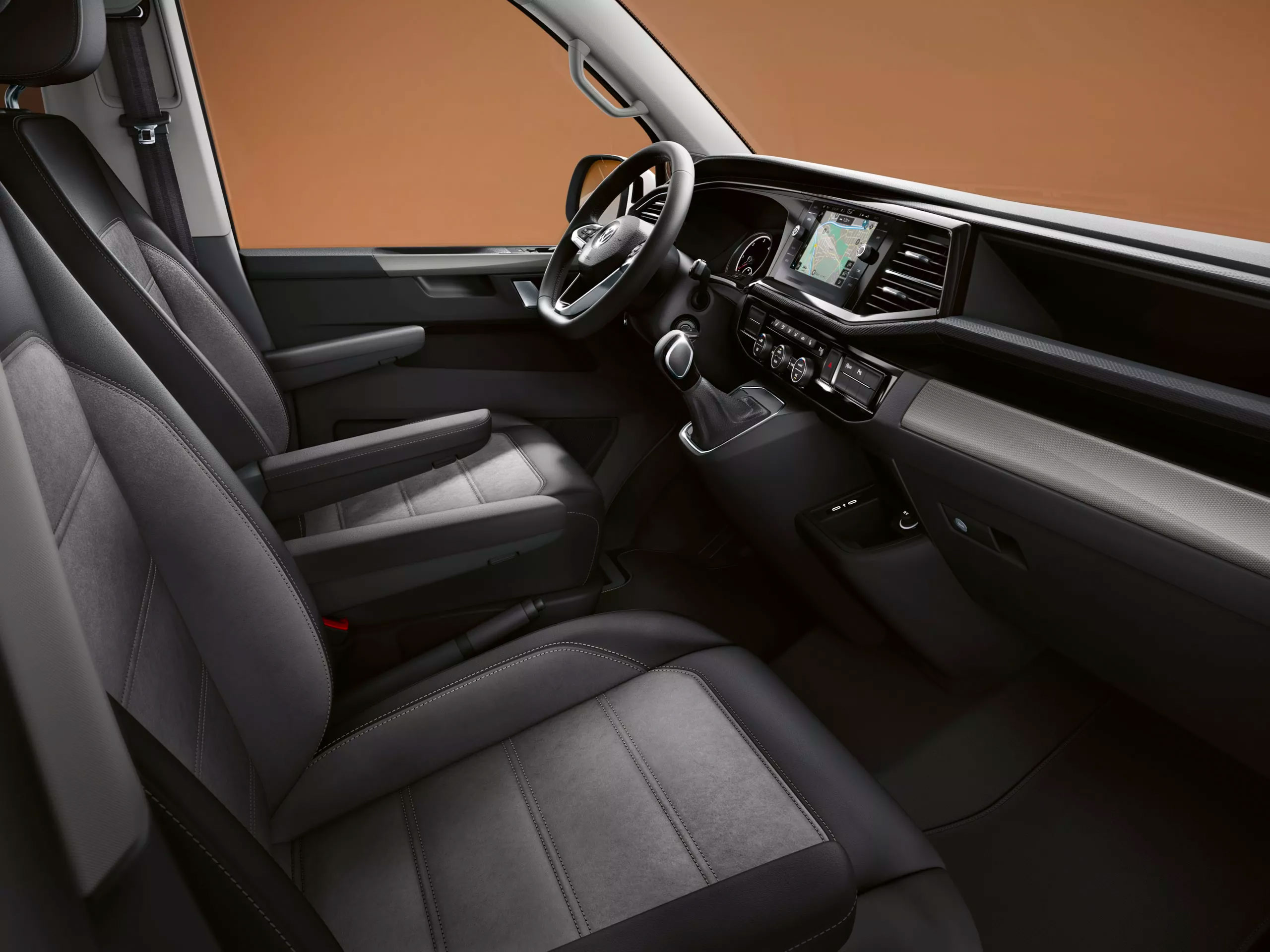 Best connectivity
Connected

for the future

Vehicles are getting smarter and smarter. The Multivan is already equipped with a range of digital technology to make driving even more comfortable.
Modern driver assistance systems
Driver assistance systems –
always there when you need them
In the Multivan almost every journey becomes a relaxing experience – even if you're travelling through the busy urban jungle. Thanks to innovative driver assistance systems, such as Cruise Control and Electrionic Stability Control, your vehicle is prepared for any bumps in the road and unexpected obstacles.
Two-tone paint finish
Two colours

bring brightness to your day-to-day

Almost 70 years ago, the T1 Van made a statement that the Multivan still embodies to this day.
Comfortable interior
Just like back then – with
modern-day comfort
Even though the Multivan embodies the spirit of times gone by, its interior more than meets modern-day expectations of design and comfort.
Carefully planned

right down to the smallest detail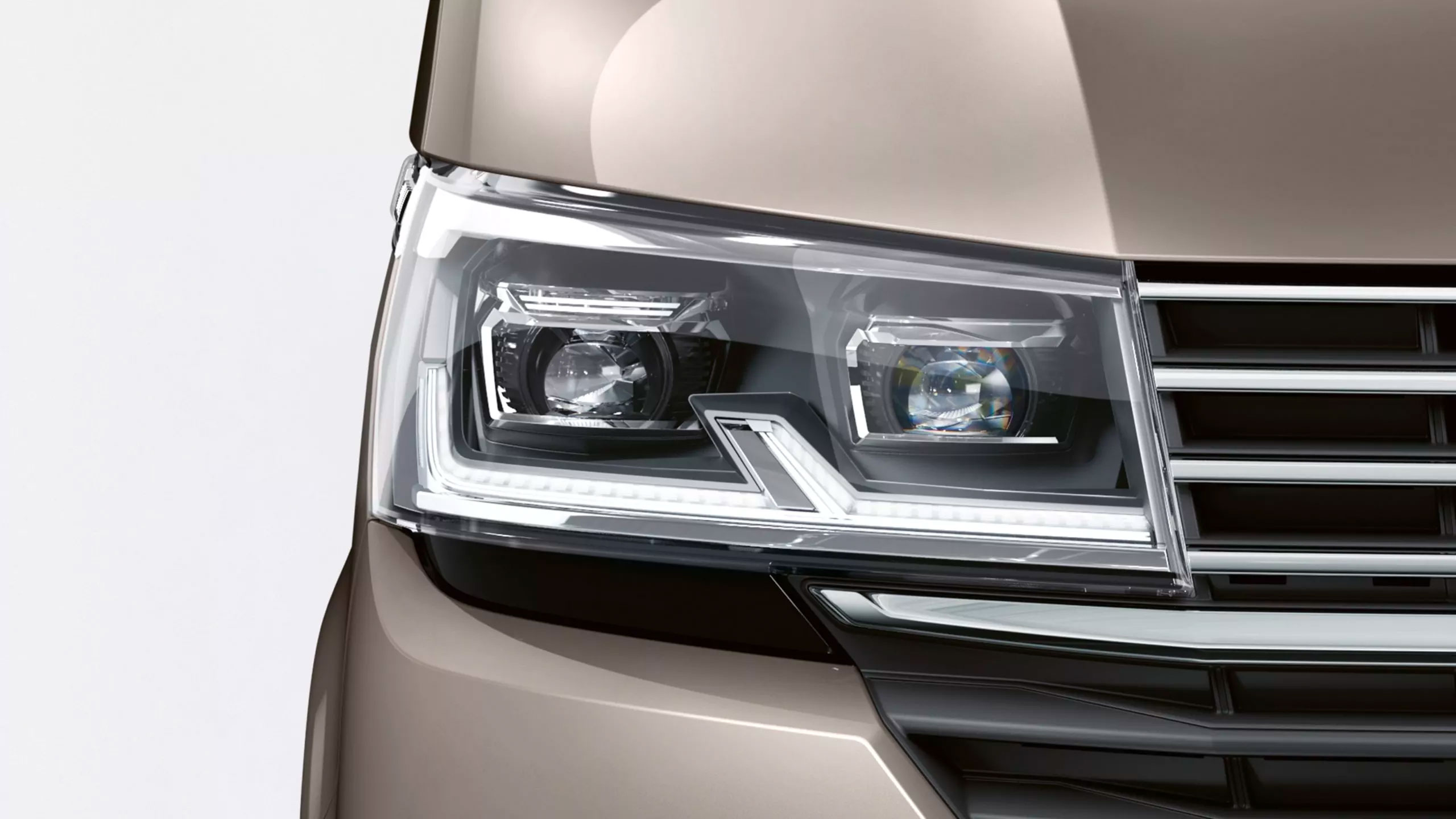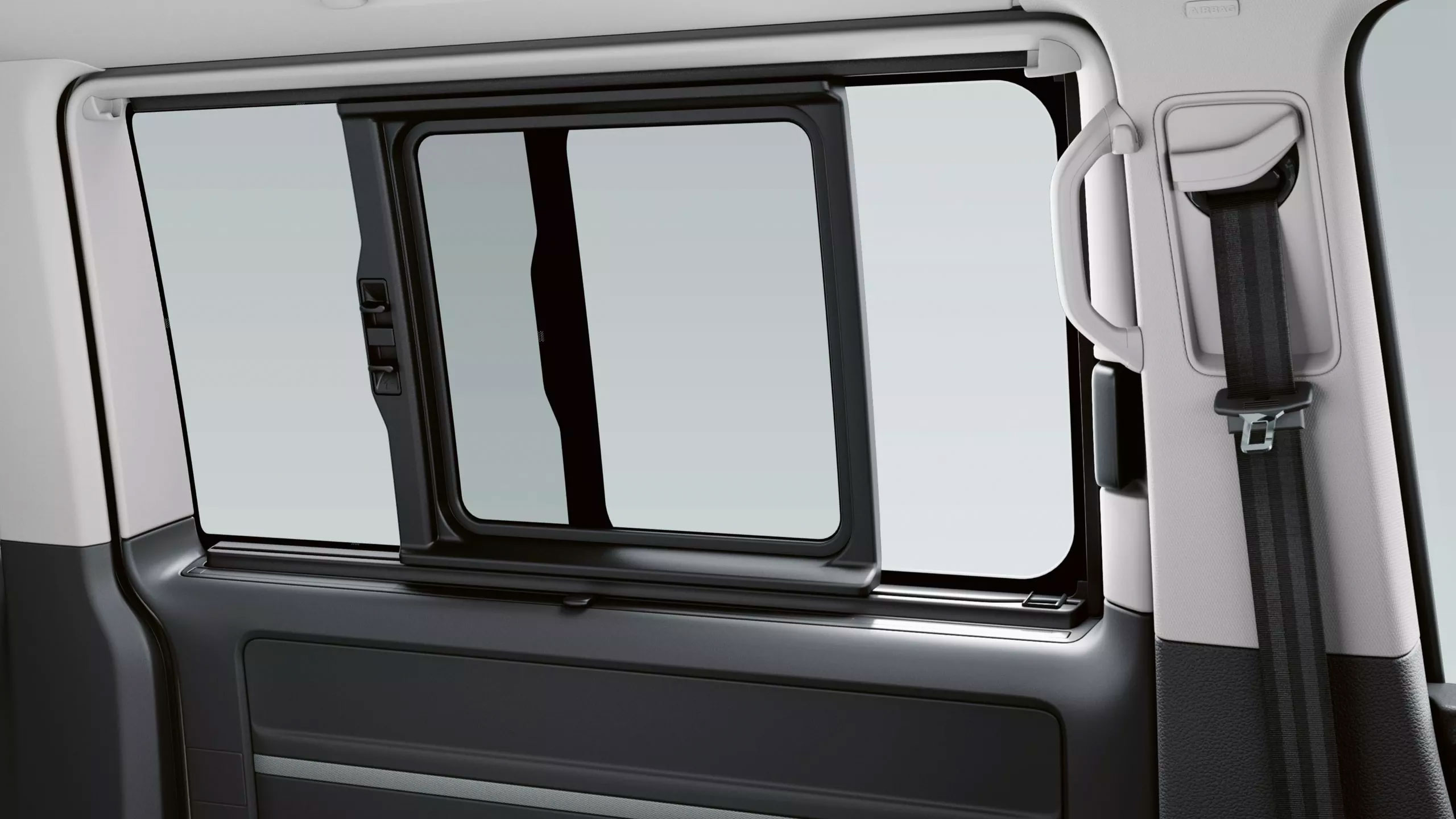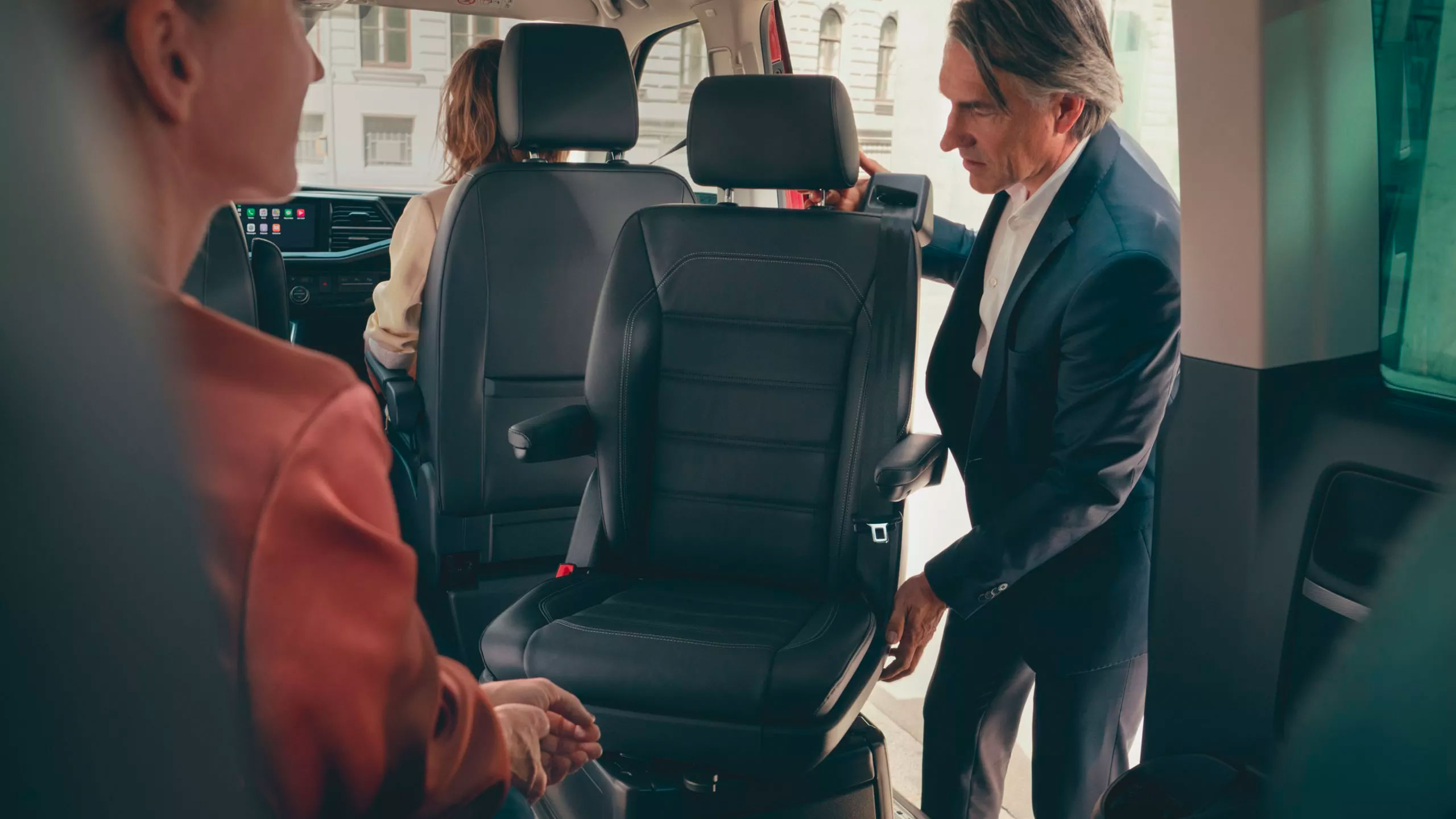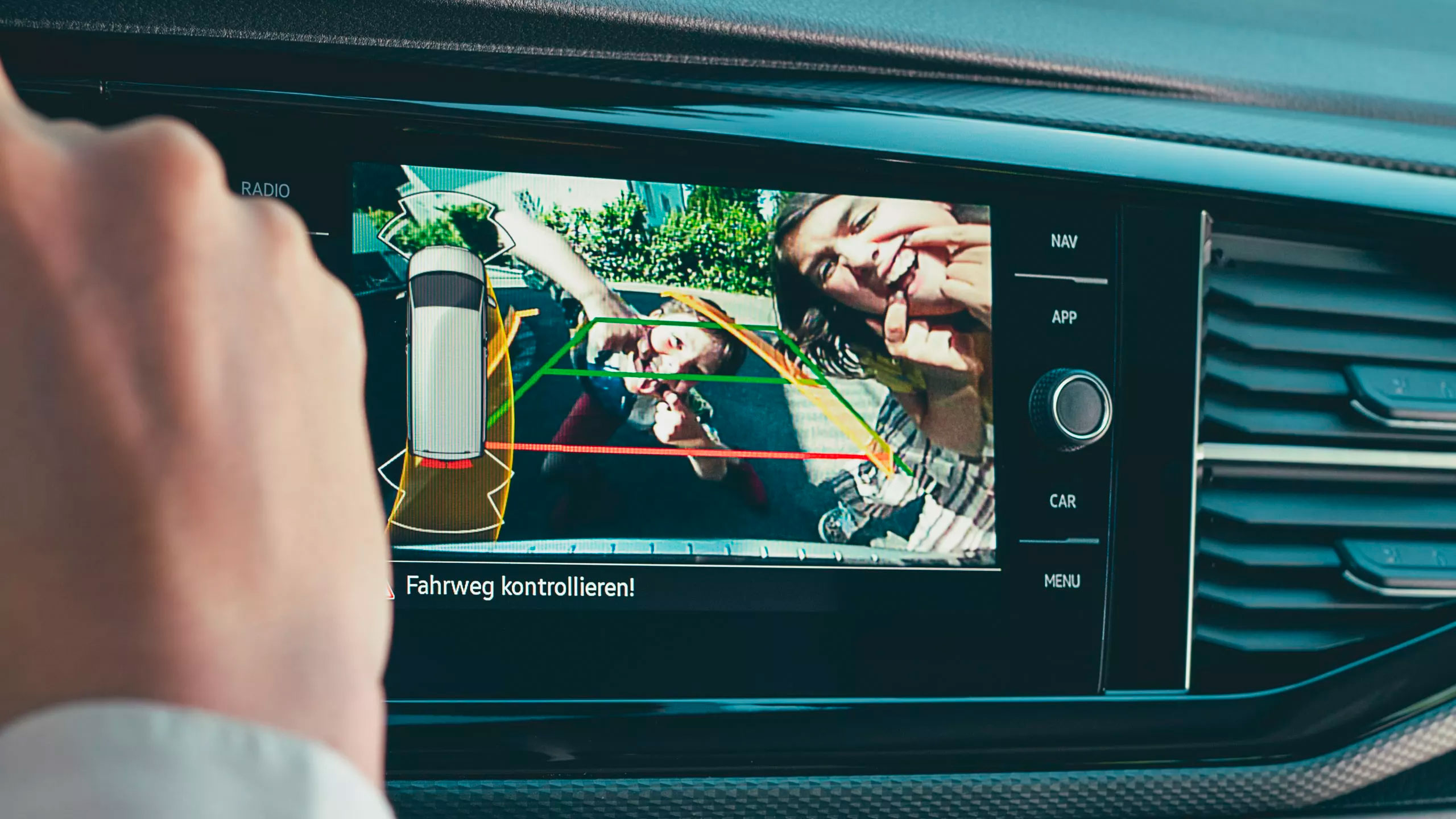 LED headlights
Dazzlingly

beautiful

The LED headlights do more than you would expect. They give the vehicle an attractive signature light design while also providing a long distance beam and large light volume.
Sliding windors
A quick breath of
fresh air
Sometimes you need a bit of fresh air on long journeys. So, that you don't always have to take a break, new handles make it easier to open and close the sliding side windows.
Rotating multi-functional seats
A change
of direction
Are you only able to read when you're facing the direction of travel but prefer to speak the passengers behind you face-to-face? The multi-functional rotating seat leaves it all up to you.
Parking assistance
Deluxe parking
Simplifies parking by showing a limited view of the area behind the vehicle on the display of the radio or navigation system. Additional reference lines aid the parking process.
Carefully planned

right down to the smallest detail
Operating equipment
Thanks to the innovative Infotainment system and extras like the optional multifunction steering wheel complete with paddles, everything is perfectly within your grasp.
Features & Models
Features of Multivan Comfortline SWB
132 kW maximum power
8.8L/100km fuel consumption
4 cylinder engine
7-speed DSG Transmission
4MOTION All-Wheel Drive
17-inch alloy wheels
6.33-inch composition media infotainment system

Features of Multivan Comfortline SWB 4MOTION
132 kW maximum power
8.8L/100km fuel consumption
4 cylinder engine
7-speed DSG Transmission
4MOTION All-Wheel Drive
17-inch alloy wheels
6.33-inch composition media infotainment system

Features of Multivan Comfortline LWB
132 kW maximum power
7.9L/100km fuel consumption
4 cylinder engine
7-speed DSG Transmission
17-inch alloy wheels
App-connect
Cruise control

Features of Multivan Highline 4MOTION
150 kW maximum power
6.8L/100km fuel consumption
4 cylinder engine
7-speed DSG Transmission
18-inch alloy wheels
App-connect
Sports suspension (lowered 20mm)
4MOTION All-Wheel Drive

Next

Steps
---
Disclaimer by Volkswagen
1. The information provided on the Volkswagen New Zealand website is for information purposes only
2. A Volkswagen New Zealand reserves the right to extend, withdraw or change all offers *Prices are shown in New Zealand dollars, include GST and exclude on road costs
3. Weekly finance price is subject to change due to interest rates*. Please see the full terms and conditions for Volkswagen Finance for more information. www.volkswagen.co.nz/finance
4. Fuel consumption is based on the combined fuel consumption figure
5. International models might be shown for illustrative purposes only, and New Zealand specifications may vary
6. Some colours in these images are not available in New Zealand, the product guide contains the correct colours available to the New Zealand market
7. Additional and optional accessories may have an effect on fuel efficiency. Optional accessories and add-on packages are available at an additional cost
8. App-Connect is compatible for selected apps with the latest smartphone versions of iOS and Android, active data service, and connection cable (sold separately)
9. Safety technologies are designed to assist the driver, but should not be used as a substitute for safe driving practices
10. Leather appointed seats have a combination of genuine and artificial leather, but are not wholly leather