Meet your new favourite
electric car.
Incredible design. Groundbreaking electric performance. An entirely reshaped interior that creates a whole new sense of space. And user-friendly technology that brings an intuitive feeling to every drive. The new fully electric ID.4: powerful like an SUV, sustainable like an ID. Discover a revolutionary way to drive.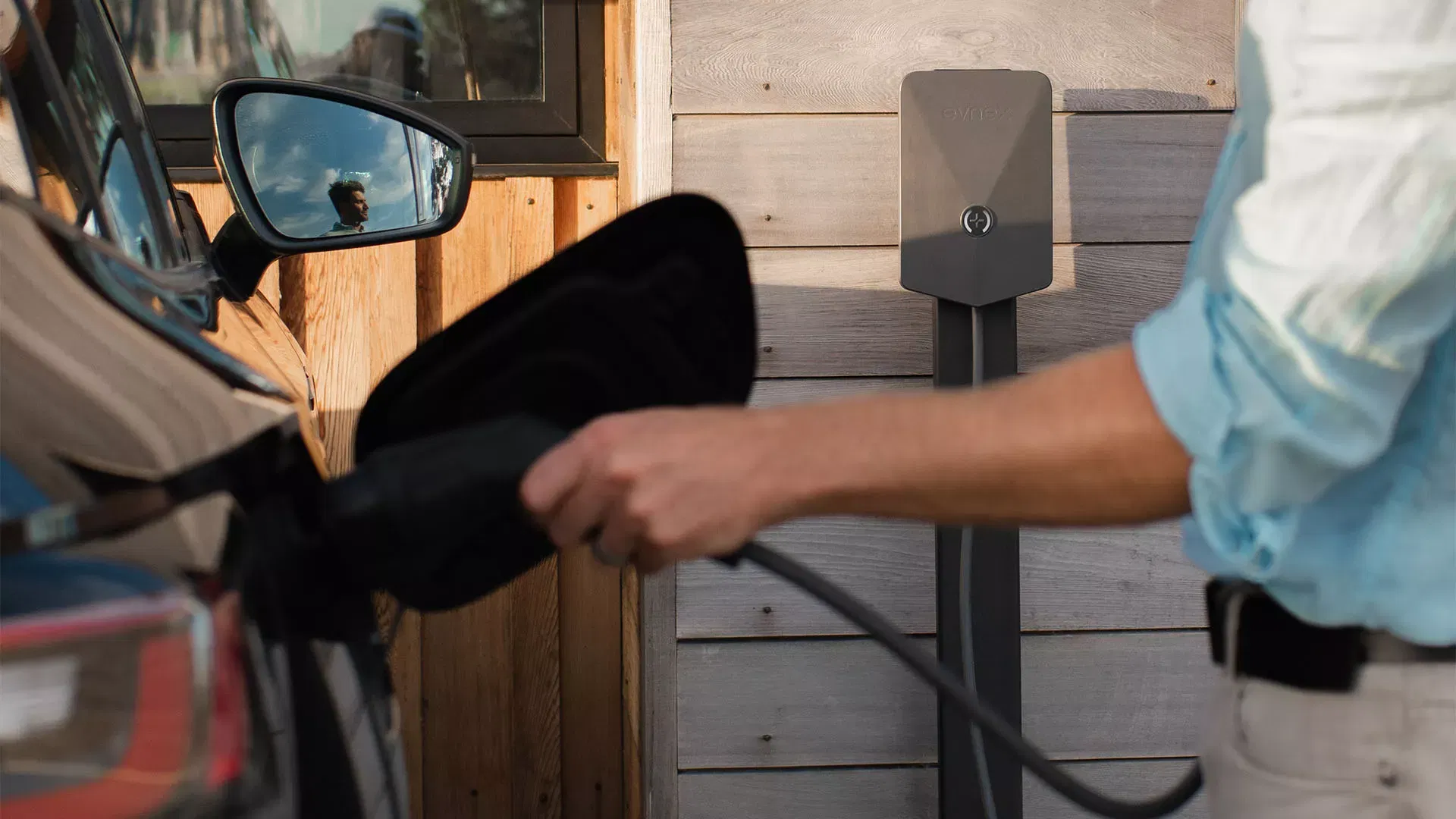 Electricity keeps you ahead
Master your daily routine with a 77kWh battery—from school drop-off to the office run and home again. The 100% electric Volkswagen ID.4 is an SUV that can take you where you need to go with an estimated range of 519kms⁠3.3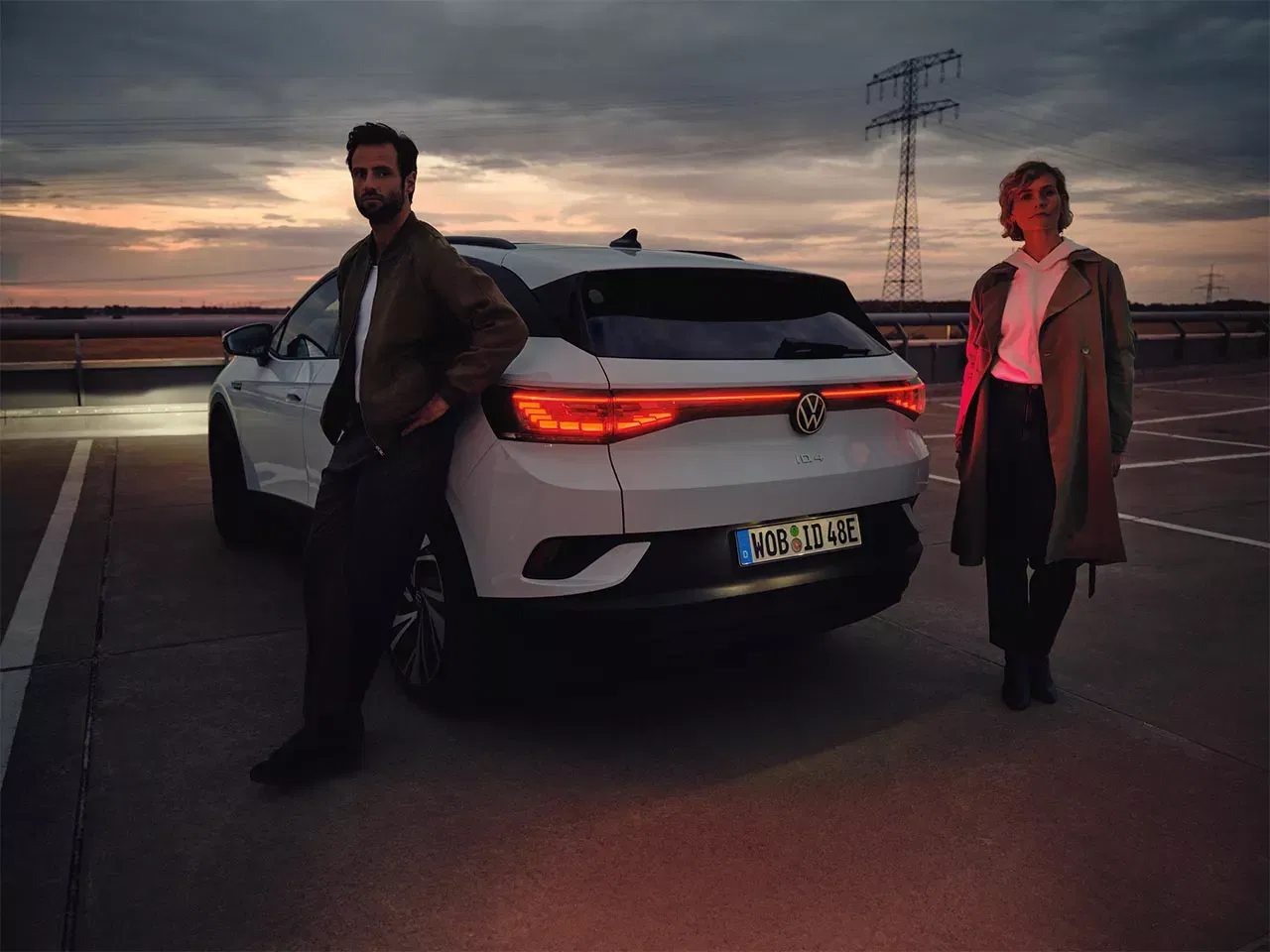 Instant Torque
Every red traffic light becomes a new opportunity to encounter groundbreaking fun. The 150kW/310Nm electric motor of the ID.4 accelerates dynamically from a standstill with instant torque. No shifting, no delay – just drive off and experience the pure thrill.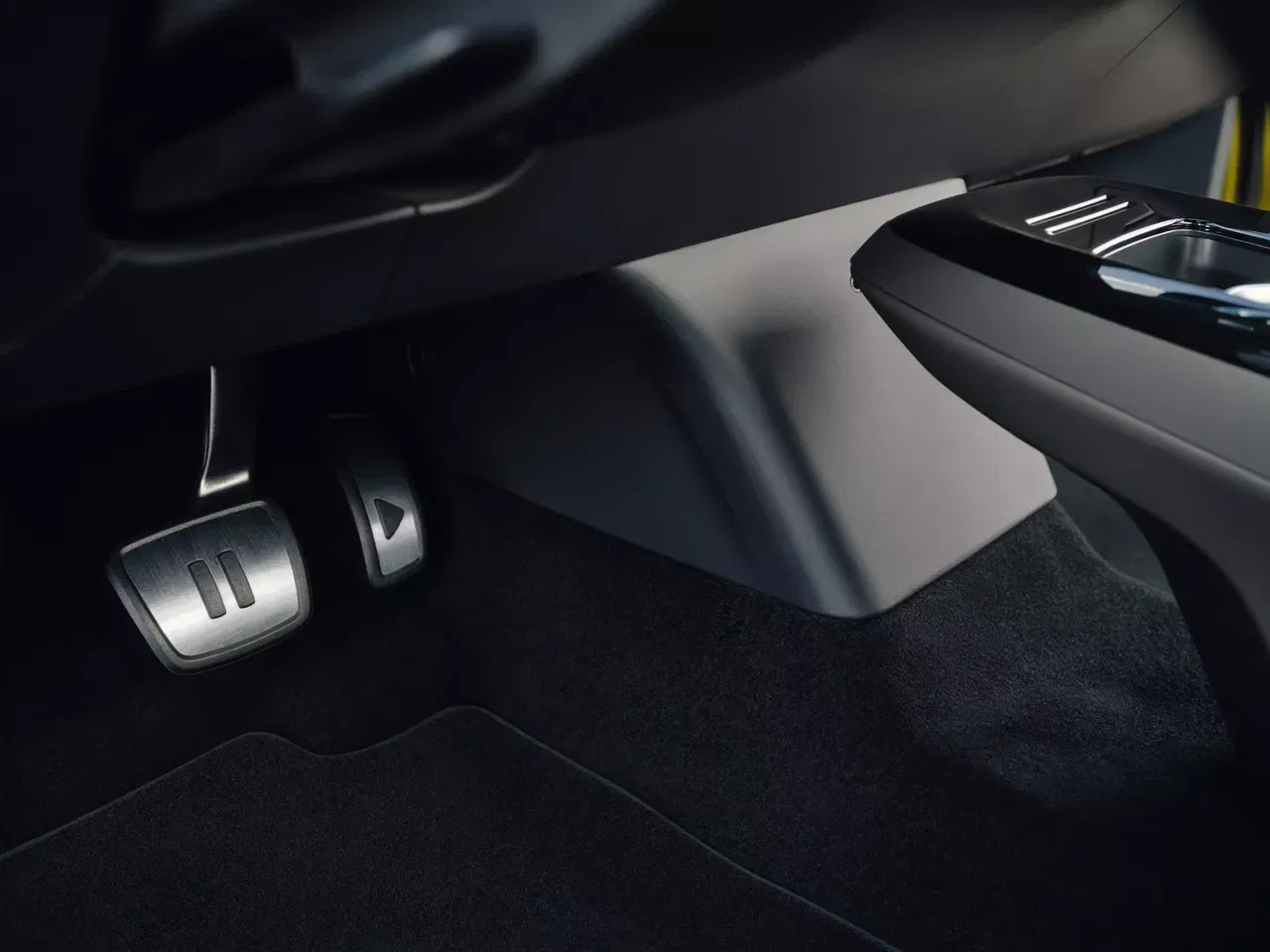 Intuitive Start
The ID.4 senses your presence and intuitively starts when you sit in the driver's seat with your smart key, "waking up" the vehicle automatically. Screens blink on, and the car is ready for the road. Put your foot on the brake, twist to drive, and you're off! Happy days.
e-Technology
Charging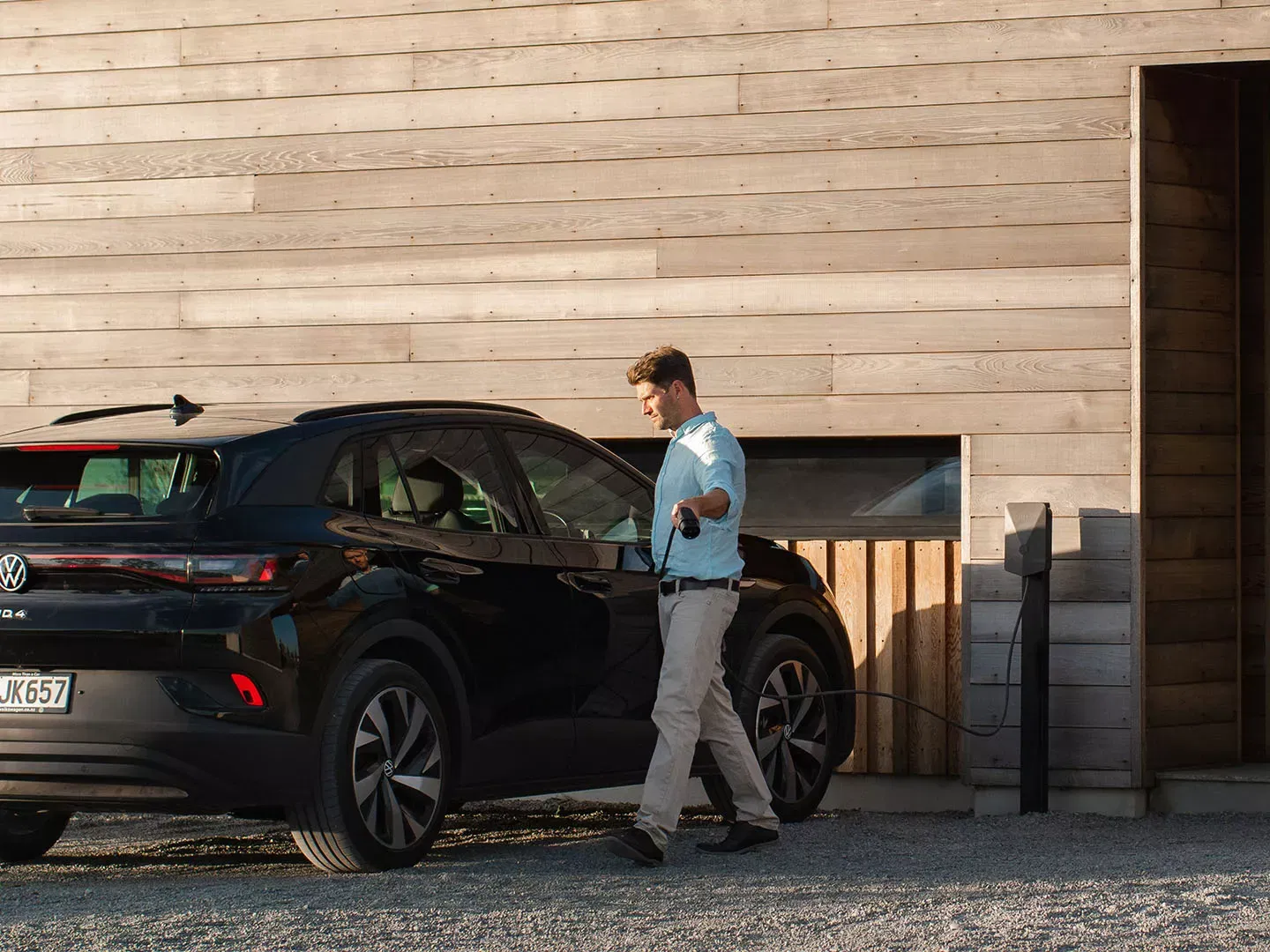 Recharge almost anywhere
Charging your electric car is easier than you think. Charge your ID.4 at home via a household outlet with a mains charging cable (included), or consider an optional Wallbox for faster charging. At home charging uses alternating current (AC charging), providing a charging capacity of up to 11 kW. Many public charging stations (such as petrol stations and supermarkets) offer fast charging with direct current (DC charging). Here you can charge the ID.4 Pro with up to 125 kW.
Drive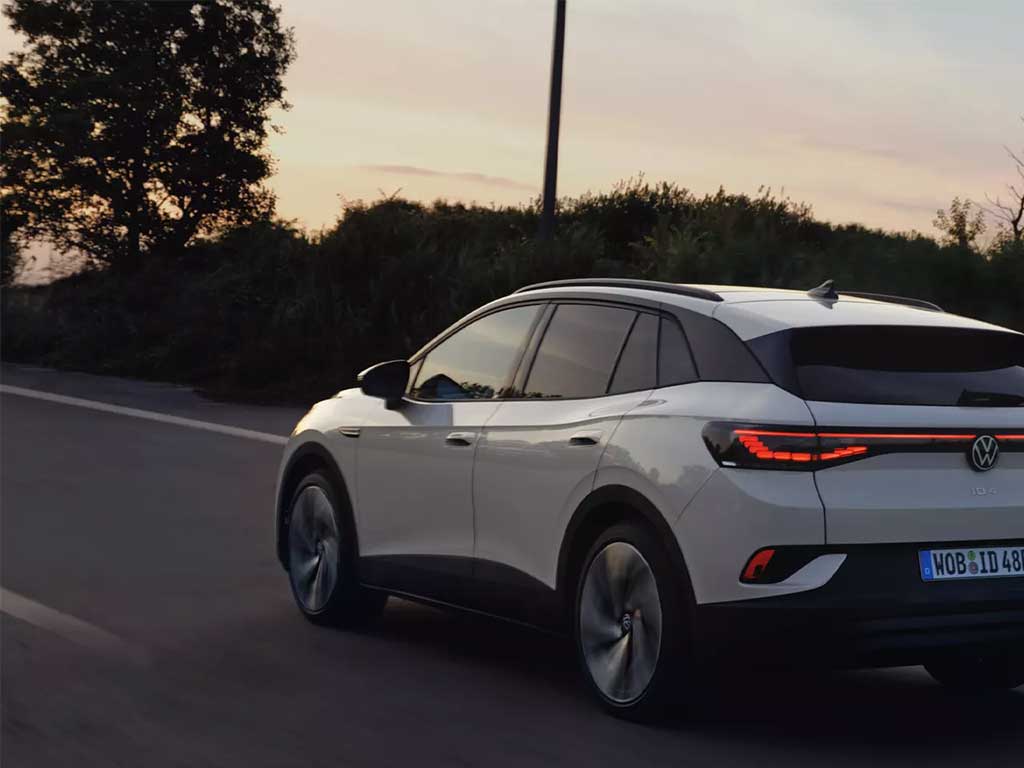 Full speed ahead
Every red traffic light becomes a new start where you can experience a completely new kind of driving pleasure. The electric motor of the ID.4 accelerates dynamically from a standstill with the motor's full torque. For example, the Pro Performance-based models with 150 kW system power can take you from 0 to 100 km/h in only 8.5 seconds. No shifting, no delay – just drive off and experience the pure thrill.
e-Sound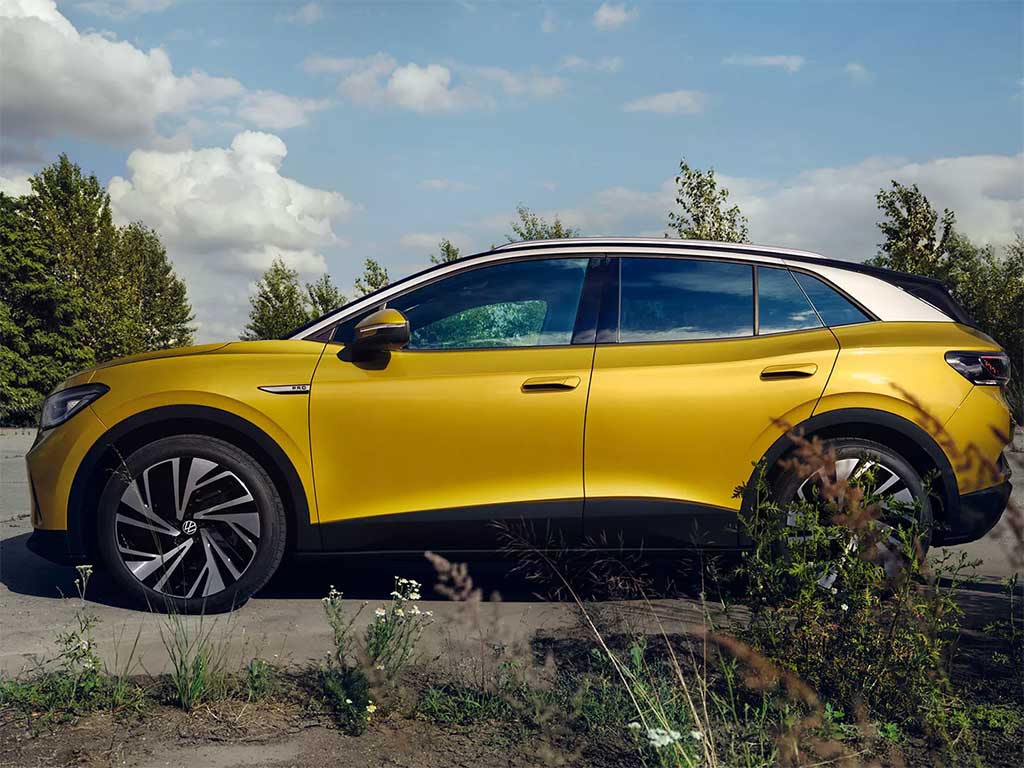 This car sounds new
How quiet an electric car is depends entirely on the vehicle. To make road traffic safer, your ID.4 is quieter on the inside up to a speed of 30 km/h and can be heard a little more clearly outside. This makes it more noticeable for pedestrians. The futuristic composition emphasises its visionary identity and simultaneously provides an artificially generated vehicle noise as an audible indication of the almost noiseless electric drives for pedestrians and cyclists.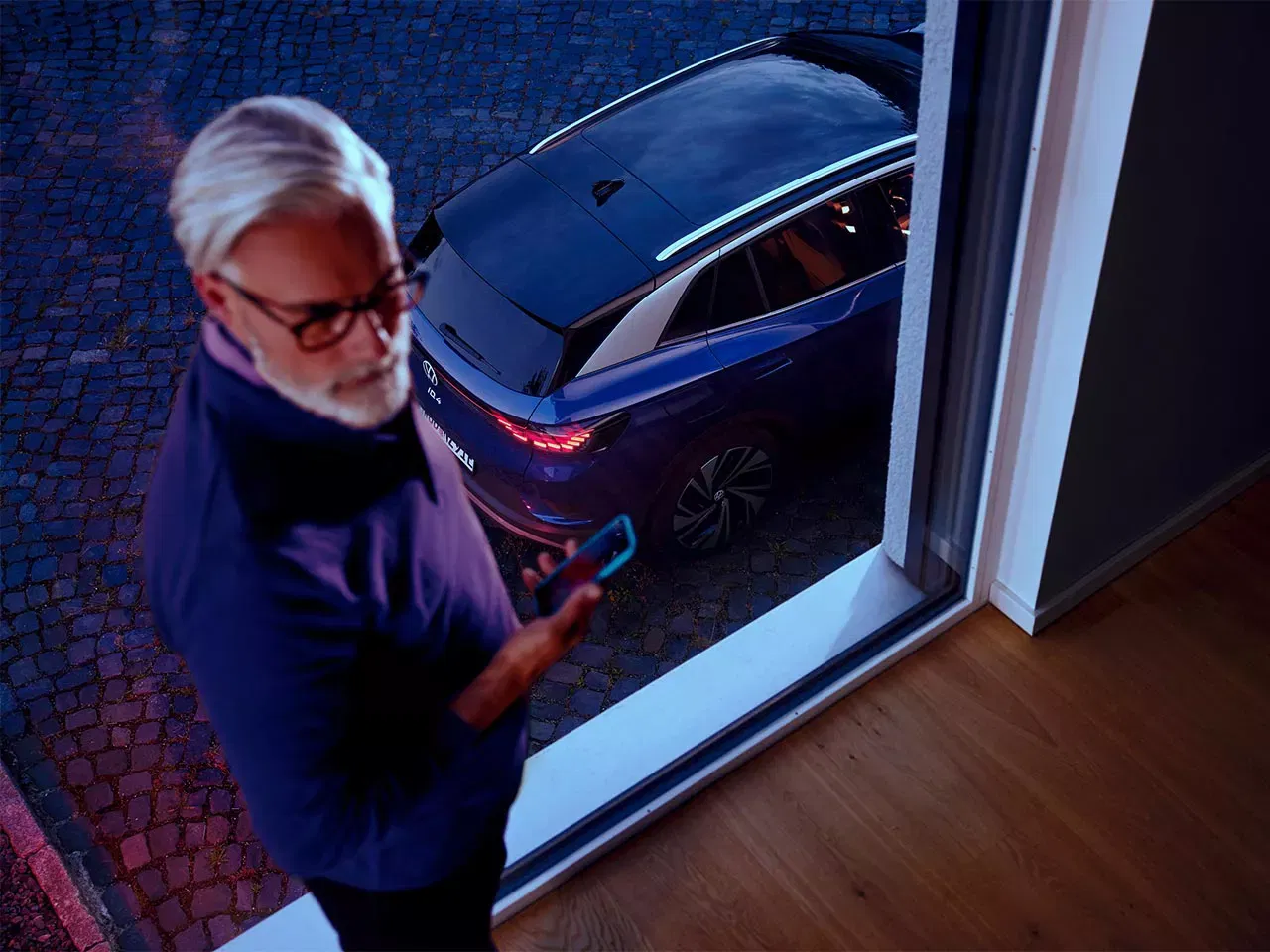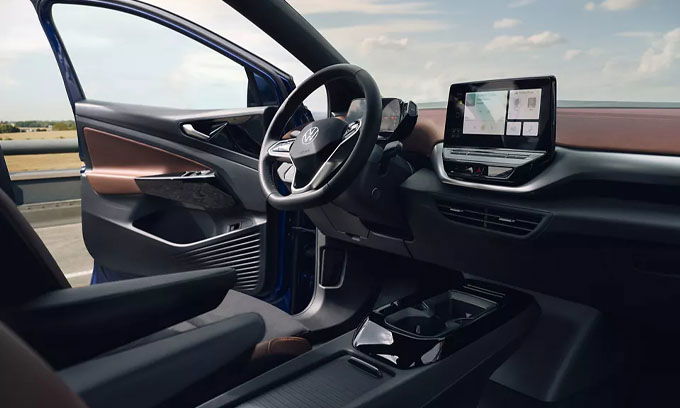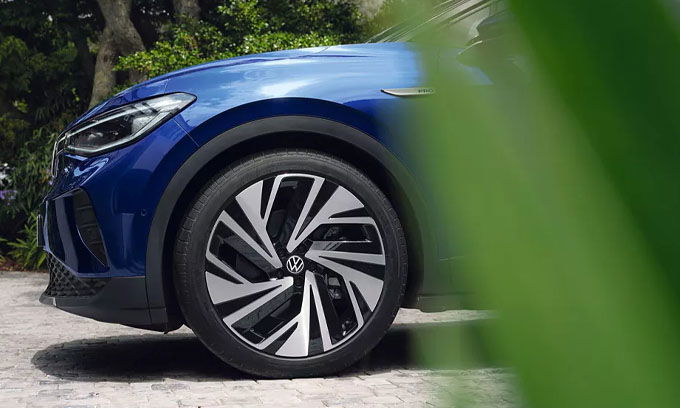 Design & Conveniences
Exterior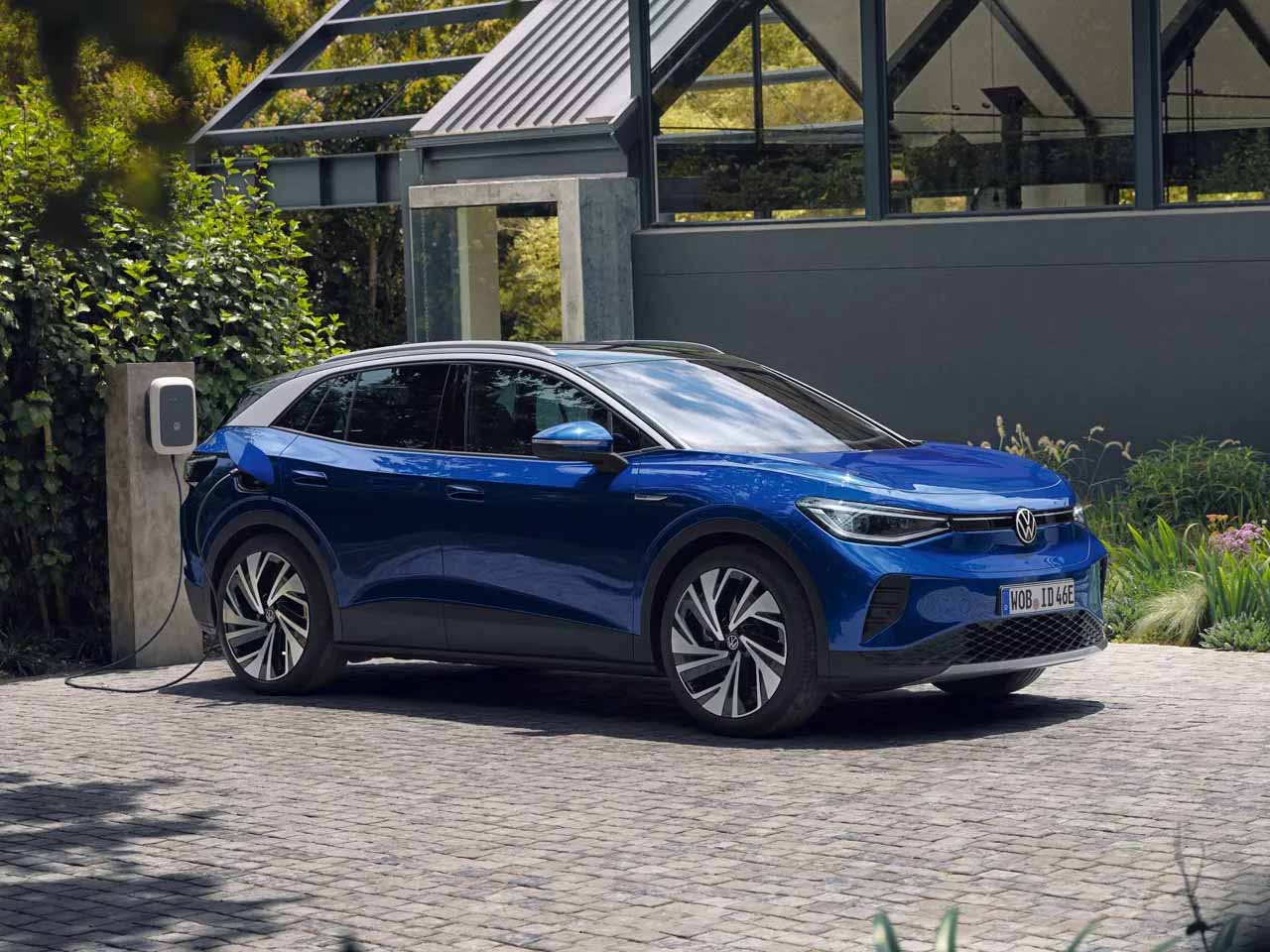 Function in its
most beautiful form
Take the turning circle of a compact car with the functionality of an SUV, and you have a design that puts electric mobility in a class of its own. The new ID.4 sports 19-inch alloy wheels, a roof railing for additional luggage, and recessed door handles for improved aerodynamics. Light the way with optional 3D LED tail light (PRO+ only) clusters with dynamic turn signals. Or opt for the visionary light bar that extends to the front (optional) and rear to the newly designed Volkswagen logo.
Interior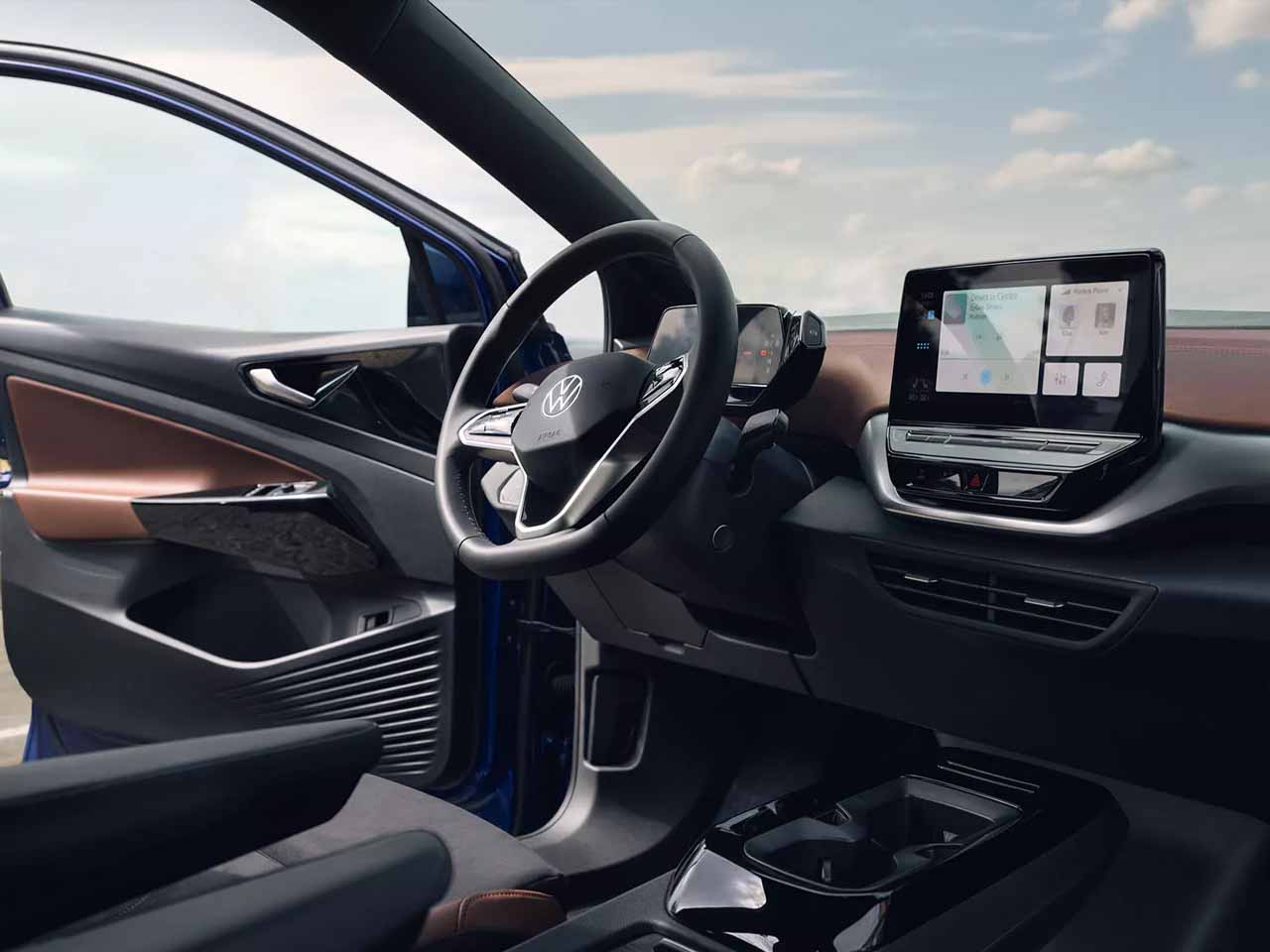 Welcome to Open Space
You'll be impressed with the sense of extra space from the moment you get in the ID.4. We designed the interior to give you plenty of legroom, a variable centre console and comfortable seats, with optional electric adjustment and memory function. Controlling your environment is simple, with a 12-inch central touch display and multifunction steering wheel featuring touch operation and vibration feedback. Take your pick of background lighting to emphasise the lounge character.
30 Colour Ambient Lighting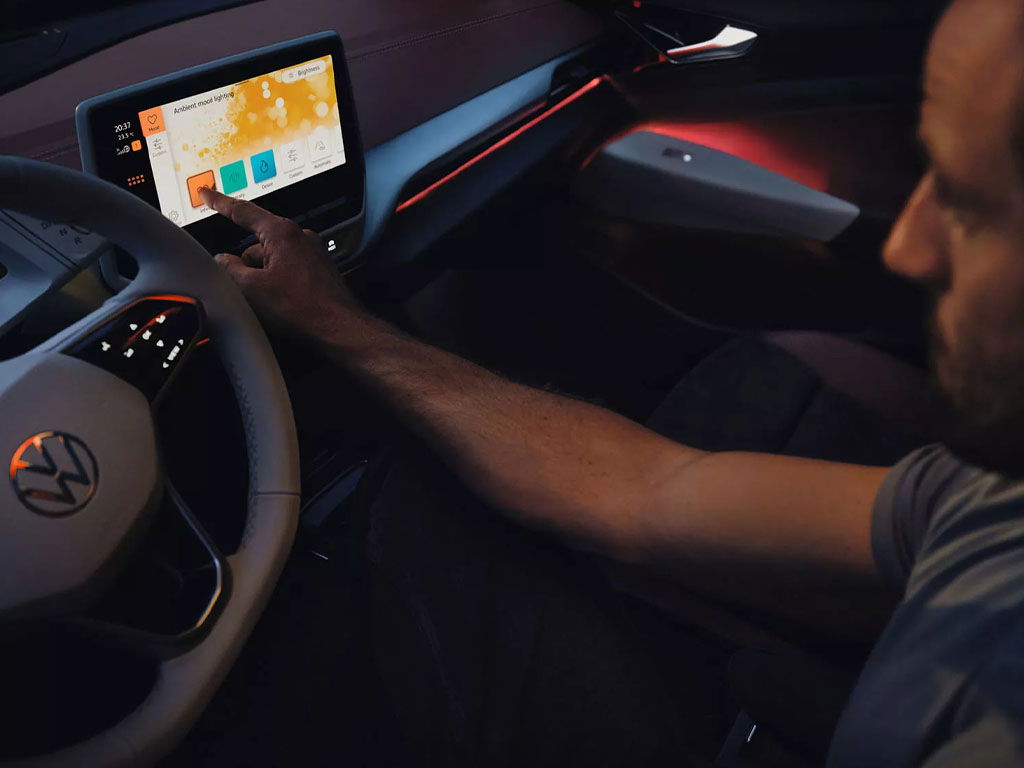 Light for
almost any mood
Bring your personality to your ID.4. With 30 Colour Ambient Lighting, you can illuminate the dash panel, the mobile phone holder and the doors with a range of colours. A new shade every day, perhaps?
Safety
Autonomous Emergency Brake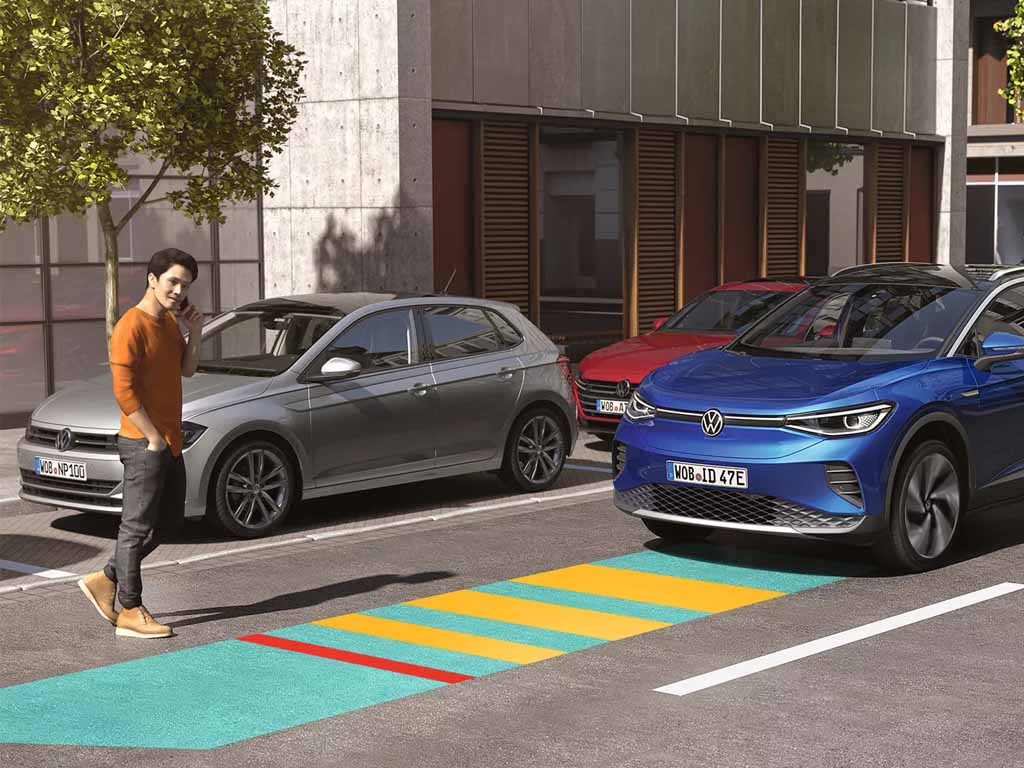 Forward Collision
Warning
Front Assist (Autonomous Emergency braking assistant with Pedestrian & Cyclist Monitoring) can help reduce the severity of an accident or, ideally avoid the accident in the event of a collision threat. It can detect pedestrians and vehicles on the road and warn the driver in time. If the driver does not react the system can initiate emergency braking.*
* Within the limits of the system. The driver must be in control of the car at all times and is not relieved of their responsibility to drive the car carefully.
Lane Keeping Assist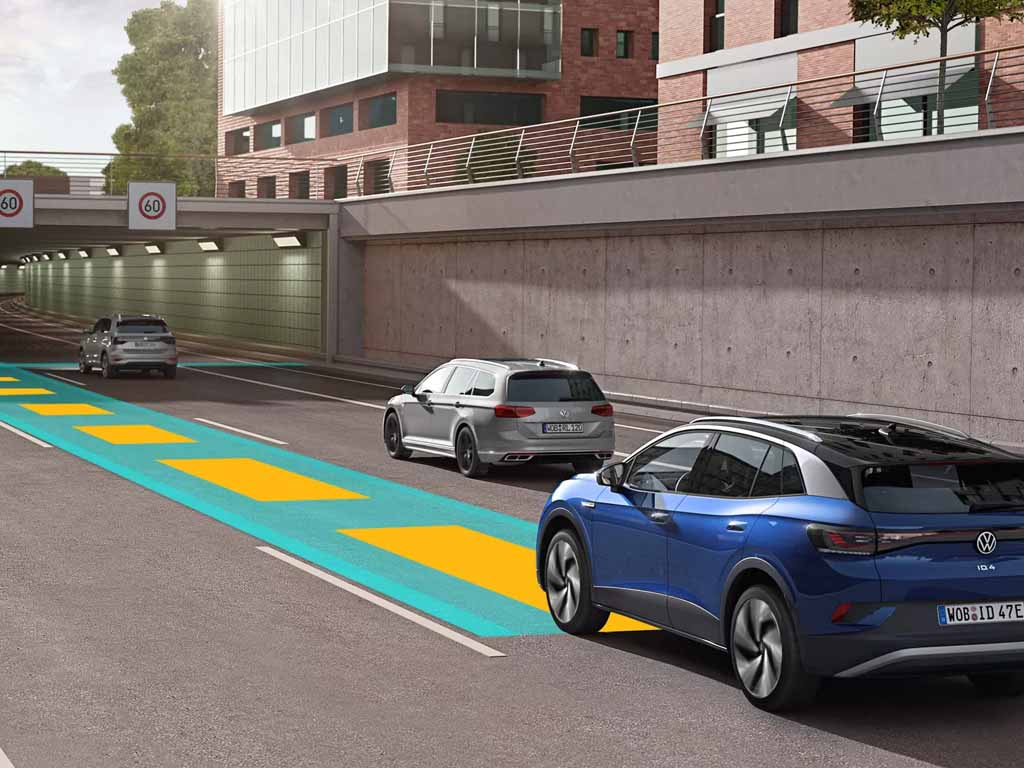 Keep your
passengers safe
Lane Assist counter-steers the vehicle if the driver unintentionally drifts from a lane. The system also emits audible and visual warnings via the multi-function display to alert the driver of danger.
Area View Monitor (360 View Camera)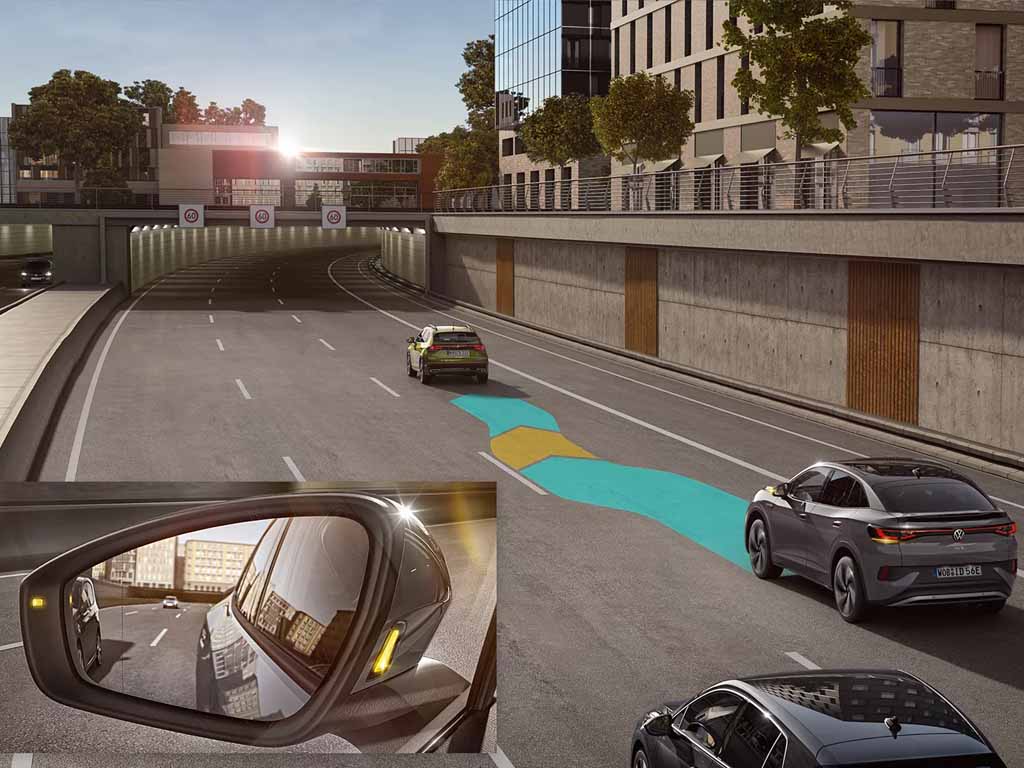 Side Assist (Blind Spot Monitor & Rear Cross Traffic Alert)
Side Assist (Blind Spot Monitor) uses a light signal to warn you if there's a vehicle you might not be able to see. Helping to keep you and your family safe on the road.
And for tricky parking situations, Rear Cross Traffic Alert lets you know if potential hazards are approaching from the side.
Adaptive Cruise Control (360 View Camera)
Adaptive Cruise Control
The Adaptive Cruise Control (ACC) is by far one of the most useful driver assistance systems. You simply specify your maximum speed and the system helps you to adhere to it and not exceed it, within limits of the system. Also, a minimum distance is automatically maintained between you and the vehicle in front, within the limits of the system.
ID.4 variants

ID.4
From $72,990
Features of ID.4
ID.4 PRO - Coming soon
ID.4 PRO+ - Coming soon

ID.4 PRO
From $72,990
Features of ID.4 PRO
ID. Exclusive 19" HAMAR Alloy Wheel
Autonomous Emergency Braking (AEB)
Adaptive Cruise Control (ACC)
Lane Keeping Assist & Blind Spot Monitor
Area View Monitor
Drive Mode Select
ID. exclusive "Twist & Go" function
Standard LED Headlights
10" 'Ready 2 Discover' Infotainment System
30-Colour Ambient Lighting
Wireless Charging
Heated front seats and steering wheel

ID.4 PRO+
From $89,990
Features of ID.4 PRO+
Additional to ID.4 PRO
'IQ.Light' Matrix LED Headlights
LED Front Light Bar
Automatic High Beam Control
3D LED Taillights with Dynamic indicators
Power adjustable front seats with Memory & Massage function
12" 'Ready 2 Discover Max' Infotainment System
Premium Sound System including Digital Amplifier and Subwoofer
Next

Steps
---
Volkswagen
Disclaimer
1. The information provided on the Volkswagen New Zealand website is for information purposes only
2. Volkswagen New Zealand reserves the right to extend, withdraw or change all offers *Prices are shown in New Zealand dollars, include GST and exclude on road costs
3. Fuel consumption is based on the combined fuel consumption figure
4. International models might be shown for illustrative purposes only, and New Zealand specifications may vary
5. Some colours in these images are not available in New Zealand, the product guide contains the correct colours available to the New Zealand market
6. Additional and optional accessories may have an effect on fuel efficiency. Optional accessories and add-on packages are available at an additional cost
7. App-Connect is compatible for selected apps with the latest smartphone versions of iOS and Android, active data service, and connection cable (sold separately)
8. Safety technologies are designed to assist the driver, but should not be used as a substitute for safe driving practices
9. Leather appointed seats have a combination of genuine and artificial leather, but are not wholly leather
10. Vehicle availabilty will vary acros Volkswagen range, please stay in the know with delivery timelines.
11. ^NZ Gov't. Clean Car rebate/fee may apply. Check here