When technology doesn't just progress, but races forward.
The new Golf R is more powerful than ever and shows how quickly technology is developing: at 228 kW (310 HP) and 400 Nm of torque with the DSG dual clutch transmission, it combines a true passion for motorsports with impressive performance and equipment.
Features & Design.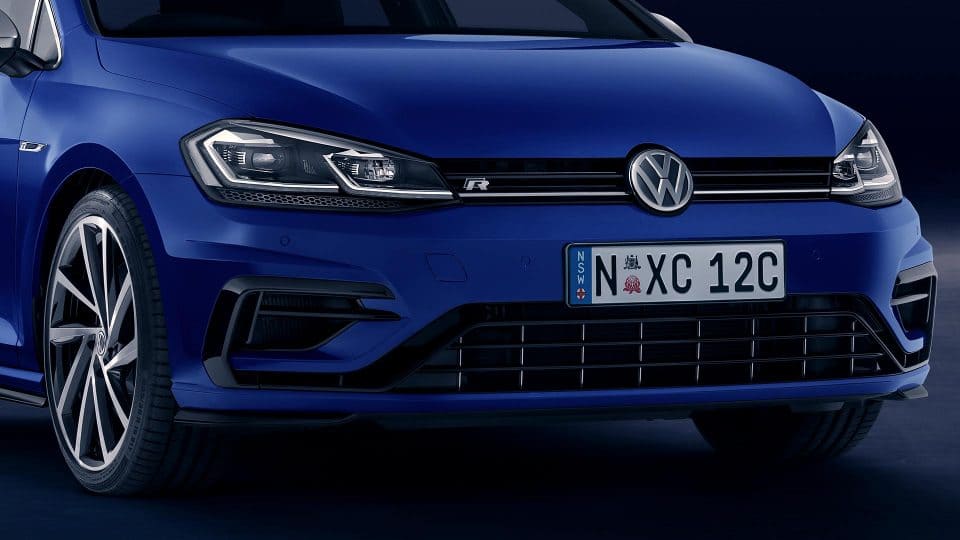 Exterior
A Golf R through and through.
The standard LED headlights and the aggressively slick bumpers give this hot hatch a striking and powerful presence.
The sill extension in high-gloss black and the R logo on the side panels and rear lid also attract plenty of attention. The matching mirror caps in chrome matte provide the perfect finish to this striking design.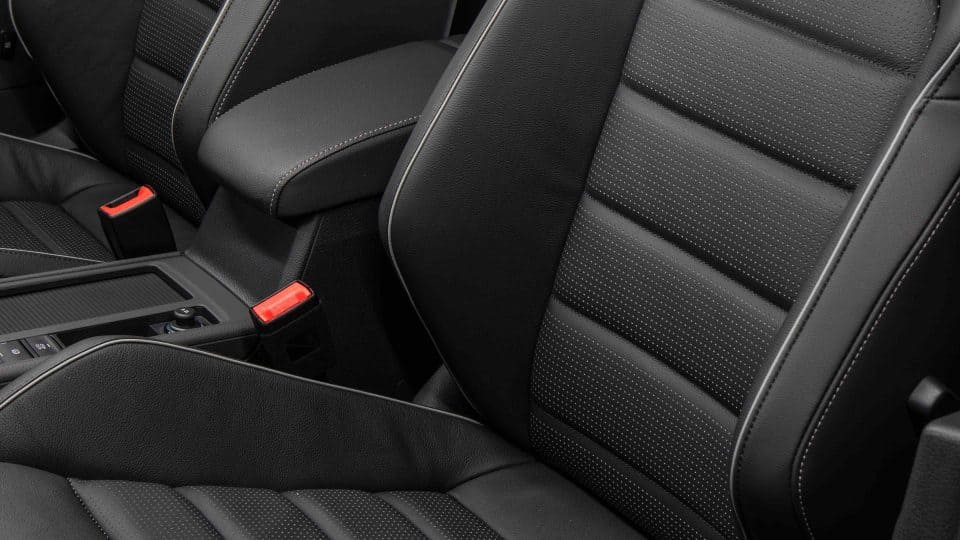 Interior
Effortlessly Striking.
Step into your Golf R and your pulse will soon be racing: the motorsport pedigree is continued in the details of the interior.
The blue-illuminated door sill panels in stainless steel, carbon touch decorative trims with background lighting and pedal caps in stainless steel head in one direction only, and that's forwards.
The overall sports impression of the Golf R is further reinforced by the start screen with R logo and the gear knob in leather with aluminium fittings and decorative seams in crystal grey.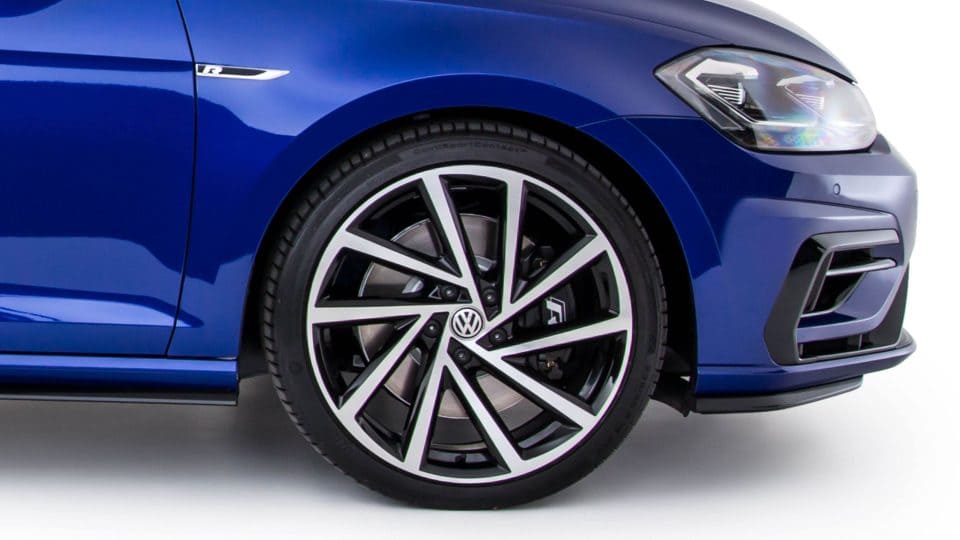 Wheels
Roll in style.
You will love the dynamic look of the alloy rims on your Golf R, both in motion and at a standstill. With the 18 inch alloy Cadiz rims, size 225, wide-section tyres as standard, the Golf R commands respect on the street.
Or cut a fine figure with the Pretoria 19 inch alloy wheels (optional extra in black) or the 19 inch Spielberg alloy wheel. The painted black brake calipers with R logo emphasise the overall sporty look.
Highlights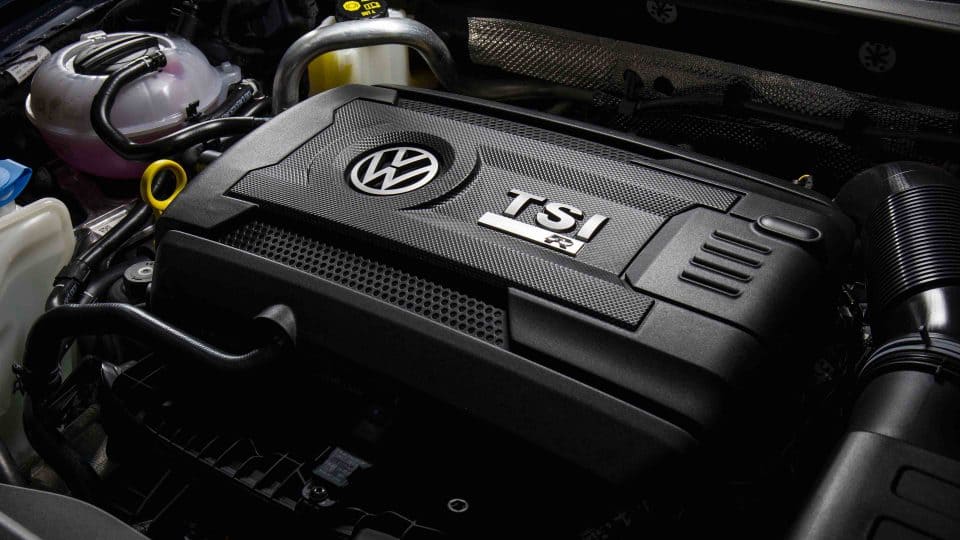 Engine
It's like it was made for motorsports.
With a powerful 228 kW (310 HP), greater torque and remarkable acceleration levels, the new Golf R brings masterful power to the road.
With the Golf R, you're in pole position on the road, it accelerates from 0 to 100 km/h in just 4.6 seconds. This means that the new Golf R is not only the most powerful Golf there's ever been, but also the fastest.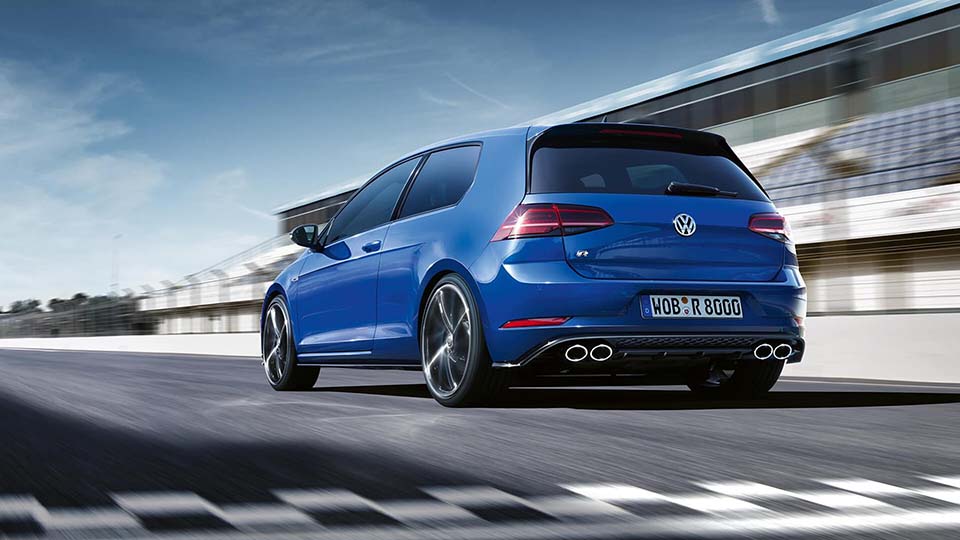 4Motion
Maintain traction.
Do you want to enjoy good grip, even while covering wet and rough grounds?
The permanent 4MOTION four-wheel drive distributes the TSI engine's power to all four wheels as required. This prevents wheelspin and helps your Golf R gain traction on virtually any surface. In combination with the 7-gear DSG dual clutch transmission, the new Golf accelerates efficiently without traction loss.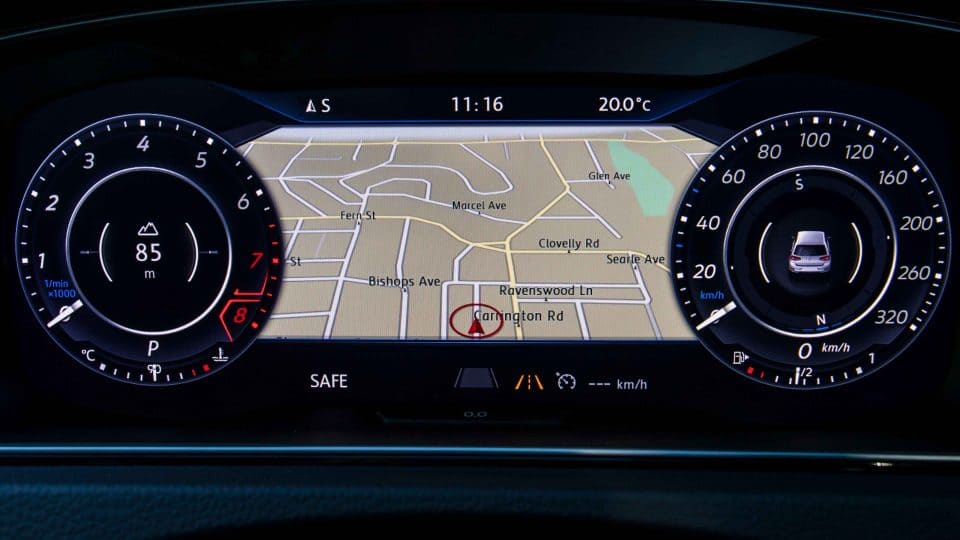 Sport HMI
Keep an eye on the performance values.
How much power does the powertrain provide? How high is the charge pressure? Now you can always keep an eye on the technology. The Sport Human Machine Interface (HMI) will keep you informed about the performance of your Golf R.
It gives you deep insight into the technology so that you can get the best from your Golf R. Directly on the screen of your infotainment system, it shows you current engine values such as the charge pressure and G-meter as well as the power currently being used. On the track, lap timers are used both to measure lap times and to show the current longitudinal and lateral acceleration.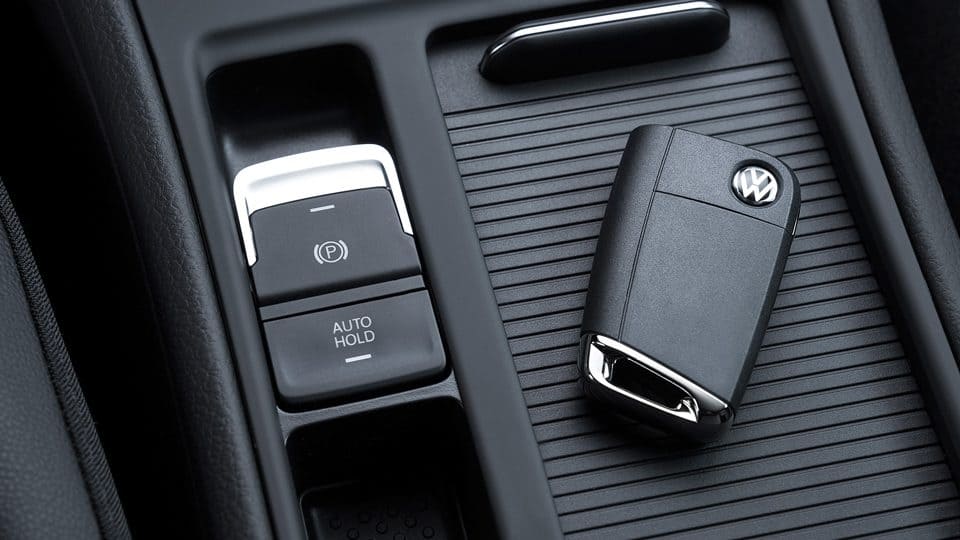 Keyless Entry & Start
Convenience is key.
Searching for your keys are now a thing of the past. You can start the engine of your Golf at the press of the starter button, while leaving your keys in your bag. Proximity sensors detect your key within 1.5 metres of the car, meaning it can automatically unlock as you pull the door handle. Keyless entry and start (KESSY).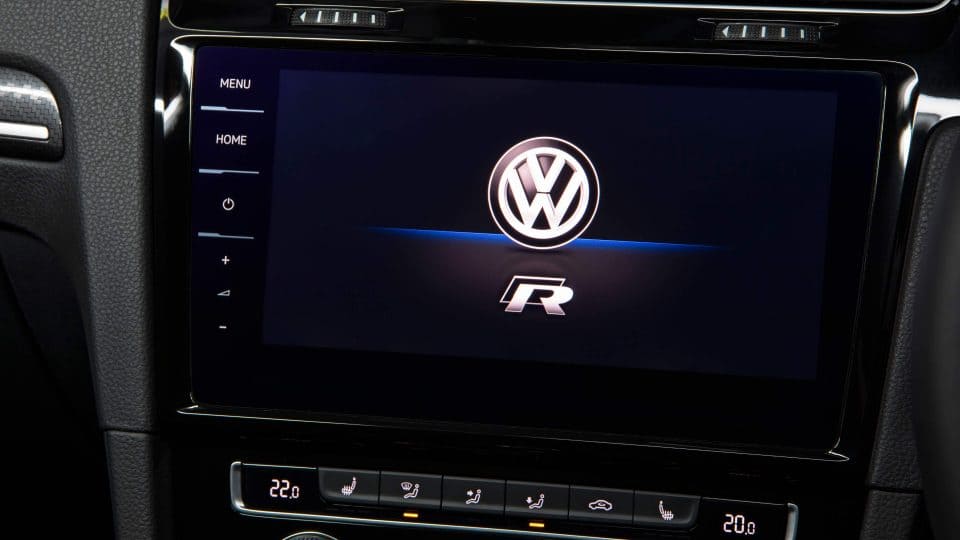 Gesture Control
Small gestures make all the difference.
Small gestures can achieve a lot in everyday life, but also when it comes to gesture control in your car. This function makes it even more convenient to operate the optional Discover Pro system.
It enables you to easily move around in the main menu and various sub menus using a swipe gesture to switch pages. For example, with just a single hand movement, you can switch radio station.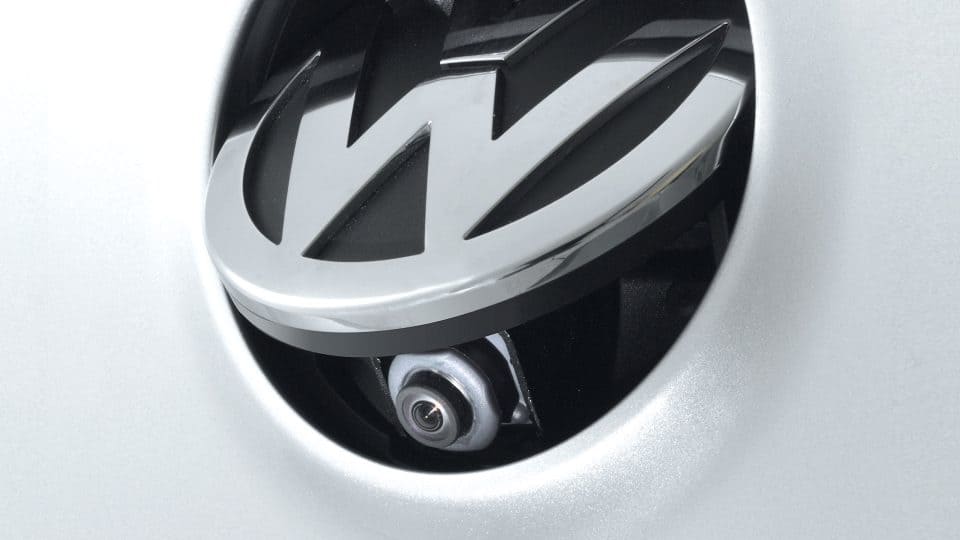 Rear View Camera
See what's behind you, in front of you.
Whether reversing out of a busy parking lot or trying to squeeze into a tricky spot, an extra set of eyes are always handy. The Rear View Camera installed at the back of the car, displays a live picture on your screen that shows what's behind you. Coupled with parking sensors, reversing is now safer and easier.
Safety Features.
The intelligent driver assistance systems in your Golf R ensure more driving comfort and can help you deal with critical situations very well or even avoid them*. Even if you only notice this technology on rare occasions, it feels good to know that it is there. *Safety technologies are not a substitute for the driver's responsibility of the vehicle.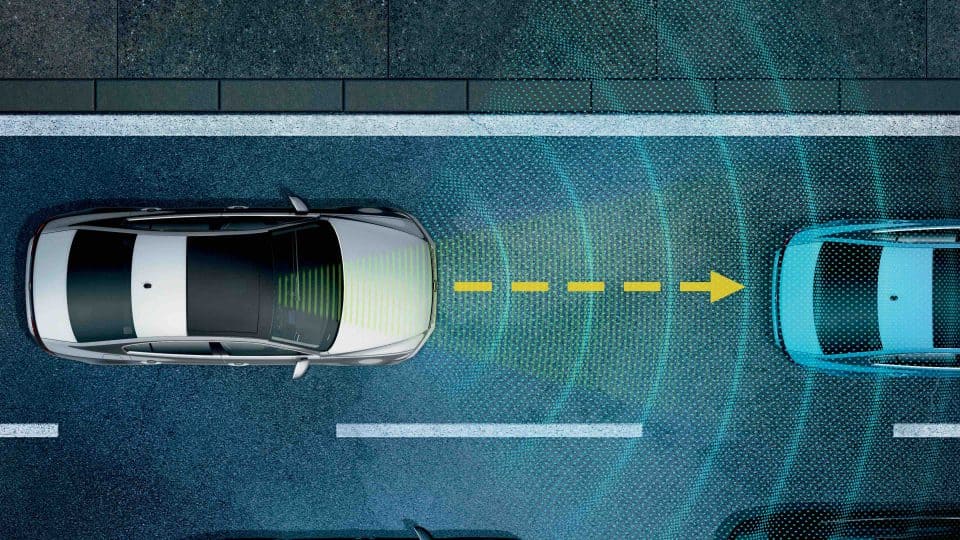 Adaptive Cruise Control
Optional - Adaptive Cruise Control (ACC) helps maintain a preset distance from the car in front of you. If the car in front of you speeds up or slows down, the sensors detect the change and your car follows suit.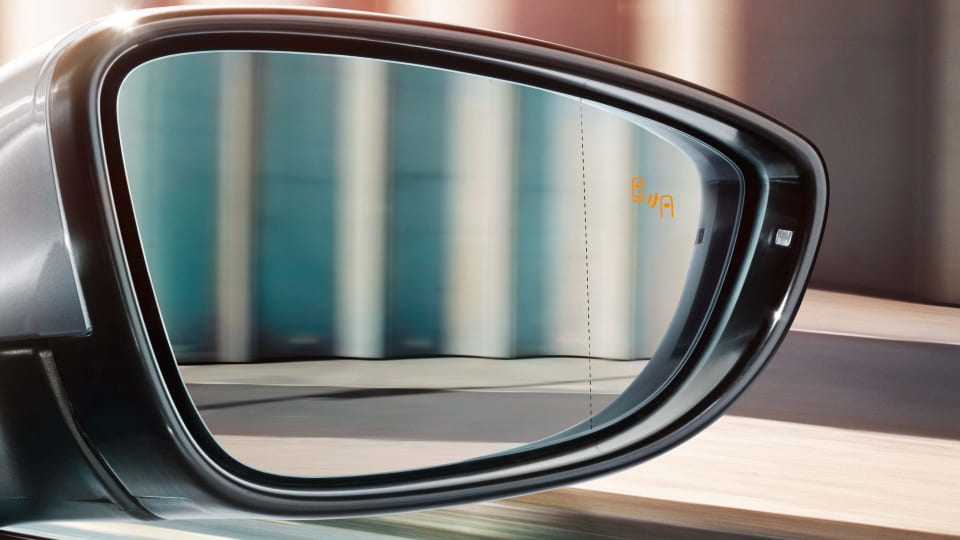 Side Assist
Side Assist provides assistance if you want to change lanes from speeds of 10 km\h upwards. Sensors in the rear of the vehicle monitor the traffic and should they detect any road users in your blind spot or vehicles approaching quickly from behind, the system will alert you via a warning light within the door mirror housing.
Download a Brochure
Book a Test Drive
Technology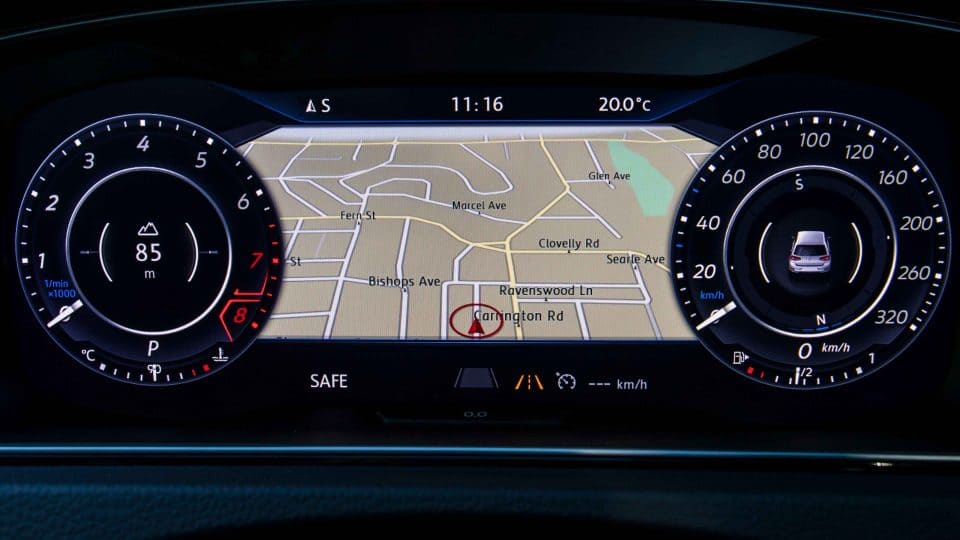 Active Info
It's all right in front of your eyes.
One of the new additions is the eye-catching Active Info Display available as an optional specification.
Taking place of traditional instrumentation behind the steering wheel. This high-definition digital display uses a 12.3" screen with configurable views. Choose your view from navigation, infotainment, driver assistance and vehicle performance functions.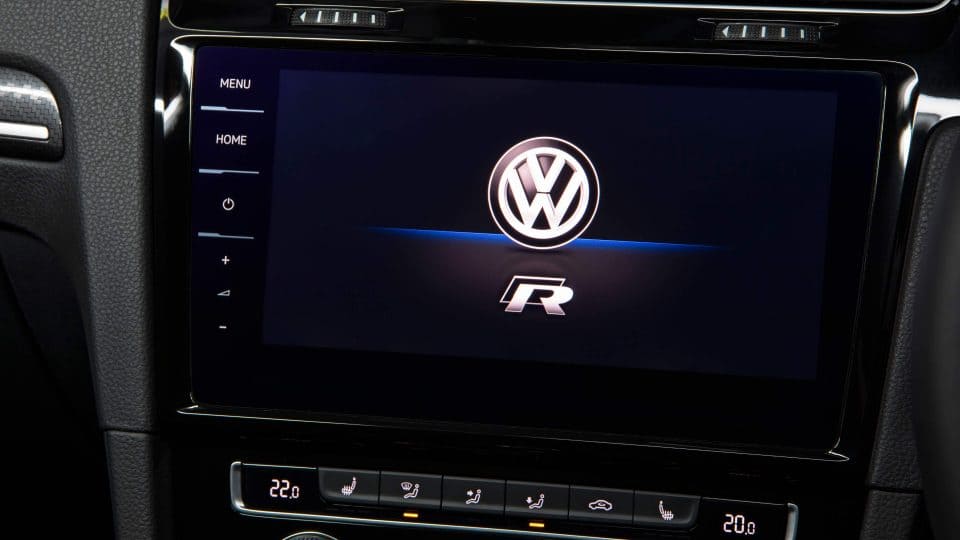 Touchscreen
High tech is a no-brainer.
Now standard across the Golf range is the 8 inch touchscreen colour display. This glass-covered display is high resolution and intuitively connects you to the infotainment system. The Golf R also has the standard Discover Media Navigation system, meaning you will never be lost again.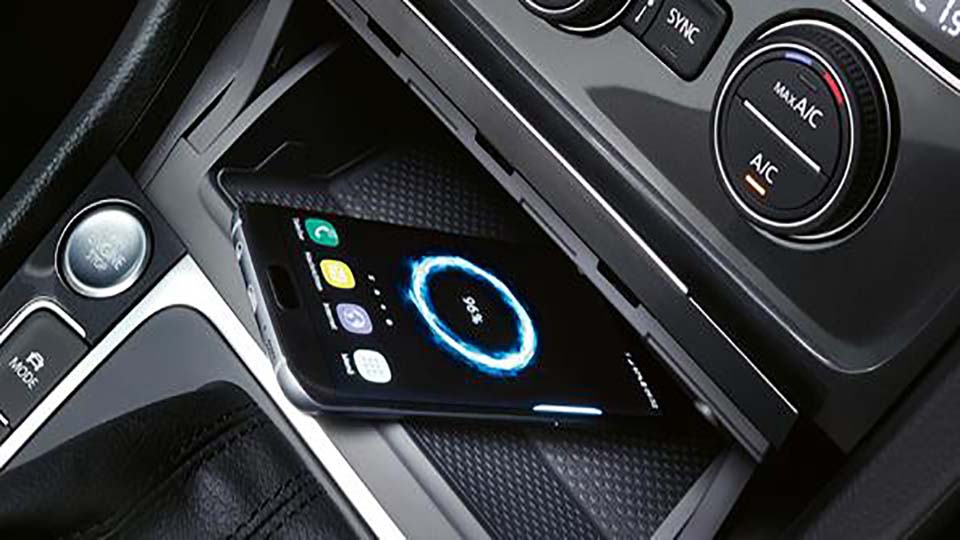 Wireless Charging
Beautifully convenient.
The optional mobile phone interface is not only had a hands-free system, but also an wireless charging function. Simply place your phone in the multimedia console and charge away - Easy!
Note: Only available for Qi enabled devices, check with your local dealership for any connectivity queries.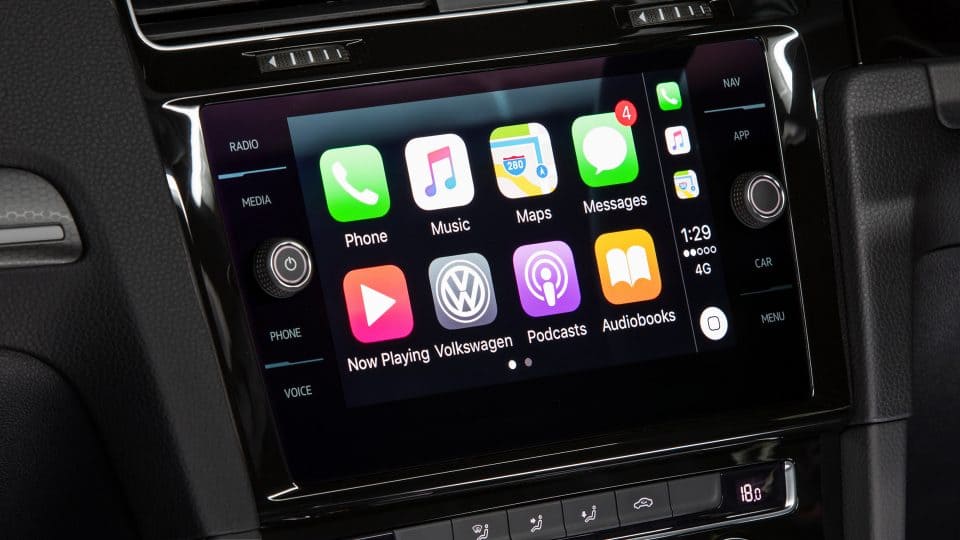 App-Connect
The apps from your phone in your car.
Access your smartphone's screen, selected apps, maps, and music through App-Connect on your car's touchscreen.
You can do this thanks to three innovative technologies: Apple CarPlay®, Android Auto™ and MirrorLink® interfaces.
Specifications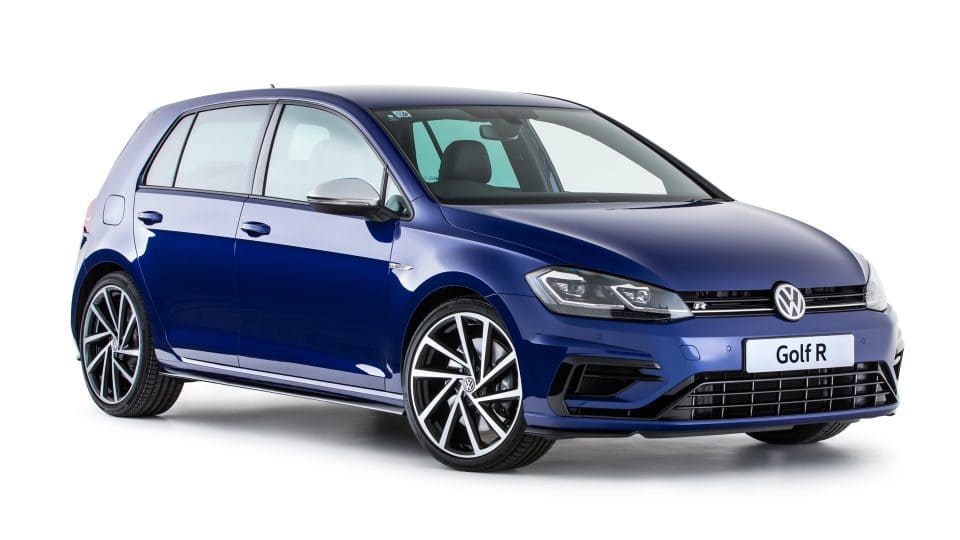 Find your perfect hatch match.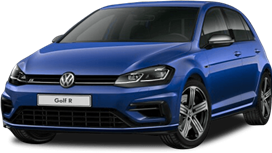 R DSG
From $73,990*
Power - 228kW
Max Torque - 400Nm
Combined Fuel Consumption - 7.2
18" Cadiz Alloys
LED Headlights with LED Daytime
Running Lights
Adaptive Chassis Control
R Sports Suspension
LED Tailamps with Running Indicators