The most powerful Amarok ever has landed.
The new Amarok V6 580Nm is the benchmark. And it was the Courchevel Altiport in France that proved the perfect testing ground to show just how impressive this V6 is. The scenario: 2007 metres above sea level, with heavy crosswinds, a 537-metre runway, plus a glider with a 23-metre wingspan ready for take-off. The performance: 200kW of power*, 580Nm of torque, 0-100kph in 7.3 seconds and permanent 4MOTION 4WD… Easy work for the new Amarok V6.
Experience Power.
The Amarok V6 is equipped with the latest generation 3.0 litre turbo diesel engine, producing up to 200kW of power (available on over-boost) and 580Nm of torque. Matched with incredible driving dynamics and fuel economy, it is a true German thoroughbred that feels right at home on any Kiwi road.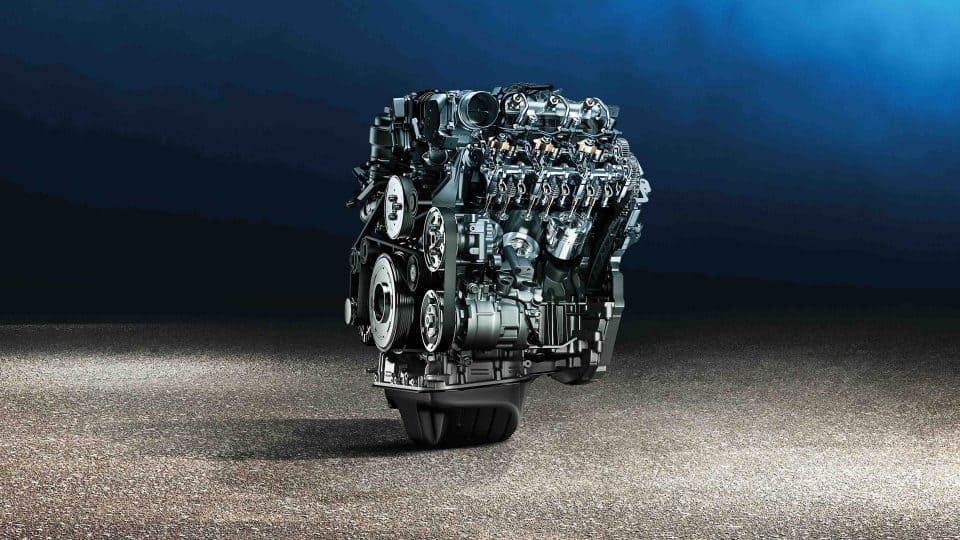 Model Meets Muscle
That's right. A V6.
The Amarok V6 has the power and torque to cater for anything Kiwi roads and driving situations might demand. Whether you need the most torquiest engine to tow your toys, or the overboost power feature to make those tricky overtaking manoeuvres (0-100kph as rapidly as 7.3 seconds), it will have you covered.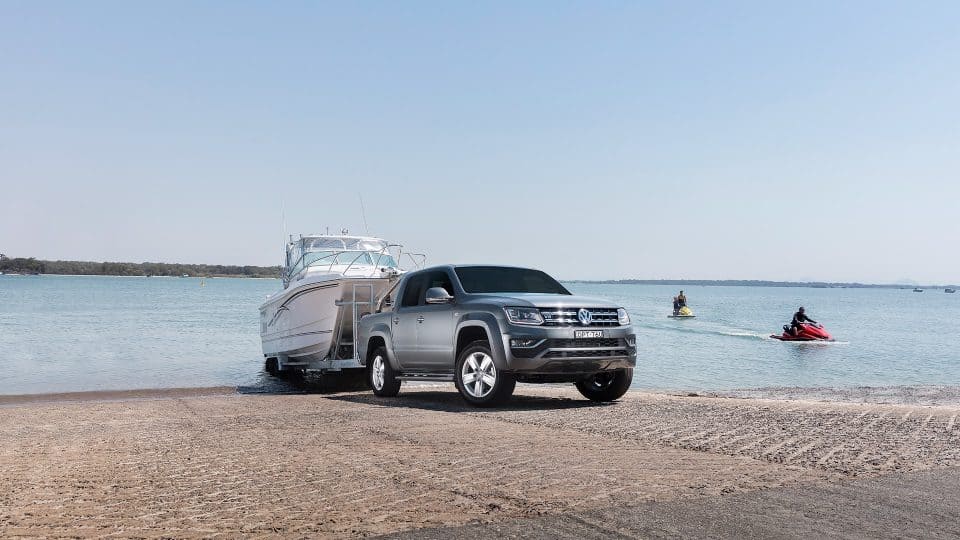 OverBoost
Dial up the kW.
The Amarok V6 Overboost feature provides a short burst of power that ramps the engine's output up to an additional 15kW on the 550Nm and 10kW on the 580Nm while extending maximum torque delivery. With up to ten seconds of distinctly more grunt.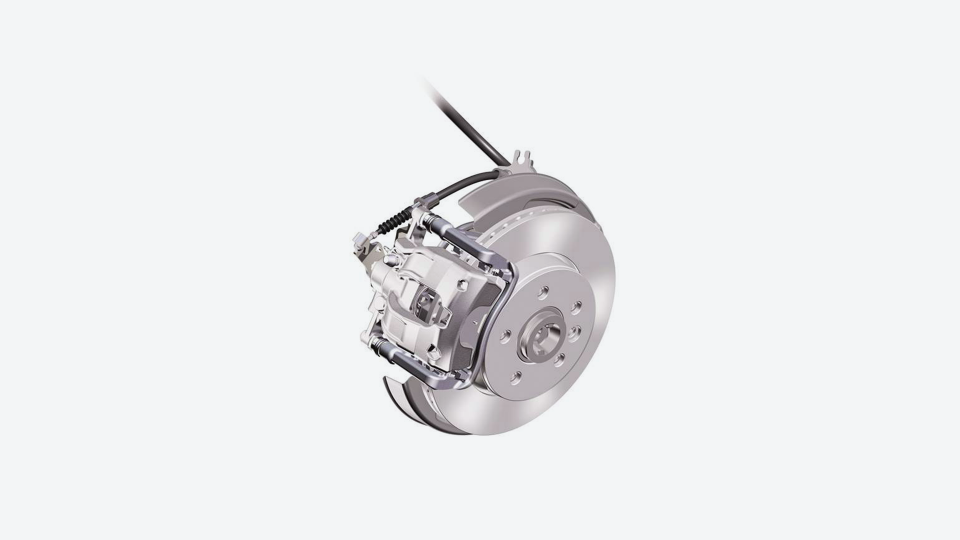 Brakes
Stopping power
The most powerful ute in its class also boasts some class-leading stopping power. Not only does the Amarok V6 have the largest brakes in its class, it features front and rear ventilated disc brakes, which means superior braking performance and reduced chance of brake fade.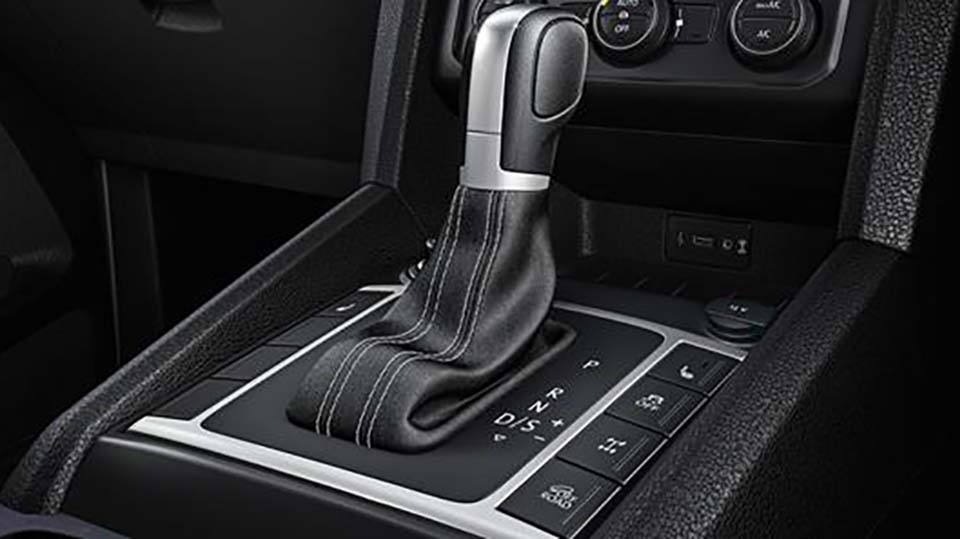 8-Speed
Go 8th gear places.
All roads aren't made the same and neither are all gearboxes. The Amarok V6 features a unique 8 speed automatic gearbox and is matched to the Permanent 4x4 Torsen® to deliver high levels of grip no matter what path you choose.
Life n' Style.
With an aggressive stance and V6 badging, the Amarok is every bit as legendary on the outside as it is underneath. We've dialed up the brawn with large alloy wheels and sports bar. Along with Bi-Xenon LED headlights, daytime running lamps and chrome accents, style never takes a back seat with this ute.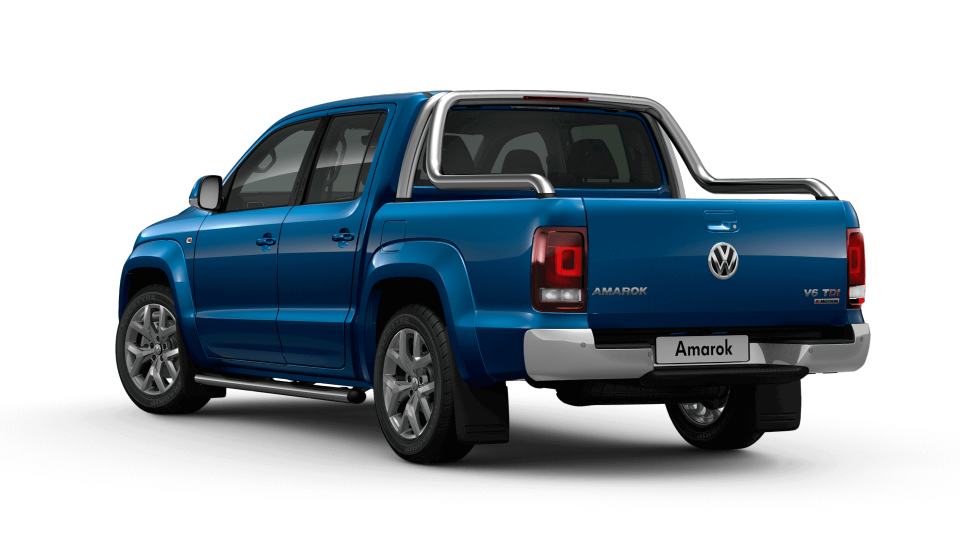 Styling
Stepping it up.
A ute can never have too much stainless steel and this Amarok delivers the on the look. We've stepped up the sidebar on the Amarok V6, with a stainless and LED lighting finish.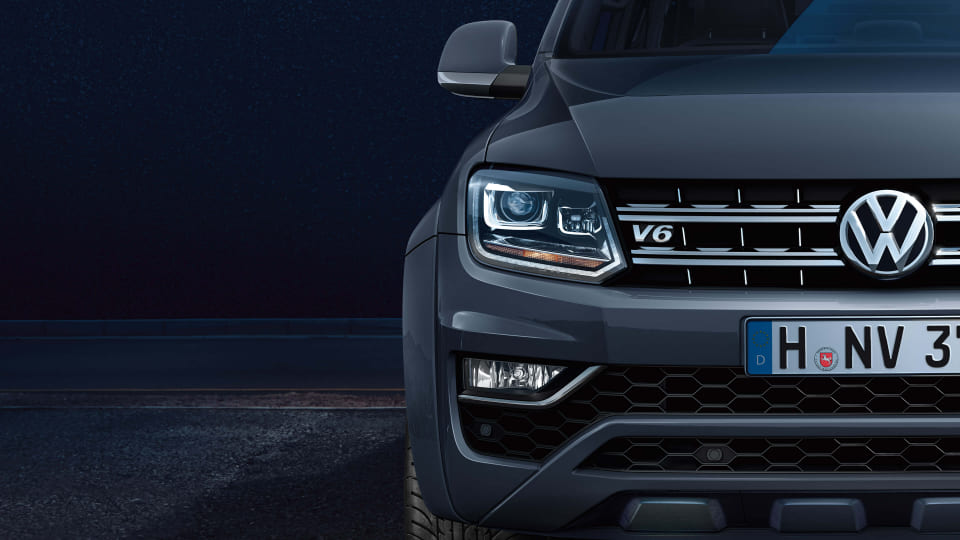 Bi-Xenon Headlights
Shine on.
When you start with the legendary rugged style of Amarok and then add details like Bi-Xenon headlights, you end up with a ute that's going to turn a lot of heads. Bi-Xenon lights with integrated LED daytime running lights provide a clearer view in poor weather conditions.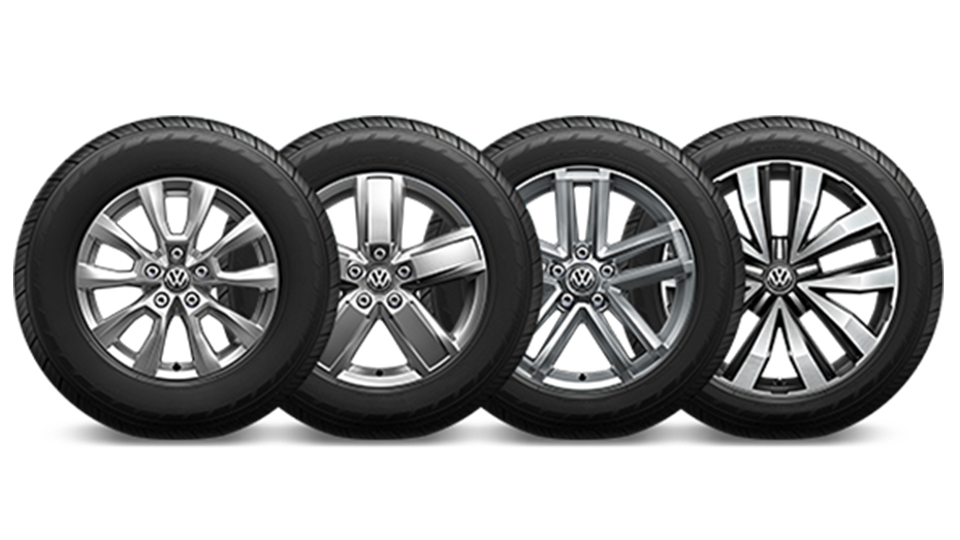 Wheels
Be sure to turn heads.
The Amarok V6 comes with stylish alloy wheels - like the 20-inch Talca alloys plus flared wheel arches on the Aventura. Throughout the Amarok range, the alloys available include:
"Posadas" alloy wheel, 17 inch. With 255/60 R 17 tyres
"Manaus" alloy wheel, 18 inch With 255/60 R 18 tyres
"Cantera" alloy wheel, 19 inch. With 255/55 R 19 tyres
"Talca" alloy wheel, 8.0 J x 20. With 255/50 R 20 tyres
Check out the specification sheet for the applicable model and wheel options.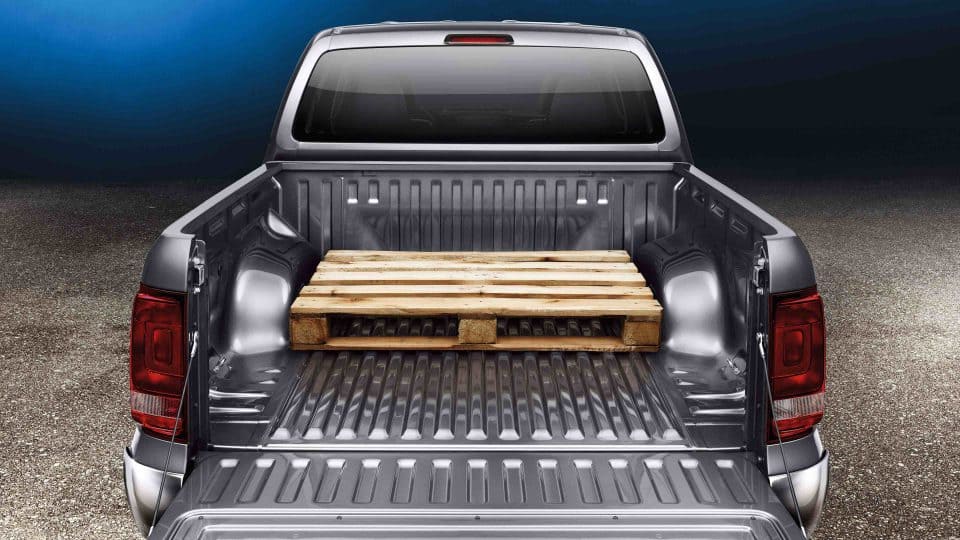 Tray
Pickup a Pallet.
With the widest tray in its class, the Amarok V6 offers more space between the wheel housing for tools, furniture, luggage and yes, pallets.
A dash of class.
The Amarok V6 looks every bit as good inside as it does out. Spacious, sophisticated and comfortable, it features a completely redesigned dash panel with sharp trim, an A4 format storage compartment and a cutting-edge infotainment system.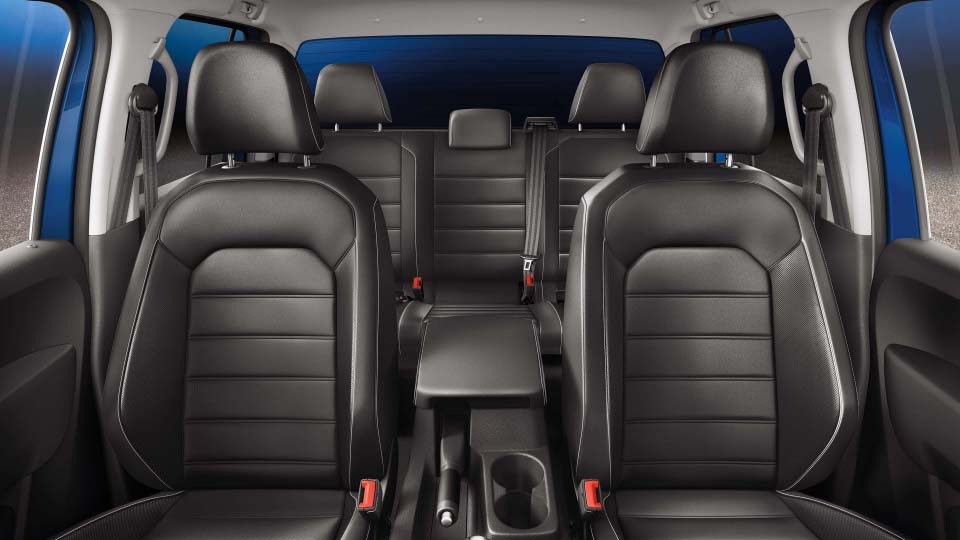 Comfort
Work really shouldn't be this relaxed.
There's comfortable and then there's award-winning comfort. The Amarok V6 has been recognised with the AGR seal of quality for outstanding ergonomics. It's the one award your back will appreciate. Sit down and make yourself comfortable in the Amarok's ErgoComfort seats with 14-way adjustment*. Both front seats can be positioned to perfection with 12-way electric adjustment and two-way manual adjustment.
*14-way adjustable ErgoComfort seats are standard on Highline and Aventura models.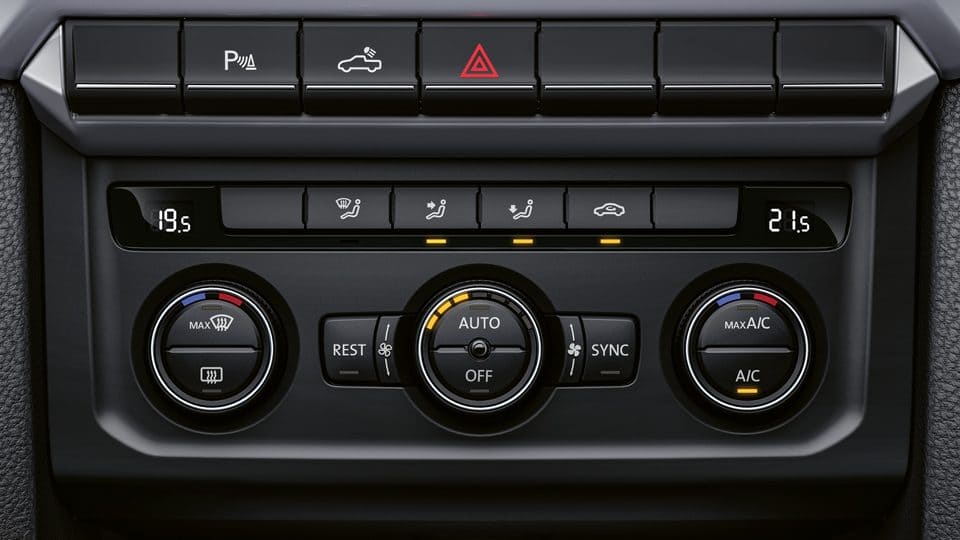 Climatic Air Conditioning
Keep a cool head.
This clever feature lets you set unique temperatures for two separate zones in your Amarok V6. Depending on the intensity of the sun's rays and the outside temperature, the air conditioning add more or less cool air accordingly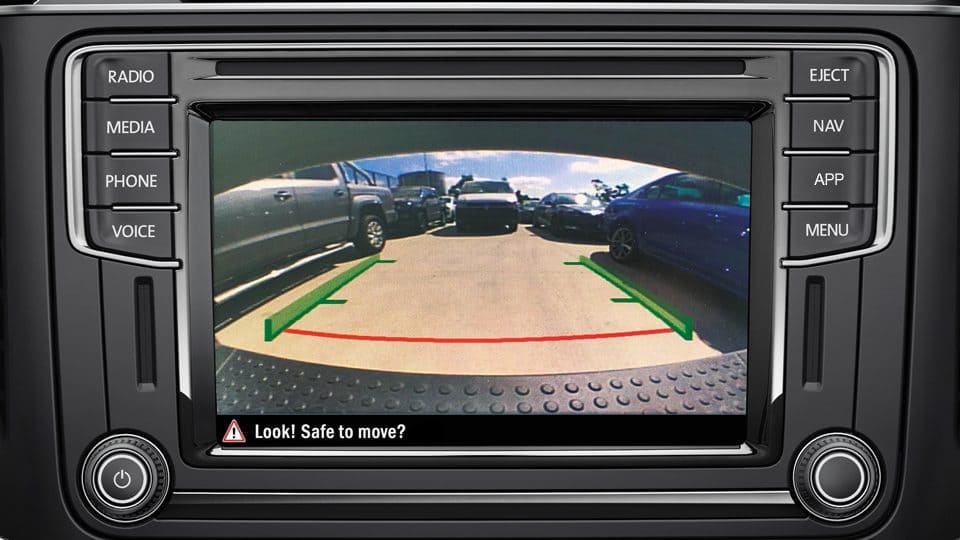 Rear View Camera
Looking forward to what's behind.
The Amarok's Rear View Camera makes reversing simpler and safer by using the infotainment screen, to display a more complete view of what's behind the vehicle when you're backing up*.
*Safety technologies are not a substiture for the driver's responsibility of the vehicle.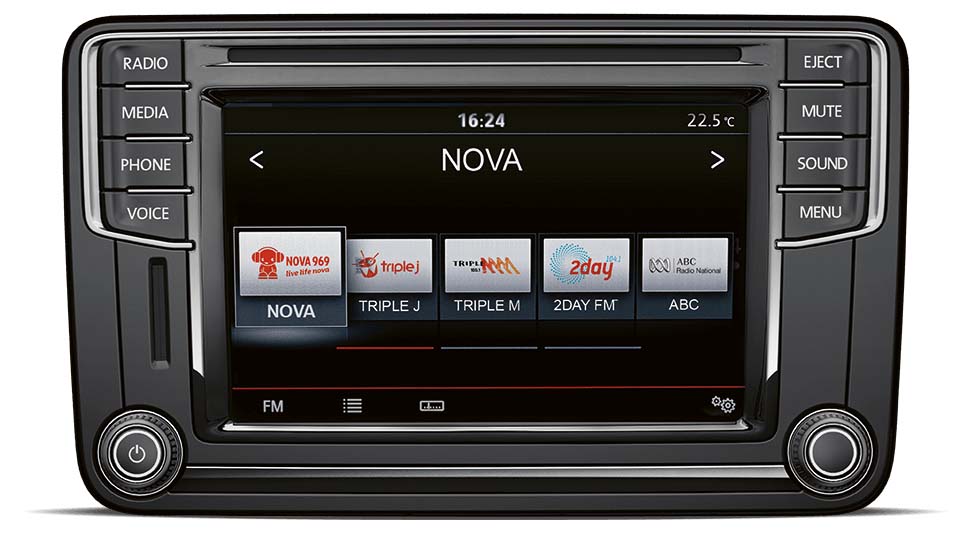 Discover Media
So much to discover.
Navigation has never been easier thanks to the Discover Media* package on the Amarok V6 - two SD card slots, a 2D and 3D (bird's eye) map views, CD player with auxiliary input, 6 loudspeakers and a 6.33" colour display with touch screen (features not available on all models).
*Discover Media is standard on Highline and Aventura models.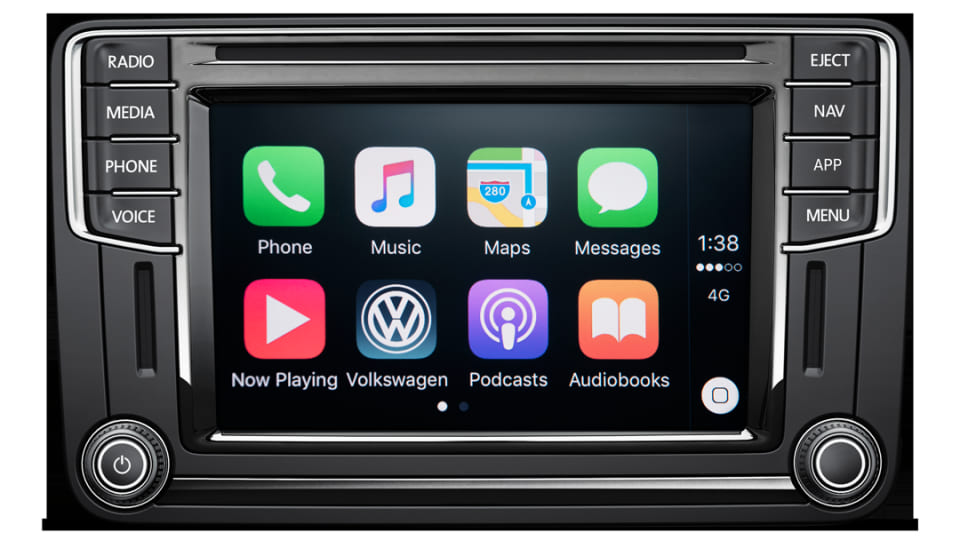 App-Connect
Access to everything. Even your smartphone.
Complete with clever App-Connect technology*. Your phone connects via a USB interface, putting favourite apps on your Apple or Android smartphone device immediately at your fingertips.
*App-Connect is compatible for selected apps with the latest smartphone versions of iOS and Android. App-connect is available on selected Amarok models - see specification sheet for more details.
Master the Terrain.
Turn heads on the street or turn it loose in the bush. The powerful V6 engine and the legendary stability of the ladder frame chassis make for a ute that's more than capable of tackling even the toughest terrain. Add to that 4MOTION 4X4 with optional rear differential lock and you've got an unrivalled driving experience on road and off.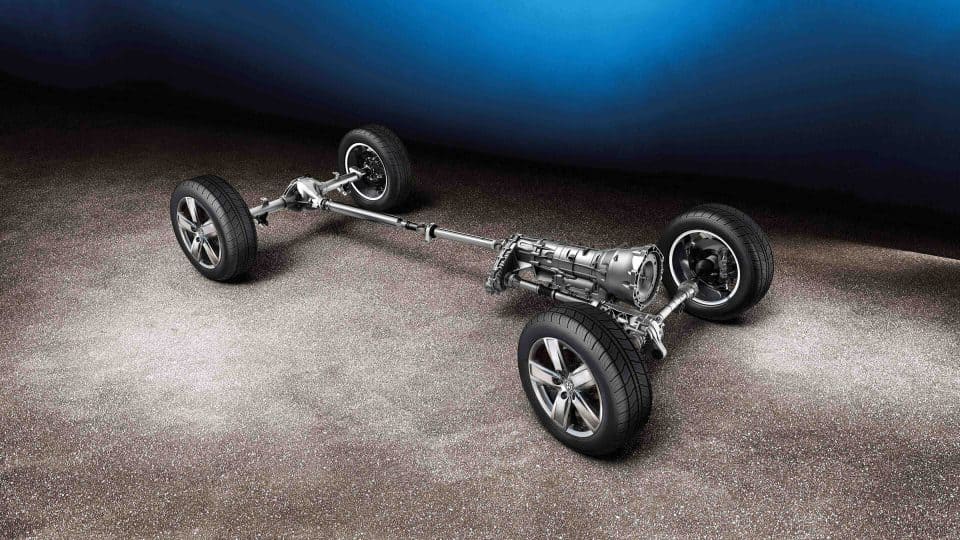 Permanent 4MOTION
Full time four wheelin'.
Take on the toughest New Zealand terrain in your Amarok V6 with Permanent 4x4 with a Torsen® middle differential providing balanced 40:60 distribution.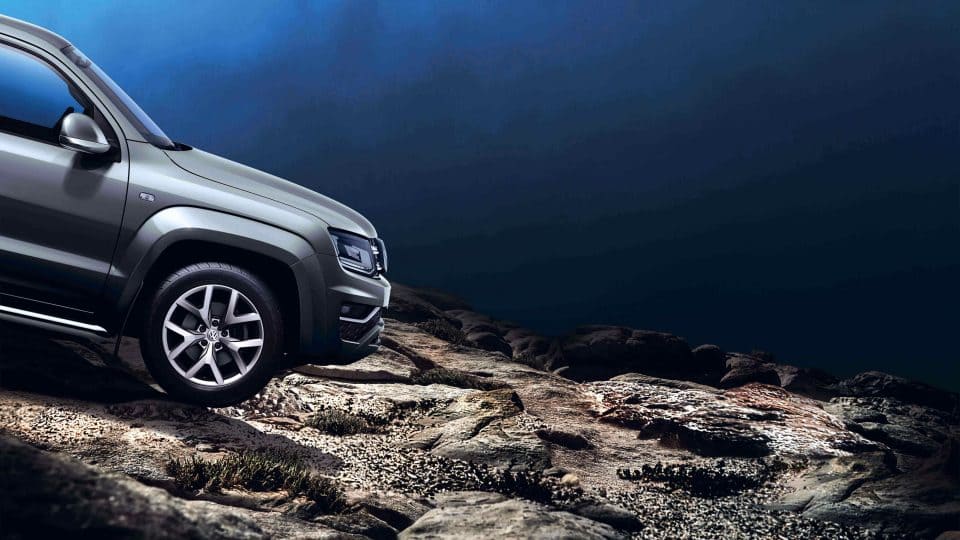 Downhill Assist4
Getting down.
There's a lot going down with the Amarok V6. Hill Descent Assist helps you handle downhill slopes in a safe, controlled way by governing engine speed and applying the brakes, if needed.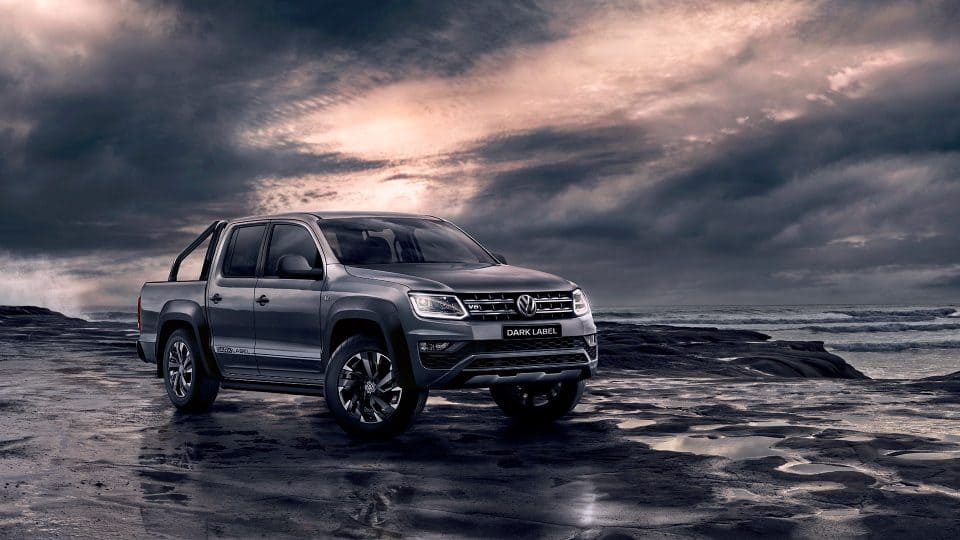 Off-Road ABS
Improved safety on unpredictable terrain.
The Off-road ABS reduces the stopping distance on loose surfaces at the press of a button. When this function is activated the braking interval is increased; the wheels lock up in a controlled manner so that material from the ground, such as gravel or sand, build up in front of each wheel, reducing the stopping distance.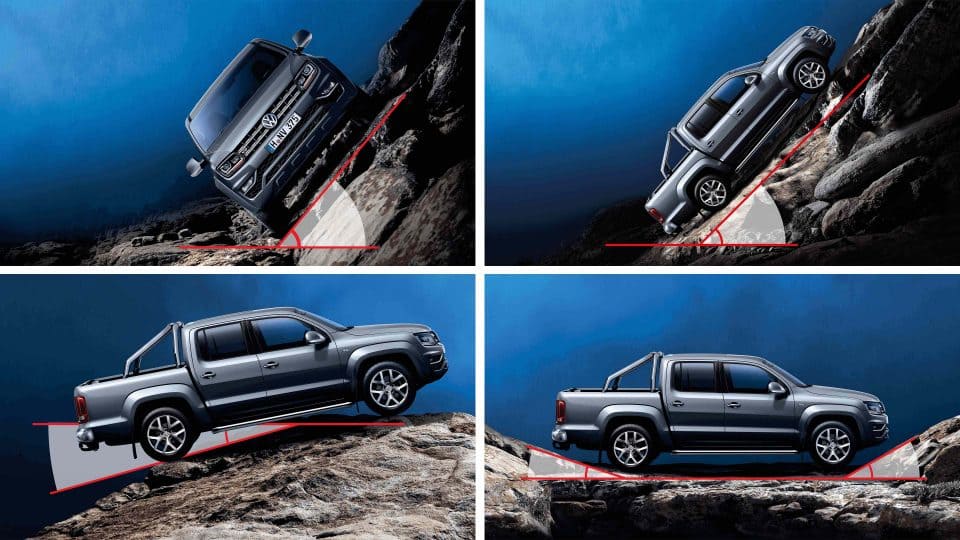 Climb & Angles
Covering all the angles.
Get your fill of fresh mountain air in the ute that's built for a climb. The Amarok V6 handles 100% grade with a full payload and its broad track delivers outstanding stability when driving along slopes with inclines up to 50 degrees.
It's all in the details.
Take a closer look at the information for the Volkswagen Amarok V6
Explore the range.

Amarok Comfortline
From $63,000
132 kW maximum power
8.5L/100km fuel consumption
4 cylinder turbo engine
8-speed automatic transmission
17" alloy wheels with flared wheel arches
App-connect
Anti-theft alarm system

Amarok V6 Sportline
(Coming Soon)
From $75,000
Up to 200 kW maximum power
8.9L/100km fuel consumption
6 cylinder turbo engine
8-speed automatic transmission
Up to 3500kg towing capacity
18" alloy wheels
Cruise control

Amarok V6 Darkside
From $79,000
Up to 200 kW maximum power
8.9L/100km fuel consumption
6 cylinder turbo engine
8-speed automatic transmission
Up to 3500kg towing capacity
Custom Carbon Steel metallic paint
20" alloy wheels in high gloss black
Black exterior and interior styling package

Amarok V6 Aventura
From $90,000
Up to 200 kW maximum power
8.9L/100km fuel consumption
6 cylinder turbo engine
8-speed automatic transmission
Up to 3500kg towing capacity
20" Talca alloy with flared wheel arches
14-way power adjustable "ergoComfort" front seats with leather upholstery